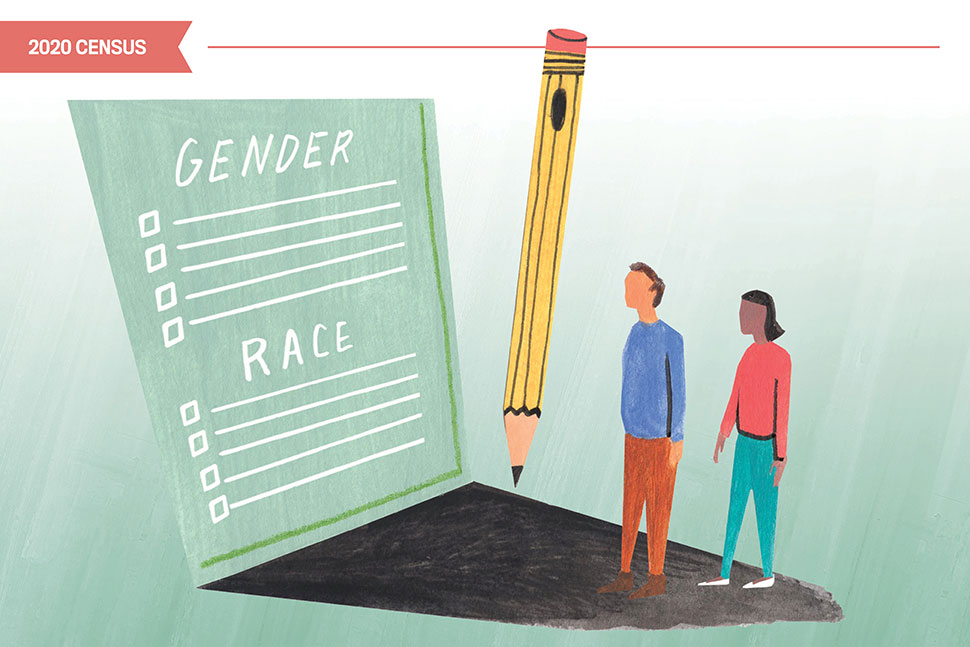 Government attempts to gather citizen data are often met with hostility—and this year's census is no exception.
The flames of any mistrust that might have already surrounded this census have been fanned at least twice: First, by the new option to complete the form online, which may be met with diffidence by the 52% of American adults whom the Pew Research Center calls "relatively hesitant" about using digital tools, and which may also raise concerns around cybersecurity.
And second, by the Trump administration's controversial and ultimately failed attempt to add a citizenship question. As Liz Vagani, who manages the El Cajon branch of San Diego County (Calif.) Library (SDCL), says simply: "There's a lot of fear [around] providing information to the government." For example, a person married to an undocumented immigrant may worry that participating in the census will lead to the spouse's deportation. By law, however, census data cannot be shared with the Department of Homeland Security, US Immigration and Customs Enforcement, or any other government agency or court.
Where mistrust isn't an issue, simple confusion may be. For the more than 15% of US adults who speak a language other than English at home, the prospect of completing a lengthy census form may be daunting. (The Census Bureau does supply video and print guides in 60 languages as well as Braille and large print; questionnaire assistance and internet self-response in 12 non-English languages including Cantonese, Mandarin, Spanish, and Tagalog; and a paper census form in Spanish.)
Then, too, "there's a real misunderstanding of the nature of the census," says Vagani, whose branch lies in a neighborhood considered "hard to count," thanks to its large populations of refugees, immigrants, people experiencing homelessness, racial and ethnic minorities, and people with low proficiency in English. "People think that voting is their civic duty, and they feel obligated to do it," she says. "But they don't realize that the census has just as much impact on their world as voting does."
For example, census data directly impacts congressional redistricting efforts, as well the number of representatives a state sends to Congress. "The census is one way the people of this country become more visible," says Larra Clark, deputy director of the Public Library Association (PLA).
Nonetheless, the Census Bureau's 2020 Census Barriers, Attitudes, and Motivators Study found that only two-thirds of respondents marked themselves "extremely likely" or "very likely" to complete a census form—the main barriers being concerns about data privacy and confidentiality, fear of repercussions, distrust in all levels of government, feeling that being counted doesn't matter, and the belief that completing the census might not benefit someone personally.
The good news: Libraries are well placed to mitigate misconceptions around the census and encourage participation in it, says San Antonio Public Library Director and PLA President Ramiro S. Salazar.
"Libraries tend to be environments that are nonthreatening and more friendly," he says. "Folks feel more comfortable visiting libraries than a school or some other government agency."
Here, librarians share their strategies and tactics for encouraging census participation—and allaying citizen concerns around it.
'A safe and secure pathway'
Vagani feels so strongly about the importance of the census that she helped San Diego County receive $125,000 in state funds, of which SDCL was allotted $55,000 to increase census participation. Some of those funds will be used for dedicated computer terminals, so that patrons without home internet access can complete the census form at the library.
On the other side of the country, Jeffrey Lambert, assistant director of digital inclusion and workforce readiness for Queens (N.Y.) Public Library, is making similar efforts. "We're working on staff training and development of public-facing programs," he says.
That staff training will address complicated questions. For example: "Here in Queens, we've got a number of households that might have been included in the master address file of the Census Bureau, but the relationships of folks within those households might be pretty dynamic or nontraditional," Lambert says, referring to off-lease and illegally sublet rooms. "A single household may be on the file, but will a landlord complete the census form for the four folks living in a unit in his basement or not?"
According to the Census Bureau, they should: "If someone is staying in your home on April 1, and has no usual home elsewhere, you should count them in your response to the 2020 Census," says the official census website. In addition, the census form offers options for marking a household member as a "roommate or housemate" or "other nonrelative."
Lambert stresses that "the most important thing that libraries can do is come up with a safe and secure pathway to be a census response site for self-response." To that end, his library and many others are turning to the best IT infrastructure practices recommended by The New School's Digital Equity Laboratory in its free online "Preparing for the Digital Decennial Census" report.
Those recommendations include establishing a census kiosk or dedicated terminal that can access only the official census website. "That way, if someone has a spoof or scam link from a [fake census] mailer that they received at their house, they're not going to be able to access it," Lambert says.
The report also suggests that libraries make these dedicated computers available to all members of the public who wish to complete a census form—not just those who hold library cards. In addition, it recommends that these computers have their USB drives or other physical ports made inaccessible to prevent the installation of malware, and that session management software be configured to remove any user-created data.
'Where's my box?'
Say someone knows how important the census is and has no issues with completing it—yet doesn't see themselves represented in the census's racial, gender, or other categories.
The good news is that for the first time, the census will allow respondents in same-sex relationships to indicate that fact. The bad news is that many other potential aspects of respondents' identities will not be reflected. For example, the census asks respondents to indicate their sex by checking either "male" or "female," with no other option such as "nonbinary" or "intersex." (The National LGBTQ Task Force's Guide to the 2020 Census suggests that respondents "answer this question in whichever way feels best to you.")
As in years past, the census does not include "Hispanic" or "Latinx" as options to the question of race. Instead, respondents are asked in a separate question to indicate whether they have "Hispanic, Latino, or Spanish origins." So what is someone who checks yes to that question supposed to answer to the race question—bearing in mind that respondents are instructed to answer every question? In addition, the race question does not provide an option for indicating Middle Eastern identity.
"People are like, 'Where's my box?'" says Julie Dowling, associate professor in the department of Latina/Latino studies at University of Illinois at Urbana-Champaign, chair of the Census Bureau's National Advisory Committee, and author of Mexican Americans and the Question of Race (University of Texas Press, 2014).
She suggests that librarians advise people who don't see themselves represented in the options to the race question to check the box for "some other race" and then fill in their answer by hand in the space provided. "Not everyone feels empowered to do that," she says, so some reassurance may be necessary.
What if someone decides not to complete the census because they do not see themselves represented in the options?
"I would still encourage them to fill it out," Dowling says. "The more people check 'other,' the more the need for other options will be seen. I would also encourage people to fill out the census because of what it means politically in terms of representation. When people are like, 'I'm not going to participate,' I'm like, 'That's what the forces working against you would like!' You're not getting back at them."