Popular with hobbyists and professionals alike, aerial drones can document the world from new angles and help users gain new skills. Federal Aviation Administration (FAA) rules, however, require registering drones that weigh more than 250 grams (0.55 pounds), which creates a hurdle to offering library services with them. But these rules exclude small drones or those flown indoors, which give libraries the opportunity to provide patrons with drone experiences through programming or lending. The following drones are small, yet powerful enough for learning and play.
Hover Camera Passport
The Hover Camera Passport is a lightweight, foldable drone for personal photography designed for a simple, automated user experience. Weighing 242 grams (8.5 ounces), it is just below the FAA registration weight limit and folds into the shape of a VHS tape.
While most drones rely on controllers—whether standalone or through an app—the Hover Camera Passport uses AI to autonomously follow subjects and recognize user gestures for commands, including snapping a photo and returning to its owner. It offers two modes for following photo subjects: Owner Mode uses AI to recognize a face and automatically follow that person. Once set up, the drone will recognize the same owner until reset. Follow Mode allows a user to immediately select any face or body and follow that person. The drone and camera can also be controlled manually through the app using motion controls (tilting and turning the device) or a simulated joystick. Preprogrammed flight modes include orbit, 360-degree spin, bird's eye, and panorama.
The drone is enclosed in a carbon-fiber frame to protect the propellers and allow it to be handled while in flight. Both the propellers and carbon-fiber bottom plate are replaceable. It has a 10-minute battery life in windless or indoor conditions, and includes two batteries and a charger. The Hover Camera Passport has 32 gigabytes of storage (including its own software) and a camera capable of up to 4K video quality and 13-megapixel stills.
Users can edit video in the accompanying app (compatible with Android or iOS) to create short clips, add music, and share on social media.
Hover Camera Passport is $599 and is available from online retailers. More information is at zerozerorobotics.com/hover-camera-passport.
CoDrone

Robolink's CoDrone combines drone-flying and coding experiences in a small quadcopter body that weighs only 37 grams (1.3 ounces). With four built-in propeller guards and replacement parts available online, it is easy to maintain should beginner mishaps occur.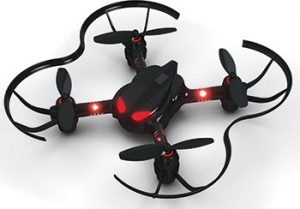 The CoDrone Lite and CoDrone Pro models are geared toward beginner and more advanced coders, respectively. Each drone receives coded commands from a computer via Bluetooth. With CoDrone Lite, users can code commands in Python or Blockly, a block-based visual programming language environment ideal for beginners. CoDrone Pro uses the same drone body and comes with an Arduino-powered buildable controller that can be programmed in the Arduino coding environment or with Python.
A third model, CoDrone Mini, launched in May. It has a smaller body and comes with a preassembled remote so it can be flown without coding. It's programmable in Blockly, with Python coding to follow, and includes a virtual flight simulator.
Robolink's Workbench channel (bit.ly/SOL-robowb) includes step-by-step instructions on how to write code that allows the drone to take off, land, and perform preprogrammed flight paths, along with instructions on programming CoDrone Pro's controller. The tutorials are paired with educator resources, including standards-aligned lesson plans.
CoDrone has an estimated flight time of eight minutes on a single charge. It includes one battery; extras are available for purchase.
CoDrone is available through the Robolink web store. CoDrone Lite is $119.99, CoDrone Pro is $179.99, and CoDrone Mini is $79.99. Lite and Pro models are available in discounted classroom sets of multiple drones. For more information, visit robolink.com/codrone.
Getting Drone Lending off the Ground

User: Alison Mirabella, digital literacy coordinator, Longwood Public Library in Middle Island, New York
Product: Ryze Tello drones
Description: Tello is a small (80 grams, or 2.8 ounces) entry-level drone with an HD camera and codable apps designed for education and play.
How do you use the Ryze Tello drones? The Ryze Tello drones are part of our equipment and gadgets collection, a set of nontraditional library items that cardholders can borrow. The drones are available for two-week periods and can be renewed for an additional two weeks if the waitlist is empty. We currently have three drones that circulate, and they're among our most popular items. Staff members have also borrowed the drones to learn how to use them and to demo at programs.
How do the drones serve your library's needs? We needed a drone that would be compact enough to store in a closet and small enough to not require registration with the FAA. However, we also wanted one that would be easy for beginners to fly, since many small drones have difficulty holding a stable hover. In addition to all of that, we also wanted a drone with a camera so patrons could practice aerial photography. The Ryze Tello fit those requirements, so it was a perfect choice.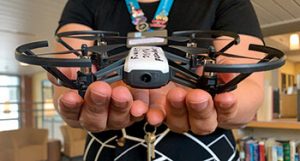 What are the main benefits? The main benefit is the DJI flight technology, which allows the drones to maintain a stable hover and includes automated takeoff and landing options. Patrons have found it very easy to fly the Tello, even without prior piloting experience, making them accessible for all age levels. We provide a controller for the patrons, but the Tello can also be paired with an app, which patrons find very convenient. The propeller guards on the Tello have also done an excellent job at keeping both the propellers and the patrons safe.

What would you like to see improved or added to the drones? It would be nice to see a future edition with a higher definition, 1080p camera, although the 720p camera is fine for most of our patrons. And, though the app is very easy to use, I have experienced occasional issues with drones not connecting properly. Overall, however, we are extremely happy with the Ryze Tello drones and would highly recommend them to any library looking for an easy-to-use drone to share with its community.