Virtual and augmented reality are two of the fastest-growing areas of technology. While popular games like Pokémon Go and Harry Potter: Wizards Unite have introduced augmented reality (AR) to pop culture, the immersive and interactive aspects of virtual and augmented reality can increase engagement with learning as well. Short of creating a full-service virtual reality (VR) lab, libraries can make these technologies available to learners through common devices.
MERGE
While specialized VR equipment can be expensive and difficult to loan, MERGE offers a suite of apps and accessories to make augmented and virtual reality more accessible and portable through common technology including smartphones, tablets, and laptops.
The MERGE Cube is a small foam cube that, when used with its accompanying apps, allows users to hold and manipulate virtual objects in augmented or virtual reality. Free and paid apps for the cube can be downloaded through MERGE's Miniverse.io website, including games, 360-degree video, and educational content. The Object Viewer app, included with Cube purchases and as part of the MERGE EDU platform, converts 3D object files into virtual objects that can be viewed and manipulated with the Cube. Object Viewer includes a 3D object library, and users can also upload their own models, including 3D print files.
The MERGE Headset turns most smartphones (4.84–6.22 inches in length) into a VR viewer. It's made with soft, antimicrobial foam padding for comfort and durability. The headset pairs with the MERGE Cube and related apps through Miniverse.io.
For school libraries and those with ongoing education programs, the MERGE EDU platform combines the Object Viewer app and Explorer, a suite of Next Generation Science Standards (NGSS)–aligned AR learning apps created by educators and curated by MERGE.
MERGE's library program bundle includes licenses for 30 concurrent users on its EDU platform and 30 free cubes, along with training for library staff on using the platform and marketing it to students and patrons, as well as Q&A support as needed.
The MERGE library pack is $2,495 per year, with custom licenses available. MERGE Cubes and Headsets can also be purchased individually, and libraries receive a 20% educational discount. For more information, visit mergevr.com.
Lifeliqe
Digital platform Lifeliqe provides access to interactive science lessons for K–12 learners. Its core app includes lesson plans, images, animations, and interactive 3D models. Content is organized into subject categories: human biology, animal biology, plant biology, paleontology, physics, chemistry, geology, astronomy, geometry, and culture, with lessons aligned to NGSS and Common Core.
The Lifeliqe core app is accessible on devices with common web browsers including Chrome, Firefox, and Internet Explorer and is compatible with Oculus Go, HTC Vive, Pico G2, and Neo VR headsets. Using a device's built-in camera, interactive models can be viewed in augmented reality. Users can rotate, zoom, and move models around in the virtual or augmented environment, with text and audio descriptions and introductions in English and Spanish. Lifeliqe's suite of apps also integrate into productivity tools such as G Suite and Google Classroom.
For libraries with dedicated VR equipment, Lifeliqe offers both virtual and mixed-reality extensions of its core platform. Lifeliqe VR Museum, an extension for the HTC Vive virtual reality headset, includes 20 virtual experiences and more than 1,000 interactive models. The Lifeliqe HoloLens extension provides 40 interactive, mixed-reality 3D models and 20 lesson plans for use with Microsoft's HoloLens.
Lifeliqe's license for libraries bundles the Lifeliqe core app with HTC Vive and Microsoft HoloLens extensions for 100 user accounts and devices and costs $2,500 a year. Free 14-day trials are available, and a limited version of the app can be accessed for free. Individual licenses for the Lifeliqe app and extensions are also available. For more information, visit lifeliqe.com.
"A New Pathway for Learning"
User: Kristen Mattson, library media center director, Waubonsie Valley High School in Aurora, Illinois
Product: zSpace
Description: zSpace's AR/VR laptop and glasses provide access to educational apps, activities, and teaching resources for 3D learning.
How do you use zSpace?
Our library has eight zSpace computers that we use to support both the mission of the library and the goals of the school. After a brief introduction to the technology from an adult, students can borrow the glasses from our desk and use the lab without supervision. Many students choose to use the zSpace lab during their lunch break to explore or create something new or study for an upcoming test.
How does zSpace serve your library's needs?
Becoming the building's zSpace expert has allowed me to develop new partnerships with teachers in the math, science, and fine arts departments. Because diving into the content is hard without a device, many teachers struggle to find time during the school day to explore the various software packages and consider curricular ties. By trying out premade lessons and modules or creating customized learning experiences for my school, I have taken some of the workload off teachers' plates. In turn, they are more willing to incorporate the resource into their students' learning experiences.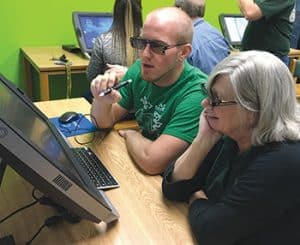 What are the main benefits?
The biggest benefit is that it provides a new pathway for learning. While some students are perfectly comfortable reading about the bones of the human body, others grasp the content in a whole new way when they can see and manipulate what they've been reading about in an augmented reality space. The zSpace applications invite student inquiry through their design: Students sit down and immediately want to click around and try something out just to see what happens next. They often return to explore content beyond the modules teachers assign to them.
What would you like to see improved or added to the platform?
One limitation is that it's difficult to create customized modules remotely. I have to sit in the zSpace lab; I cannot do the work from home or even from my office. Another critique I hear from some teachers is that the premade lessons and modules are too surface-level for the type of work they are doing in some high school courses. Fortunately, zSpace has heard this concern and has held several customer working groups in our area, allowing us to share our successes with one another while also providing feedback to the company.