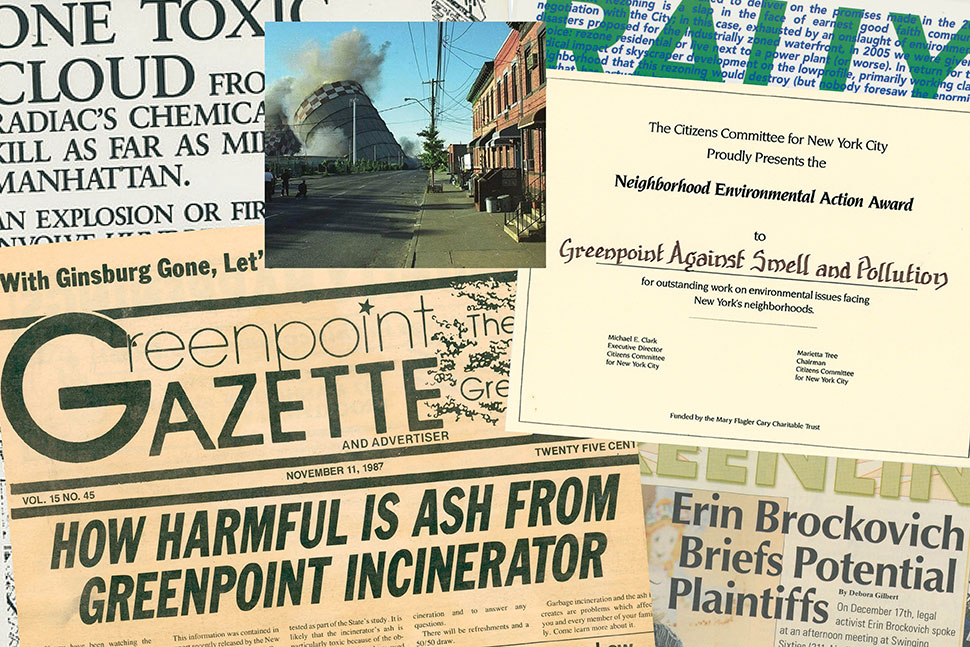 Greenpoint, New York, a historically working-class Polish immigrant community, sits at the confluence of the East River and Newtown Creek, at the northwest edge of Brooklyn. This neighborhood of more than 34,000 has also been home to decades of industrial pollution.
The Greenpoint Library and Environmental Education Center, a branch of Brooklyn (N.Y.) Public Library (BPL), opened in fall 2020 to highlight and give testimony to Greenpoint's relationship with its natural surroundings and promote awareness of climate change and sustainability. Both a full-service library and a community hub for environmental awareness, activism, and education, it houses the Greenpoint Environmental History Project, a collection of oral interviews and personal items chronicling the ecological past of a neighborhood contaminated by industry. The goal of the project is that future generations may better understand the history of the area, its struggles, and its grassroots advocacy.
In the Greenpoint neighborhood of northwestern Brooklyn, New York, Laura Hoffman's family and neighbors have experienced disturbingly high rates of rare cancers and other illnesses. School superintendent Alicja Winnicki, a Polish immigrant, says children in her school have suffered unusually high levels of allergies and asthma. Other residents have complained of bad odors in their homes.
These stories are threads of a broader narrative—one BPL aims to document and preserve through oral histories as part of the Greenpoint Environmental History Project, which comprises 300 unique digital items and 59 interviews with more than 100 local subjects.
While many of these stories show the impact of decades of industrial pollution in Greenpoint, others demonstrate the community's long arc of environmental activism. Through the voices of community members, this project shares the environmental story of a neighborhood and how it fought against both the gross negligence of industry and the indifference of local and state authorities.
In the 19th century, the neighborhood became a hotbed of industrial oil refining. With few environmental laws or regulations created until the latter part of the 20th century, oil and other manufacturing concerns created one of the worst environmental disasters in US history. In 1978, authorities determined what locals long suspected: Greenpoint was sitting on a pool of oil leaked into the soil and groundwater. The spill consisted of 30 million gallons—more than twice the amount the Exxon Valdez leaked in Alaska in 1989.
In 2010, an activist-initiated lawsuit against ExxonMobil over the Brooklyn cleanup was settled with New York State. It included an award of $19.5 million through the Greenpoint Community Environmental Fund (GCEF), created to support local sustainability projects including the construction of BPL's Greenpoint Library and Environmental Education Center and its history project under the supervision of BPL's Outreach Services.
As the library's outreach archivist, I began my research in BPL's Brooklyn Collection, where I found books, newspaper articles, photos, and ephemera that gave me an overview of Greenpoint's history. I created strategies to find oral history subjects and formulated a project narrative, aiming to encompass as many perspectives as possible. I announced the project and a call for oral history subjects through social media, press interviews, and fliers. I reached out to community boards, senior centers, religious institutions, and local environmental groups.
Oral histories from Greenpointers highlighted several concerns spanning a century and a half of industrial pollution: vapor intrusion from the oil spill; bad odors from the waste treatment facility, waste transfer stations, and fat-rendering plants; fine-air particulate from a toxic waste incinerator; exhaust from trucks, especially from the adjacent Brooklyn–Queens Expressway; hazardous manufacturing facilities next to residential communities; and the many brownfields and state and federal Superfund sites peppered throughout the neighborhood.
Several oral history subjects saw the environmental state of the neighborhood as "just how it was," with little to be done about it at the time. This thread weaves through the project: People were busy trying to feed their families and create new lives in the US and didn't feel like they could fight what the city and local businesses were doing to the air and water quality.
Many of the residents interviewed were relatively recent arrivals, having lived in Greenpoint less than 30 years but in that time having become ardent environmental activists. They fought against toxic incinerators, illegally operating waste transfer stations, and proposed power plants. For example, activists Kim and Scott Fraser speak of their time fighting against poor air quality. Other contributions included group interviews of local environmental organizations and their fights.
Unrecorded history often becomes forgotten history. With the fast pace of changes taking place in the Greenpoint community, we've worked to preserve its oral histories while living witnesses are still around to share it. Future residents, who will likely continue the fight against industrial harm, can look to this archive for education and inspiration.