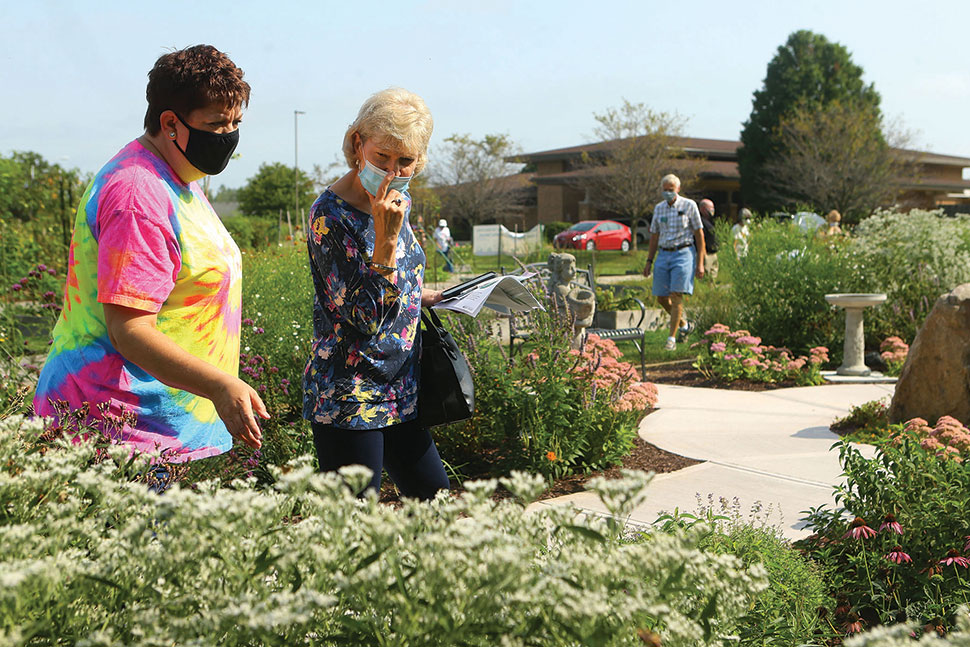 When members of the Howard County (Ind.) Master Gardener Association became enchanted by the idea of creating a local butterfly habitat, their first stop was Kokomo–Howard County Public Library (KHCPL). Not for books and information but to get the project off—and into—the ground.
Drawing on their existing relationship with KHCPL, the gardeners discussed planting a community butterfly garden—a sanctuary designed to attract and support the colorful winged creatures at all stages of life—on the grounds of the system's South branch.
"What I love best is that when they wanted this for their community, they first thought of the library," says Lisa Fipps, KHCPL marketing director. "That shows how important it is for libraries to be community partners and focus not just inside their walls but outside their walls."
KHCPL's garden came to fruition in September 2020. Fipps says the garden has been well received as a site for staff and the public to take a break and the library and local groups to host programming. It has also inspired other projects, such as a local scouting group that plans to install a rain garden. "It continues to grow and evolve because the community sees the potential and wants to be a part of it," she says. "That's a great sign of success when it comes to libraries."
Climate change and habitat destruction have caused a decline in the populations of butterfly species such as monarchs, which play an important part in Earth's ecosystems. Libraries around the country have dedicated outdoor space to these gardens, which serve as programming and education venues as well as tranquil settings where patrons can enjoy a book or relax. Butterfly gardens not only attract their namesake insects but also can serve as havens for other pollinators such as moths, bees, birds, and bats; together, they pollinate nearly 80% of flowering and crop plants, according to the US Forest Service.
"People have trashed the planet," says Jeffrey Glassberg, president of the North American Butterfly Association (NABA), a nonprofit conservation organization. "If we can save butterflies, we can save ourselves."
In this time of pandemic, outdoor spaces become even more vital to patron engagement.
NABA offers a program that allows individuals and institutions to certify their gardens of any size by including at least three plants that host butterflies and support caterpillars, as well as three plants that serve as nectar sources, which vary by region. In the northeast, for example, a host plant could be blue wild indigo and a nectar plant could be golden alexander. The advocacy group encourages the use of native plants, which require less water and maintenance, and discourages the use of pesticides.
"We try to set out conditions that are realistic and encourage people, and not be the plant police," Glassberg adds.
Certified gardens can display signage declaring their NABA affiliation. "By certifying your garden and having a sign out there, it's a way of starting that conversation with the public," he says.
Five libraries around the country feature NABA-certified gardens, including Fletcher Memorial Library in Hampton, Connecticut. Anne Christie, the library's program director, says NABA certification was a goal from the garden's inception.
"The sooner I got that, the more interest the community would have," says Christie, who used her background in landscape design to plan the project. "A lot of people were already interested in gardens, but I think having a NABA-certified garden got people more in the native plant and pollinator direction."
Monarchs, skippers, swallowtails, and fritillaries are among the butterfly species that visit the garden, which debuted in 2013 with plants that are almost exclusively native. The garden has become a home for programming to educate visitors about its purpose, as well as a peaceful setting to host speakers and performers and a place where hors d'oeuvres can be served preceding concerts in an adjacent area.
"We view this as a valuable resource in keeping interest in the library alive," Christie says. "[The garden] gets people interested in their town library who might not have been before."
In this time of pandemic—when many libraries are forced to limit their indoor services—outdoor spaces become even more vital to patron engagement. Minot-Sleeper Library (MSL) in Bristol, New Hampshire, allocated funding from its CARES Act award last summer to host a butterfly garden StoryWalk featuring the picture book In a Garden by Tim McCanna.
"We saw quite a few people walking through," says Brittany Overton, director of MSL. "It wasn't just children with young families, but older adults as well."
Staffers at libraries with butterfly gardens say establishing and maintaining these habitats require working hand in hand with local master gardener organizations and gardening clubs. The Comal Master Gardener Association planted the butterfly garden at Mammen Family Public Library (MFPL) in Bulverde, Texas, and its volunteers weed beds and check the irrigation.
Originally planted in 2009, MFPL's garden had to be replanted in 2019, when the library underwent an expansion to nearly double its size. Susan Herr, MFPL's director, says some members of the community found the disruption of the original plot "really painful."
"It was important to reestablish the garden," she says. "We worked hard to create a spot for it in the new space, and I think it's been successful. This summer we had so many butterflies again."