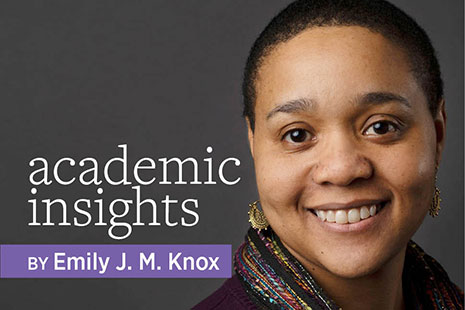 God gave Noah the rainbow sign
No more water, the fire next time!
("Mary Don't You Weep," Black American spiritual)
I have started so many communications over the past few months with "This has been an incredibly difficult year." Difficult doesn't quite describe what we all went through, of course, but words like agonizing or excruciating are not appropriate in the missives I send as interim associate dean for academic affairs in the iSchool at University of Illinois Urbana-Champaign. The past 18 months have been a period of improvisation and uncertainty, but the lessons learned will have long-term effects on LIS education and preparing faculty and students for the next crisis.
I will never forget Friday, March 13, 2020, the last day we worked in our building. It was also our admitted-student day, and several attendees had already arrived. Our staff quickly arranged a socially distanced hybrid program that would accommodate participants who were in the area and those who remained at home. It was the first of many hybrid events.
Large universities like mine are not organized for sudden change. Once the pandemic hit, each unit (individual colleges, the library, various research centers) was faced with logistical questions: Who would secure the buildings? How would staffers without adequate internet connections work from home? Who would pick up the mail? How would students complete their courses?
Operational questions hinged on the willingness of staffers responsible for facilities and IT services to come into the office even when we did not know much about how the virus was transmitted.
I expect that our school will maintain many of the mitigating strategies that we developed.
My office held drop-in discussion sessions about strategies and tactics for teaching students and supporting all members of the community during the spring 2020 virus surge. Instructors were encouraged to be adaptable with assessments, especially of participation, to account for the varied experiences and responses that students were having during the pandemic. For example, students were able to complete individual assignments as group projects, and instructors offered flexible deadlines. Some instructors started their courses with mindfulness exercises to give themselves and students space to breathe.
Social justice issues—including providing equity of access to information resources, reducing the disparate impact of institutional policies on patrons, and addressing structural injustices that are embedded in librarianship—are important concepts for all LIS students so that they can be fully prepared to work in libraries and other information institutions. The disaster unfolding before us also called for courses that would give students tailored tools for responding to their community members' needs. The curriculum in our MS/LIS program already included courses on community engagement, community informatics, and—to ensure students are prepared to serve patrons most in need—social justice in the information professions and information services for diverse users. We also addressed how to respond to crises in several courses, including the required course on libraries, information, and society, as well as elective courses on administration and management.
But the pandemic called for more. In response, two adjunct faculty members developed and taught new special-topics courses, one exploring social informatics and crises in society and another focusing on how libraries specifically respond to social crises.
As we move into the new normal, I expect that our school, like other institutions, will maintain many of the mitigating strategies that we developed. Most importantly, I expect that the two new courses will remain part of the curriculum as we educate our students for whatever might come next.