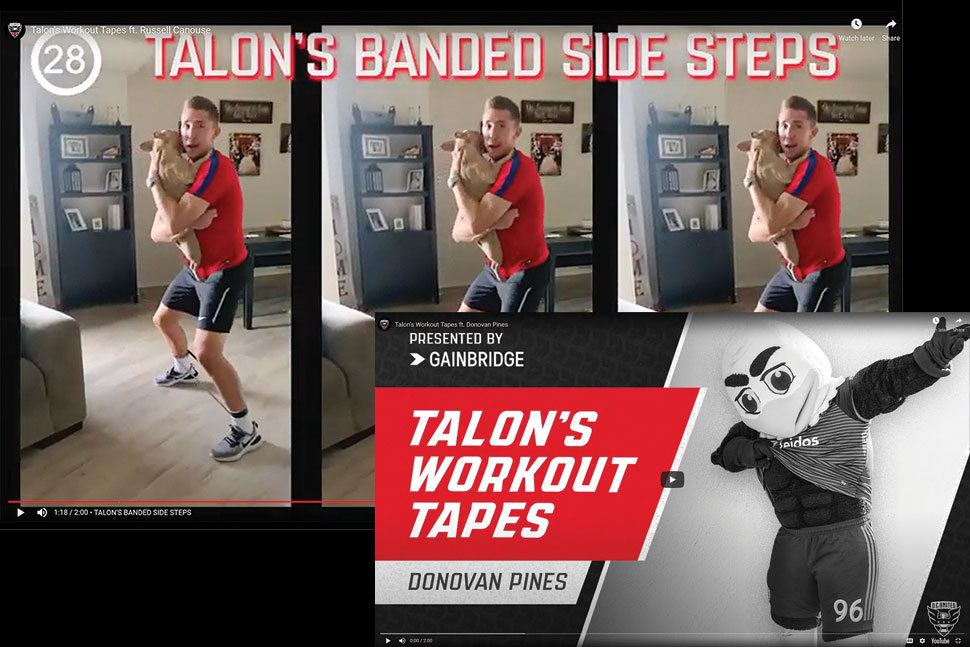 Last year, when kids were stuck at home during the early stages of the COVID-19 pandemic, staffers at Prince George's County (Md.) Memorial Library System (PGCMLS) got the idea to bring fitness classes into their young patrons' living rooms and backyards. To do so, they called on an unlikely ally: Talon the Bald Eagle, the mascot of pro soccer team D.C. United.
What resulted was Talon's Workout Tapes, a series of free exercise videos in English and Spanish that debuted in April 2020 on the library's website. The videos, created by D.C. United's communications department, featured the fan-favorite bird and team players demonstrating physical activities that kids and their families could do at home without any expensive equipment during the area's stay-at-home order. The library and the team promoted the series on social media channels, websites, and the county's interagency communication network.
"Wellness had seemed to kind of go out the window because everyone was still hunkered down and we were in lockdown mode," says Nicholas Brown, chief operating officer for communications and outreach at PGCMLS. Because of this isolation, he says, the library felt it was an especially important time to keep kids active.
"We know that with the challenges of our times, maintaining a focus on health and wellness is essential," Brown says. "I think the pandemic has validated this approach for the library—that we have to take care of our minds and our bodies in order to do anything."
PGCMLS is part of a growing movement of public libraries partnering with professional and college sports teams in their communities as a way to encourage physical fitness, mental wellness, and personal safety among kids while attracting new patrons and expanding outreach efforts.
One of the reasons PGCMLS pursued a partnership with D.C. United, for instance, was to better reach the county's Latinx population. "We know that there's a huge soccer following in the Spanish-speaking community, so we thought it would be a really great way to connect with residents who aren't already connected to the library," Brown says.
In addition to Talon's Workout Tapes, the collaboration between PGCMLS and D.C. United has included players leading bilingual virtual storytimes and participating in "ask me anything" interviews. The library has also previously worked on initiatives with other professional sports teams in their area—including reading contests and book clubs in conjunction with the Washington Football Team, Washington Nationals, and Washington Wizards—but this was its first partnership with a pro sports club that included a significant physical fitness component.
"[Partnering with] organizations that are more involved in popular culture locally helps draw attention to what we do," says Brown.
A head above the rest
Grand Rapids (Mich.) Public Library (GRPL) has long viewed the promotion of youth health and wellness as an extension of its mission.
"[The library is] much more than being able to check out a book with us," says Kristen Krueger-Corrado, marketing and communications manager at GRPL. "We're a place where we can connect you with all the opportunities you have in your community, and those include sports and recreational opportunities."
In 2008, GRPL developed a partnership with the Grand Rapids Griffins, a professional hockey team affiliated with the Detroit Red Wings. It started with the Griffins donating tickets to the library's Check It Out program, which encourages cardholders to become more active in their communities by checking out passes for kayak rentals, sporting events, or attractions like local museums and gardens.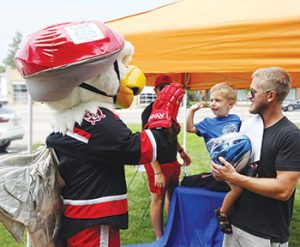 Later that year, GRPL and the Griffins collaborated on Lids at the Library, a free helmet giveaway program for ages 1–12 that encourages youth to get outside during the summer and families to be proactive about preventing head injuries. Library staffers and volunteers from the Griffins team—including mascot Griff—make sure that kids at the giveaway receive a helmet that covers their entire head and has been properly fitted and secured.
Though the pandemic led to a pause in 2020, the program came back for its 13th year in summer 2021. Lids at the Library has given away more than 1,300 helmets to children at eight GRPL locations since the program started, Krueger-Corrado estimates.
"[People here] are very supportive of their hockey team. They love to go to games, see Griff at community events, and even hold parades when they win the championship," says Krueger-Corrado. "Our patrons are so grateful for everything they do for the library."
You don't have to go pro
Other libraries have leveraged partnerships to teach kids about types of exercise they may not encounter at school or home. Kasi Allen, youth services librarian at Twin Falls (Idaho) Public Library (TFPL), got the idea to start the Active Kids program at her library in 2018 after talking to parents who wanted to get their children into martial arts classes and dance lessons but couldn't afford the often-steep fees.
Allen thought a program with local athletes giving young patrons a taste of a variety of physical activities and acting as sports role models could fill a gap in the community.
"I feel like a lot of the kids who use the library are more bookish than athletic," Allen says. "Introducing them to something that can be really intimidating in a safe space, where they're with their librarian, who they like, makes it easier."
Allen partnered with the volleyball and baseball teams at nearby College of Southern Idaho for her program, but also brokered collaborations with amateur athletes in the community—yoga teachers, karate and dance instructors, and coaches from a local soccer complex. Having these instructors come into an environment the kids were already familiar with, says Allen, made them more willing to try something new.
The community response was "overwhelmingly positive," Allen says, and families were thankful for the opportunity to try out activities. Though Active Kids ended in 2019—Allen says an evaluation of the program showed that families prefer drop-in passive programming during the school year—wellness remains a priority for TFPL.
"You learn well if your body is happy and healthy and you feel fulfilled in your sensory experience," says Allen, who is pleased to find others in the profession developing similar partnerships. "I love seeing that lots of libraries are doing this kind of stuff. If we're here to serve our community and its health, then this is part of our service."