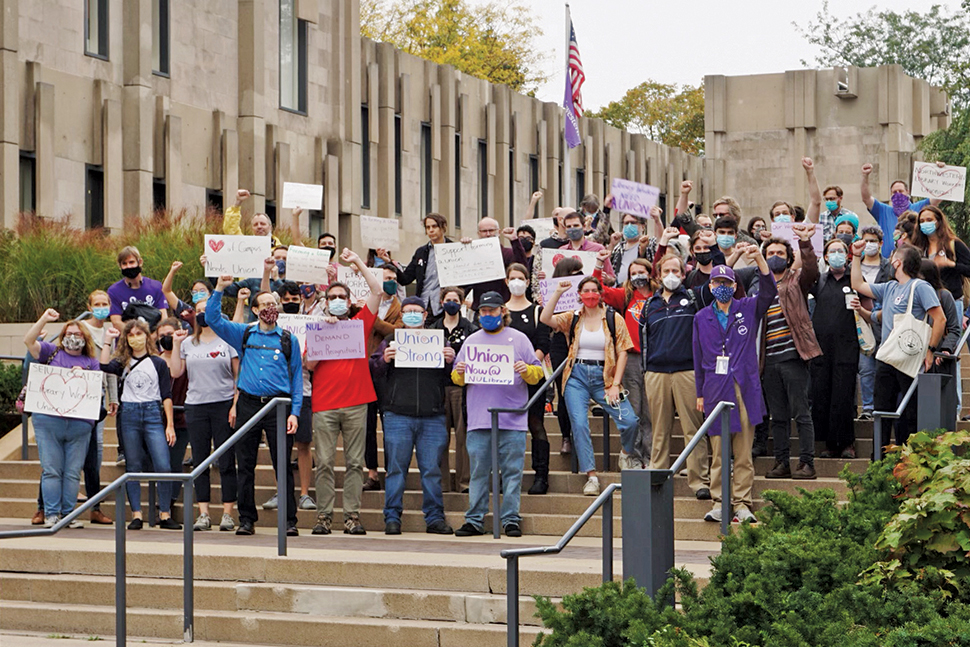 At noon on October 12, 2021, more than 130 library workers at Northwestern University met at the Rock, a well-known gathering space on the Evanston, Illinois, campus. They had decided to march to the provost's office to declare their intent to organize as an affiliate of the Service Employees International Union (SEIU) Local 73 and to ask the university to recognize their union. After walking for several blocks, the workers turned a corner and were met by groups of students who cheered as they passed by. "We love our students, and we're here to support them and the faculty," says Jamie Carlstone, metadata librarian. "Seeing that they value us so much—I get teary-eyed talking about it."
Library unionization efforts are blooming around the country, taking place in public, private, and academic institutions of all sizes. In Maryland, Baltimore County Public Library workers have joined the International Association of Machinists and Aerospace Workers, and in Colorado, Denver Public Library (DPL) staffers formed Denver Public Library Workers United, a unit of the Communications Workers of America Local 7799.
While the unionization process varies depending on the unionizing body and institution, worker demands remain consistent across the board: They want equity—monetary, social, and cultural—and the ability for frontline workers to participate in decision making.
At Northwestern University Library, talk of unionization began at the start of the pandemic after the university announced widespread furloughs. The news came just months after the university had revealed its first budget surplus in years. Of the nearly 250 noncontract Northwestern staffers furloughed, 52 were from the library.
Though Carlstone was not furloughed, she says the experience was dispiriting for her and her colleagues. "I don't think the university fully recognizes the emotional toll it took on us and what a kick to morale [it was]," she says.
After almost a year of organizing, library workers connected with SEIU Local 73 in May 2021, asked for recognition from the university in October, and voted—by a count of 70 to 28—to certify the union in December. Since then, members have been working to articulate key demands. Their goals include negotiating annual cost-of-living raises, a promotion path, salary transparency, and a codified hybrid work schedule, once the pandemic recedes.
Now that the university has officially recognized the union election, library workers will begin preparing for bargaining efforts, which will likely happen in spring 2022.
'We are the union'
Northwestern's library workers are not the only ones newly affiliated with SEIU Local 73. Just a few miles away, Skokie (Ill.) Public Library (SPL) joined SEIU and announced its union in early 2021. Talks of forming a union began in spring 2020 among part-time staffers, many of them people of color. According to Angela Jones, SPL youth and family program coordinator, those lower-wage and part-time workers have either limited benefits or none at all. During the pandemic, they worked in some of the riskiest conditions.
"They were the ones that had to come into the building, the ones who couldn't work from home, the ones who had the closest contact with patrons," Jones says. "There were already concerns that our staff had regarding equity, but a spotlight was put on the situation during the pandemic."
As at Northwestern, a lack of institutional respect and safety were cited as chief reasons for organizing. According to Jones, shifting the workplace hierarchy is a key goal of the union. "We've done surveys about the things important to our members, and dignity is always at the top of the list," she says. "There's a general sentiment that people would like to be paid equitably and that people would like a cost-of-living increase, but it's so much more than a financial thing."
While SEIU was essential to the unionizing process, Jones points out that unionization would not have been possible if not for the hard work of the library's part-time staff. "There's a misunderstanding of the idea that unions come in and do all of this, but an outside entity cannot organize a union," she says. "SEIU is not the union. We are the union. This was very much an effort that was developed by our part-time staff at the Skokie library."
Strength in numbers
Some library workers are forming their own unions while others have decided to join existing organizations. Librarians, archivists, and curators at University of Michigan teamed up with an existing campus union, the Lecturers' Employee Organization (LEO), American Federation of Teachers Local 6244, in 2021. LEO is a union for non-tenure-track faculty on all three University of Michigan campuses.
According to Meredith Kahn, librarian for gender and sexuality studies at University of Michigan, there were several benefits to merging with LEO. "By joining an existing union, we would have access to a level of support beyond what we would have if we were just on our own," Kahn says. "LEO was an appealing union to join because much like lecturers, we kind of sit in this weird space between what people think of as 'real faculty' and other positions."
The idea of forming a library workers union had been discussed for several years before a 2020 decision by the university's board of regents simplified the process. The resolution states that the university will recognize new bargaining units on campus via card check—a simplified process where union representation can be approved by a majority of eligible workers signing authorization forms—rather than requiring a formal election. Additionally, the university has stated it will take an official stance of neutrality and not unnecessarily challenge bargaining units.
"I think we had it much easier than many of our colleagues at other educational institutions and public libraries because we weren't facing any kind of organized resistance from the employer," Kahn says.
As at SPL and Northwestern, Kahn says the decision by University of Michigan library staff members to unionize has a lot to do with equity, accountability, and transparency. "The thing that people learn right away is that this is not an information problem," Kahn says. "It's not that the employer doesn't know that we're underpaid or doesn't know that we're upset about some of our working conditions. It's a lack of political will to change those things."
Library workers at all three institutions say that the COVID-19 pandemic was one of many factors in their decision to unionize. In most cases, unionization talks had begun months or years earlier; the pandemic merely made workers' concerns feel more immediate.
These pandemic grievances and widespread unionization efforts may also spur nearby library systems into action. The formation of a union in Denver has caught the attention of nearby library districts, which have expressed gratitude for the library's efforts. According to DPL library clerk Liana Kiddy-Gan, "It feels more real to people. That we did it makes them feel like it's something they could do."
Many library workers involved in unions agree that the experience of unionizing has been meaningful, both professionally and personally. "This was one of the most empowering experiences of my career," Jones says. "I will be telling my grandkids about this."