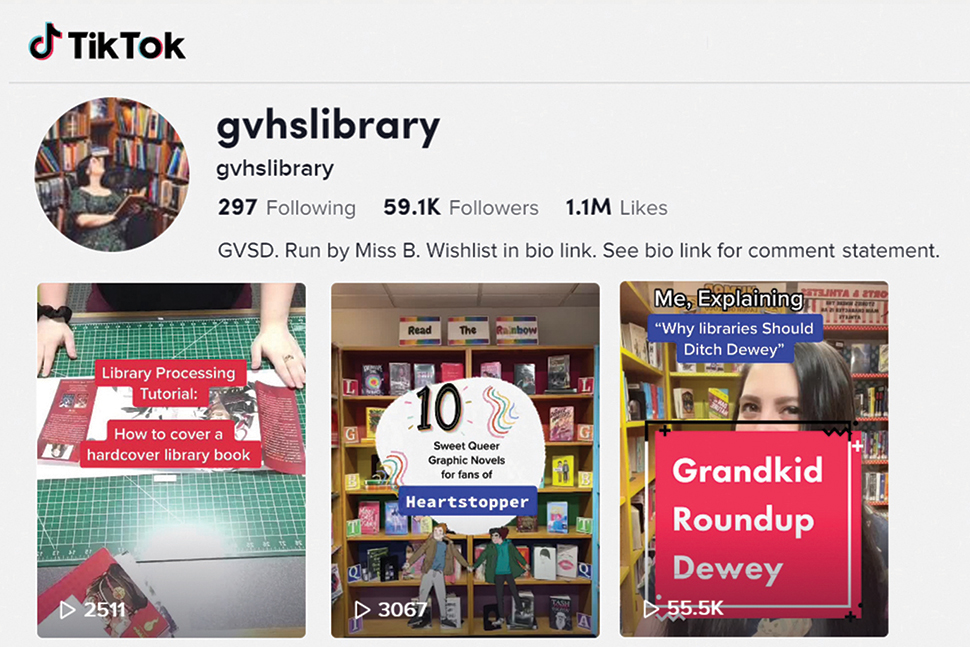 Ring lights, check. Tripod, check. Phone camera, check. Ideas for what trend to hop on, check.
Librarians are making the most of the video-sharing social media app TikTok, recording and uploading 60-second clips (sometimes longer) of themselves and others talking about programs, cool things at their library, book reviews, and more. Many of these librarians help make up BookTok, a subcommunity of users on the app who upload and share content based on their favorite books, using hashtags such as #librariansoftiktok and #librarytiktok.
According to cable news channel CNBC, TikTok clocked 1 billion users in September 2021. Kelsey Bogan, library media specialist at Great Valley High School (GVHS) in Malvern, Pennsylvania, joined the six-year-old app almost three years ago and has garnered more than 59,000 followers globally. That her first TikTok to go viral was so wildly successful was thanks, in part, to her students spreading it to other schools.
"If I weren't paying attention to [TikTok], I'd be missing an opportunity to connect with students in a way that they're currently connecting with reading," Bogan says. She adds that she has noticed that since BookTok began gaining traction on the app, students at her library tended to check out books that went viral in the subcommunity. "At least eight out of the 10 of our highest circulating titles last year were books that trended. Our 'Popular on TikTok' display table gets a lot of continual circulation, and students are constantly coming in and asking for books that they saw first on TikTok."
Endless opportunity
Bogan uses TikTok for book "unboxings," where she opens boxes of new deliveries to the library—most recently a box filled to the brim with new anime and manga titles. She added gifs, graphics, and an upbeat song by Kacey Musgraves to show off a shelf of the library's Top 10 Sweet Queer Graphic Novels and highlight the 10 most-checked-out nonfiction books this year.
She also uses the platform to teach skills to other librarians, including how to cover a hardcover book with a dust jacket protector and how to switch from static shelving—spines out, all in a row—to dynamic shelving that displays some books with their front covers facing forward.
But Bogan's most popular content has been about her decision to ditch Dewey Decimal Classification at her library, where she explains to viewers how awareness of biases in the system prompted her to make that change. She has found that, while posting book reviews is the heart of the BookTok community, her most-viewed content has been about the classification system.
Bogan says she's not sure what caused her videos on the topic to go viral—some content works for some TikTok creators while other content doesn't—but she thinks it may have to do with the passion she conveyed.
Bogan says that when she first started using TikTok, she was one of only a handful of librarians on the app; but now it has grown into a global support network, fostering a sense of community among libraries that might otherwise not connect with one another.
Carlotta Capuano, library associate at Anne Arundel County (Md.) Public Library(AACPL), says she came across Bogan's TikTok account—specifically her viral videos about the Dewey Decimal Classification—and was inspired by how she used the platform to share her knowledge.
AACPL's TikTok account covers everything from meal-prep videos made by a staff member to quick, funny moments from the library's summer programming. "There are just so many ways to engage on TikTok," Capuano says. "If you want to talk about your favorite book or if you're interested in making a meal, there's a bit of something for everyone."
Teens and TikTok
Longwood Public Library (LPL) in Middle Island, New York, has a program called TikTok Time, in which teens create TikToks to market library programs while also earning community service credit. "I love this as an opportunity to make the library feel more accessible," says Shelby Broderick, teen services programming librarian at LPL. "We're promoting services but we're also not taking ourselves too seriously.
In one video—that so far has reached more than 800 community members—teens used stuffed animals and music from the movie Encanto to promote a program where patrons could make dog toys for a local animal shelter. In another, teens compiled a highlight reel from a Halloween party that included clips from the movie The Nightmare Before Christmas, patrons' painted pumpkins, and the costumes attendees wore. The program started with a standalone TikTok 101 session where teen patrons taught librarians how to pick out trends, stitch together sound clips, and add text.
LPL's goal in implementing TikTok was to increase audience engagement during the peak period of COVID-19 restrictions, when staff members were relying mostly on Facebook, Twitter, and Instagram to connect with the community. They noticed that their social media posts were mostly reaching adult patrons, not younger library users—but TikTok was a different story.
"Because our teens are involved in making the TikToks, they're learning from this program, they feel empowered," says Ashley Sabatino, also a teen services programming librarian at LPL.
"It's teaching them about marketing as well, about how to use these platforms that they use all the time to [now] advertise things going on in the community," Broderick adds.
A growing community
Finding and understanding one's niche is key to being successful on TikTok, GVHS's Bogan says, and it can take some time.
AACPL is still experimenting with its TikToks, Capuano says: "We're trying to figure out what our voice is and how our [patrons] can engage with us." Her goal is to create a physical production space at AACPL where teens can make TikToks and tap into their passions. She hopes the planned space is one that "teens can take ownership of, a place where they can fine-tune their interests."
"The number-one tip for a librarian who wants to use TikTok is to start as a consumer," Bogan says. "I think that's the best way to figure out how the app works but also to learn about different styles and approaches. You don't need to repeat what other people do to be successful. You just have to find the thing that matches your enthusiasm, the thing that people respond to from you."