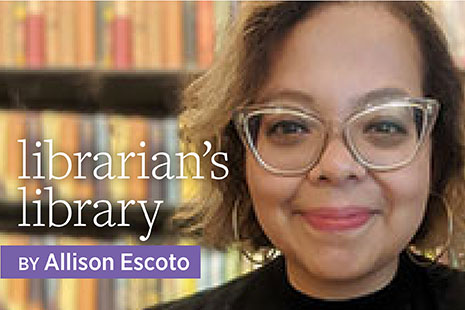 Social media plays a huge part in how libraries connect to and facilitate communications within their communities. Whether you're looking to market your programs and services, provide guidance to patrons new to social media platforms, or better understand the effects the technology has on the world at large, these titles provide valuable advice and insights.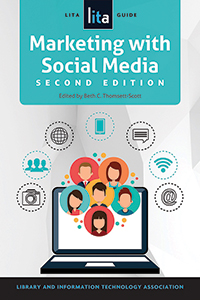 Marketing with Social Media: A LITA Guide, 2nd edition
Edited by Beth C. Thomsett-Scott
Updated and extensive, this guide offers useful information on the finer points of using social media to market services and build community. Readers at all stages of their careers and at any experience level will find solid advice on choosing the most appropriate platforms for their library, tips on how to best communicate with various audiences, and hands-on technical information for optimal results. Covering Instagram, Twitter, Snapchat, and other channels, this accessible volume offers perspectives from seasoned library workers in many types of libraries, making it a must-have for anyone involved with a library's social media presence. ALA Neal-Schuman and Core, 2020. 192 p. $67. PBK. 978-0-8389-1631-5.
Marketing and Social Media: A Guide for Libraries, Archives, and Museums, 2nd edition
By Lorri Mon and Christie Koontz
This comprehensive handbook is geared toward helping libraries, archives, and museums use social media to market programs and services. The chapters contain pointers on evaluating marketing needs, including a breakdown of SWOT (strengths, weaknesses, opportunities, and threats) analysis, as well as real-world case studies to help shed light on effectively using social media for community engagement. This second edition includes an extensive bibliography for further reading as well as a step-by-step outline for those newer to social media marketing. A great reference for libraries of all types. Rowman and Littlefield, 2020. 322 p. $52. PBK. 978-1-5381-4295-0. (Also available as an ebook.)

Mastering Mobile through Social Media: Creating Engaging Content on Instagram and Snapchat
By Paige Alfonzo
Instagram and Snapchat are the focus of this Library Technology Reports issue. Highlighting many aspects of both of these apps, the author pays special attention to the transitory nature of both Instagram and Snapchat stories, providing case studies and advice on posting content to best engage with patrons. Practical through and through, this is a handy guide for any library focused on reaching populations that heavily use these platforms. The case studies are especially helpful in offering insight and ideas. ALA TechSource, 2019. 44 p. $43. PBK. 978-0-8389-1815-9.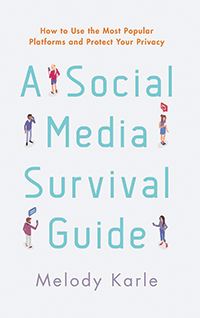 A Social Media Survival Guide: How to Use the Most Popular Platforms and Protect Your Privacy
By Melody Karle
This step-by-step introduction to social media is an approachable guide for anyone—especially patrons—navigating their way through social media platforms. Written for "regular users who just want to understand how things work," the text delves into the why and how of various apps. Each chapter focuses on a different platform (Facebook, Twitter, ­YouTube, Pinterest, and others); a brief profile of the platform is followed by a rundown of its features and an illustrated guide on how to post, share, and search on the site. This is a great book to recommend to new users of social media and an essential guide to the basics. Rowman and Littlefield, 2022. 184 p. $19. PBK. 978-1-5381-7114-1. (Also available as an ebook.)

TikTok for Dummies
By Jesse Stay
Like it or not, TikTok is a platform that has taken over attention spans worldwide, and libraries are increasingly using it to their benefit. This book shows how to create content for the platform and how to understand and navigate through its often confusing formats and algorithms. In classic For Dummies format, it is written for beginners and explains not only how to grow a marketing following but also the etiquette of the platform, as well as offering information on safety. Though not aimed specifically at libraries, there is plenty of information here that library marketers can put into practice. Wiley, 2021. 208 p. $18.99. PBK. 978-1-119-80341-6. (Also available as an ebook.)
Books and Social Media: How the Digital Age Is Shaping the Printed Word
By Miriam J. Johnson
Libraries always benefit from keeping up with what's going on in publishing and the book world in general. The topic at hand here should be of interest to librarians everywhere. Exploring the rapidly changing landscape of publishing in the age of social media, the author has a special interest in how writers who "just want to share their work with readers and make a connection" use social media to do that, frequently drifting away from traditional publishing models. Through interviews and surveys of authors and publishers, Johnson takes a close look at the new ways in which writers are working and what that could mean for the future of book publishing. Routledge, 2021. 172 p. $44.95. PBK. 978-1-03-200135-7. (Also available as an ebook.)