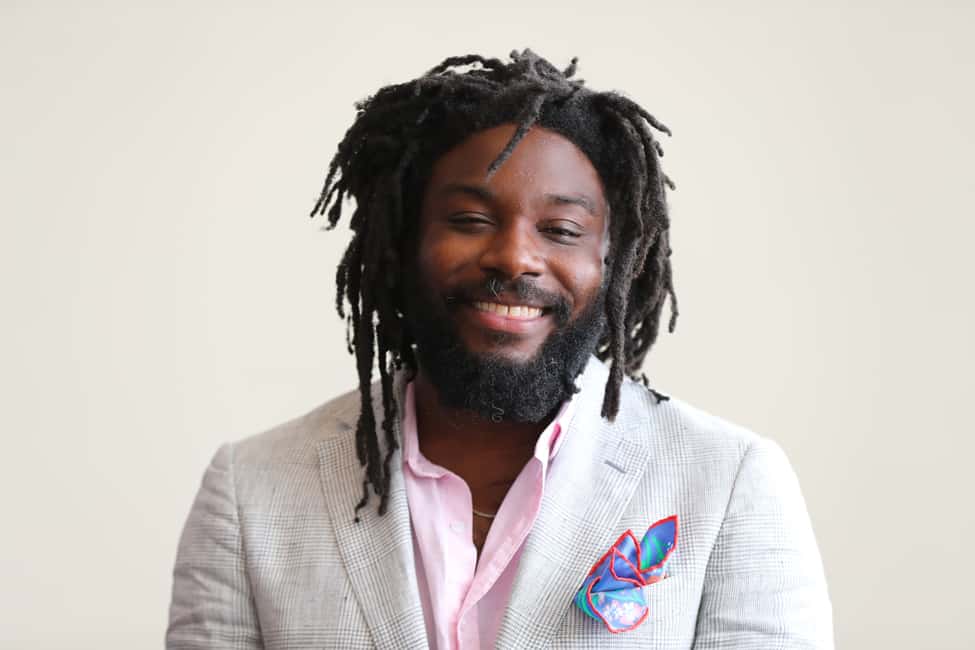 The 2017 American Association of School Librarians (AASL) National Conference and Exhibition in Phoenix wrapped on November 11 with programs that stressed the need to connect with kids to get them excited about and engaged with reading, learning, and media literacy.
YA author Jason Reynolds (Patina, Ghost) opened the day with a profound and often funny general session talk about humility, intimacy, and gratitude, and how the expression of each can leads kids to reading. Reynolds came about the realization in an unlikely manner: by watching The Steve Harvey Show with his mother.
Reynolds admitted that he dislikes the show and its host, but found worth in a particular episode in which Harvey set out to help couples rekindle their relationships. To do so, Harvey sent them on dates where they had to purposefully embarrass themselves; create inside jokes; and profusely thank one another throughout the night. What seemed like hamfisted ways to create natural connections, Reynolds said, brought the couples closer via humility, intimacy, and gratitude. He discovered that the expression of all three in his works may be why children relate to them.
"Language has a direct relationship to intimacy," Reynolds said. Kids are drawn to his work because he uses the coded language that they speak, he said. He also writes them as multidimensional people with real problems and concerns about life. "Kids get to see themselves as they really are in a secret space like a book," Reynolds said.
Humility, intimacy, and gratitude shouldn't be found only in books, Reynolds said. They must be practiced by adults to reach kids.
"Even though we work with kids, we expect gratitude from them, but never give it back," he said. "When was the last time you looked at a kid and simply thanked them for being who they are?"
He stressed that by treating kids as real people and talking to them in their own language, adults and kids can form more meaningful, trusting, and loving connections. "If we can practice this with kids, getting them to read is easy," he said.
The importance of connectivity continued in several sessions throughout the day.
In "Connecting Fire: Using Pop Fiction Classics to Connect to Real History and Current Events," Sarah Justice, media specialist at Rosman (N.C.) Middle and High Schools, shared how she made history relevant to her students by connecting it to books they were reading. Pairing with a teacher who understood the mission, Justice created digital stations in her library where kids could watch videos, look at photos, and listen to audio that showed links between history and literature.
In a station devoted to The Hunger Games and its sequel Catching Fire, students could watch a documentary about Roman gladiator schools, read articles about post-traumatic stress disorder and women in combat, and listen to passages from Shakepeare's Julius Caesar. For The Great Gatsby, Justice created a station that displayed scenes from film adaptations of the book and an episode from MTV Cribs on Hugh Hefner's audacious home, as well as readings on excess and alcoholism and profiles on famous figures from the Jazz Age.
The digital nature of the displays as well as the familiarity of content allowed students to relate to books on a deeper level and place them in context, Justice stressed.
Sara Franks, library and media specialist at Louisville (Ky.) Collegiate School, detailed how she spurred student interest in uncovering fake news in "Beyond the Headlines, Behind the Clicks: Organizing a High School Media Awareness Week."
Fueled by the election of President Trump, Franks created two media-awareness weeks at her school, where students analyzed fake news and misleading headlines from their own social media feeds, favorite websites, and local newspapers to learn the importance of responsible journalism. Franks also invited students to present talks on related subjects that they felt passionate about, such as net neutrality, online security, and artificial intelligence in online learning. Allowing students to share their passions gave them a stronger sense of ownership over the media awareness weeks, Franks said.