At the inaugural Gaming As Meaningful Education (GAME) conference, librarians met to explore how games can be used in education and programming to inspire creativity, critical thinking, and problem-solving skills. The conference was held September 23–24 in Rochester, New York, and cosponsored by the American Association of School Librarians (AASL) and the American Library Association's Games and Gaming Round Table (GameRT).
Game-based programs are my top teen program area, and I have seen firsthand how playing games can break down barriers—including gender, age, and race—between people. I wanted to look at gaming from a more educational vantage point to see how I can increase that aspect of game play in a public library setting. The opportunity to attend an after-hours event at The National Museum of Play at The Strong was also too much to resist.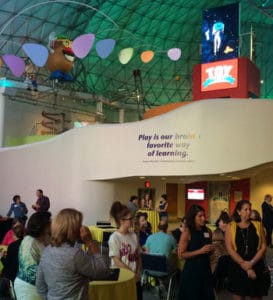 The after-hours event took place September 22. A networking hour allowed attendees to meet and mingle with other game-interested librarians, such as one librarian from a vocational school who is working on a prototype for a book-based virtual dungeon crawl game to enhance readers' advisory. Following the social hour, attendees explored the Toy Halls of Fame—the highlight was seeing a room full of librarians throwing tokens into arcade machines and playing against each other for hours.
GAME began in earnest on September 23. In her keynote address, "Harness the Power of Digital Learning with Gaming," Julie Evans, CEO of Project Tomorrow, spoke about the results of the Speak Up National Research Project. The project has conducted more than 4.5 million surveys of parents, educators, and students since 2003 and found that "a new kind of learning experience is needed to prepare for the future." According to the Speak Up surveys for 2015, using games is second on the list of teachers' professional-development concerns—it didn't even make the top 10 in 2014. These results point to a huge opportunity for game-playing public librarians to do more to reach students in their districts and to make connections with school library media specialists and teachers to offer professional development opportunities that discuss, teach, and demonstrate games. The 2015 Speak Up findings are compiled in "From Print to Pixel: The Role of Video Games, Animations, and Simluations with K–12 Education."
Thomas Knowlton, outreach librarian at New York Public Library, provided a list of recommended digital games to explore other concepts, learning areas, and make inter- and meta- textual connections in his session, "10 Video Games Every Librarian Should Play."
Brian Mayer and Liesel Toates brought interactive fun to their session "Escape into the Curriculum." Mayer and Toates explained the cross-curricula nature of escape rooms and how to create and use them as learning environments or instructional tools. Attendees broke into teams and tried to solve puzzles to unlock a box (the contents of which are still a mystery).
Aaron J. Elkins, assistant professor at Texas Woman's University, led an examination of Twine (an HTML-based, open source, game development tool) to create digital game-stories to round out sessions for the day.