The ACRL 2015 conference in Portland, Oregon, opened Wednesday, March 25, with an all-time attendance record of nearly 3,400 attendees.
G. Willow Wilson, creator of the Ms. Marvel comic series starring a Muslim superhero named Kamala Khan, headlined the opening session. A prize-winning fantasy author and journalist, Wilson is an American convert to Islam who has lived in both the US and Egypt.
Wilson said she initially figured the Ms. Marvel series would run no more than seven issues and noted, "I thought we'd have to hire an intern to handle all the hate mail." Instead, her character—a teenage Pakistani-American girl from New Jersey—resonated with people from all walks of life. She recounted seeing "a big, tall, white guy come up to me and say, 'That was me,'" reflecting his own experience with students making fun of him as a child of Polish immigrants to the US who brought unusual foods to school for lunch. "You never know what people are carrying. You can't tell from the outside," Wilson said.
Ms. Marvel is going to be one of the Avengers, Wilson said. "That is a kind of perpetuity you cannot imagine. It's good for me to know she has that immortality. That is what I strive for."
The author talked about her own multicultural background, even though family stories made her believe she was exclusively "Nordic Ohio Lutheran." She discovered through a family member's genetic testing that in addition to a German background, she has Iberian-Jewish ancestry, as well as some forefathers from Africa. "What happens when these stories we've been telling each other, sometimes for centuries, are not true?" she asked.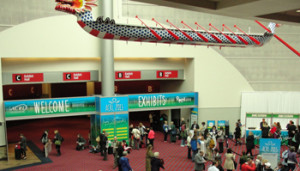 In reading 1491: New Revelations of the Americas before Columbus (Knopf, 2005) by Charles C. Mann, she was confronted with European brutality against native populations. "I was faced with these tremendous gaps in my knowledge," she said. Academic librarians are especially crucial in helping people to understand and listen to these "new narratives" she said, "because you facilitate inquiry and access to knowledge. By your calling you are part of the solution. We are not required to agree with new narratives. We are however, required to consider them."
The exhibits opened after Wilson's keynote, with a reception and the opportunity to meet and speak with more than 200 exhibitors.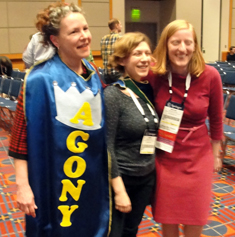 The opening day ended with the raucous and well-attended "BattleDecks: Creating Sustainable Agony" featuring several teams speaking extemporaneously on a serious theme to humorous PowerPoint slides they had not seen before. The Wall Street Journal wrote about ACRL's BattleDecks fun in a March 19 blog post. Defending champions The Bearded Librarians, featuring Mike Garabedian of Wardman Library at Whittier College, and Daniel Ransom of Holy Names University, spoke on "Articulating Library Values." When a slide appeared showing a CAPTCHA with the words "ur a nerd," they riffed, "We are nerds. We need to own that. We own our nerdity." This produced howls and laughter from the audience.
The winning team, Women of the Commonwealth, included M. Teresa Doherty and Jenny Stout of Virginia Commonwealth University. Their theme of "Sustainable Practices in Cataloging" proved ripe for one-liners with such slides as Homer Simpson at a bar with the caption, "I hate the public so much." The audience applause helped propel them to each win a handmade "agony" cape and a claim to BattleDecks fame for 2015.