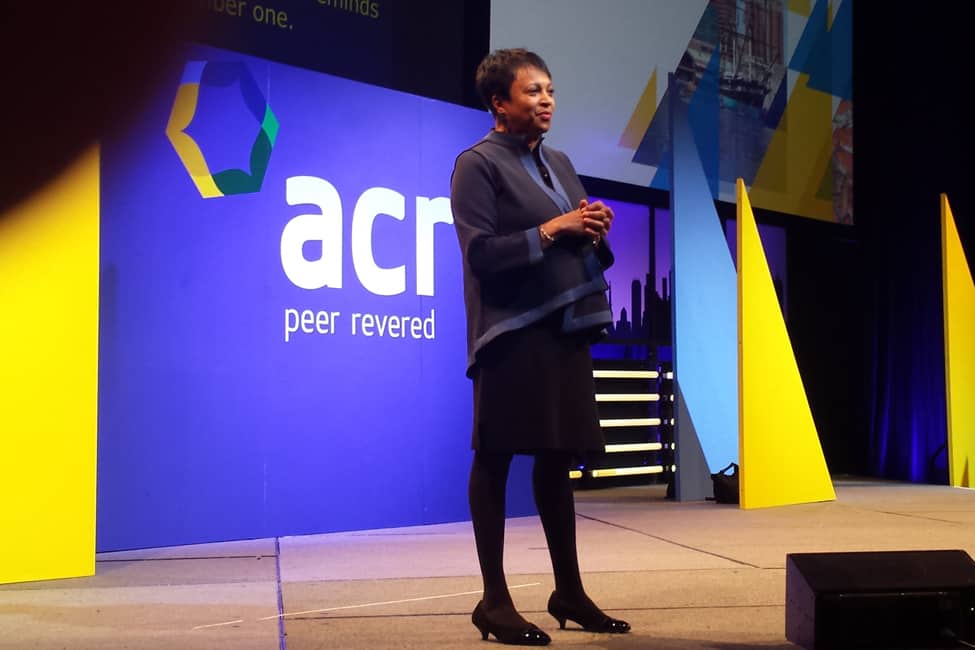 The Association of College and Research Libraries (ACRL) conference in Baltimore came to a close on March 25 with another full morning of programs and a closing session with Librarian of Congress Carla Hayden. The conference broke records for both attendance and fundraising, according to Conference Chair Jim Neal and ACRL President Irene Herold. ACRL's 2019 conference will be held April 10–13 in Cleveland. The call for proposals opens this fall.
Social justice and information literacy
The International Federation of Library Associations and Institutions has declared that information literacy is a human right. If it's a human right, what does this look like in practice? That question fueled the Social Justice and Information project discussed in "What's Social Justice Got to Do with Information Literacy?" a panel moderated by Gina Kessler Lee, information literacy librarian at St. Mary's College of California in Moraga.
The project was developed when librarians from several Catholic colleges collaborated to develop information literacy instruction—including instructional strategies, assessment, and a database of lesson plans—with a basis in social justice.
Margaret Brown-Salazar, instruction coordinator and librarian for the School of Education at St Mary's College, used search engine results as part of her Social Justice and Information project, inspired by the work of professor Safiya Umoja Noble. "When we seek information, we examine the privilege of the voices and sources of our information, and we learn to identify whose voices are present and whose voices are missing and how that impacts and influences our understanding of that information," she said. For example, she asks students to do Google image searches on "teenagers" and "juveniles" to shows the differences between who is represented in each group and how those images might influence people looking for information.
Joseph Garity, coordinator of library instruction at University of San Francisco, said the concept of library neutrality was a big topic of conversation around information literacy, especially in the current political climate. But he rejects that idea based on the shared goals of all the colleges in the project: "We are not neutral because the mission of our institutions is social justice."
Lisa Burgert, reference librarians at University of San Diego, used the school's Summer Bridge program as a way to work social justice into information literacy instruction. Instead of offering just library tours and basic research skills, Burgert tied the program to social justice themes in the school's campuswide read, The Price of Thirst: Global Water Inequality and the Coming Chaos (University of Minnesota Press, 2014). To get first-year students to understand net neutrality, her team created a role-playing game that divided students into teams, including CEOs or administration officials, that had to learn the issues surrounding net neutrality in order to create a strategy and convince the Supreme Court team to rule in their favor.
The project's members post their information literacy assignments to Project CORA, a searchable, open source database for faculty and librarians.
Carla Hayden on making—and celebrating—history
Former ALA President Courtney Young introduced Hayden. When the previous Librarian of Congress announced his retirement in 2016, Young wrote a letter to President Obama suggesting he nominate a librarian for the job. He nominated Hayden, who became the first woman and the first African American to hold the position.
Hayden spoke of the historical significance of her confirmation and the importance of having a regular outlet for her frustrations as a woman of color in a profession that is overwhelmingly white. "My poor mother knows more about everything than she ever needed to know," she said.
Hayden said she couldn't watch the confirmation vote on her nomination. Instead, she and her mother held hands and watched a rainstorm beating the windows, and her mother said, "These are the tears of our ancestors."
Hayden served as CEO of the city's Enoch Pratt Free Library for 23 years before taking on her current job, and said, "My experiences at Enoch Pratt Free Library paved the way for me to be Librarian of Congress. I was able to say libraries do matter."
As CEO in 2015 during the riots that followed the death of Freddie Gray in police custody, Hayden famously kept the library open to serve as a beacon and shelter in the community. "Standing there on that corner, looking out of those windows, I knew that this is what I needed to do," she said.
Hayden said her goal is to make the Library of Congress's  (LC) priceless collections available to everybody—for LC to live up to its nickname of America's Library. Obama told her that he went to an exhibit there and saw Lincoln's reading copy of the Gettysburg Address and the contents of his pockets from the night he was assassinated, but he was pretty sure this access was because of his being president. He told her he wanted someone for the job who could make sure a kid in Baltimore, a person at public library, a student at a community college, and anyone would be able to see these treasures. "And that's when I said yes," she said.
She mused about all the things she's discovered at her new workplace—62 million books; bookshelves that could stretch from D.C. to Davenport, Iowa; Rachmaninoff sheet music that has never been played; the papers of Sigmund Freud, including correspondence from Albert Einstein asking Freud why humans need to wage war (Freud wrote back 16 pages, essentially saying "I don't know"); a draft of the Declaration of Independence written in Thomas Jefferson's hand with notes on the side from Ben Franklin; the last photo of Harriet Tubman; the first comic editions of Superman and Wonder Woman.
Hayden began using Twitter to document these "pinch me" moments, another part of her efforts to modernize and expand LC's reach. She has also been making the library more accessible, opening up its Young Readers Center on Saturdays, livestreaming events, and even looking at opening on Sundays. LC will have programs at Awesome Con in Washington, D.C., in June, and Hayden promised she will sing backup for performer Gloria Gaynor during a disco-themed exhibition in April and May.
She praised LC's staff of librarians, curators, and archivists, noting that they have 80,000 years of experience between them. "Our materials are nothing without the people and staff. That's what makes it come alive," she said to great applause.
In the era of fake news, she said, "Librarians are having a moment! Trustworthiness is our strength. We should revel in it and be confident in it. If we're having a moment, let's seize the moment!"