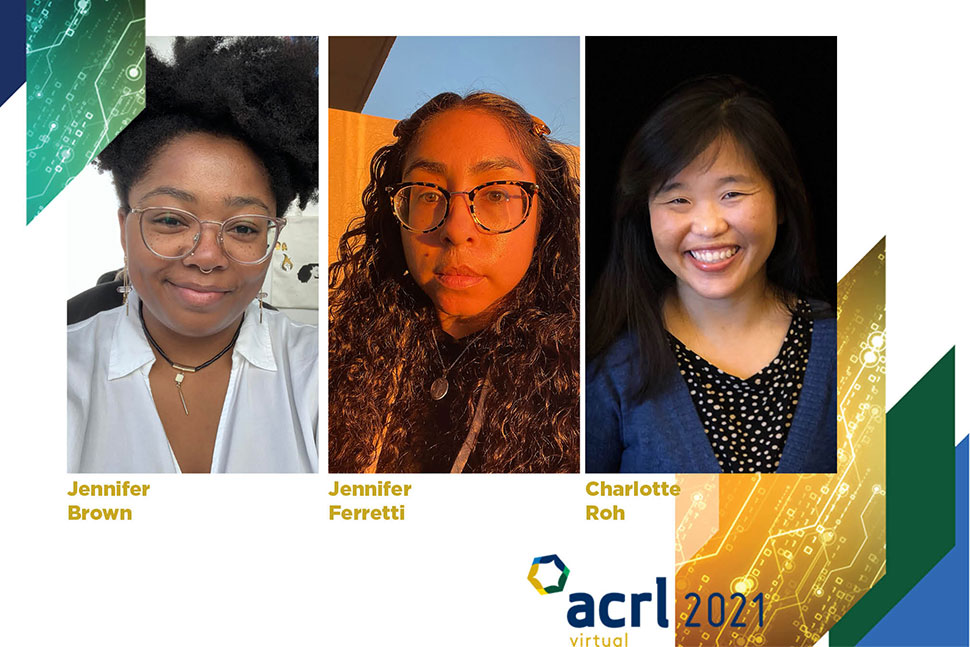 At the Association of College and Research Libraries (ACRL) 2021 Virtual Conference on April 15, the creators of We Here, an online community for Black, Indigenous, and people of color (BIPOC) in LIS professions and educational programs, explored the ways in which academic libraries stifle their BIPOC workers through pay and opportunity gaps, enable toxic work environments, and prevent systemic change.
Jenny Ferretti, We Here founder and digital initiatives librarian at Maryland Institute College of Art, opened the session "Systemic Oppression Requires Systemic Change: Recasting the Roles of Academic Libraries in Contemporary Contexts" by providing background on the racial past and present of libraries. Libraries, she said, are traditionally white-serving institutions, citing Todd Honma's "Trippin' over the Color Line: The Invisibility of Race in Library and Information Studies." The legacy of racial discrimination has prevented people of color from accessing libraries—as in the case of separate facilities during segregation—and from attaining leadership positions now. Contrary to the ideal of being open to all, she said, libraries are still considered such "elevated spaces" that people deemed unworthy of them are removed, a phenomenon documented with the hashtag #studyingwhileblack.
We Here began in 2016 as a Facebook group for BIPOC in LIS, explained Charlotte Roh, We Here community manager and scholarly communications librarian at University of San Francisco. "Many of us are 'onlies' at our institutions," she said, and needed a supportive space to talk without having to explain, for example, why something was a microaggression. The group now has close to 3,000 members, all of whom identify as BIPOC. We Here does not charge dues but funds itself through donations, grants, and its Patreon members.
Ferretti noted that the group does not collaborate with organizations that want its members to work for free and that it doesn't accept sponsorships that would mostly benefit the sponsor. "We're not participating in the normalization of free labor and calling it collaboration," she said. She believes the field needs to discuss money as transparently as it discusses the state of librarianship.
The organization produces an open access publication (up/root) and provides professional development opportunities through its Community School. Roh noted that a goal of these events is to change the default white-centered perspective of LIS professional development, so they are presented by BIPOC instructors to a BIPOC audience. She added that We Here's events are not free, and instructors are paid for their labor because the group believes it's important to invest in expertise in the community.
Jen Brown, We Here community manager and undergraduate learning and research librarian at University of California, Berkeley, discussed how academic libraries should recast themselves after a history of "horrific policies, inadequate pay, and white supremacist culture." She pointed to libraries' responses to the pandemic as an example—many academic and public libraries put the perceived public need for library services over the safety of BIPOC workers when reopening.
Even before pandemic, the profession often risked the mental and physical health of BIPOC staff. "Institutions traumatize us and drive us from this field," she said, noting that people of color are usually given the responsibility for making change in their organizations, then scolded for making their white colleagues uncomfortable.
Brown said professional development opportunities remain unaffordable due to travel and membership fees, including at ACRL. "We can't get up here and not be real," she said. She has often heard her colleagues say they couldn't afford to hear her speak at conferences. "When the cost of sharing knowledge is so prohibitive that entire communities are left out, it requires change," Brown said.
The presenters offered several potential solutions for academic librarians, such as asking why 40% of academic library leadership roles are filled by white men, removing the paraprofessional–professional divide among library workers, getting involved with local legislation issues around your campus, and increasing salary transparency.
Assessing the effects of the pandemic on services
The onset of COVID-19 brought unprecedented disruptions to academic libraries, their workers, and their users. In the session "The Library Never Closes: Assessing Resources and Services after a Crisis," librarians from three universities shared data on their users.
Matthew Jabaily, electronic resources and serials librarian at University of Colorado, Colorado Springs (UCCS), said that even though many libraries closed their buildings, at least in the early days of the pandemic, libraries are more than their physical spaces and have many services still available when doors are closed. Using the data gathered on service use during this past year, libraries can create what he called a "pandemic value narrative" that articulates their worth and evaluates how they responded to the crisis, mitigated its effects on users, and made changes within the library as a result.
The presenters provided data on three university library systems—UCCS, which shut down for some of 2020; Illinois State University (ISU), which shut down in March 2020, reopened in August, closed again, and is now open with limited hours; and University of Memphis (UM), which remained open. Monthly data was collected for comparison for the years 2018–2020 in a range of areas, including physical and ebook checkouts, virtual reference, and streaming services.
Changes in physical checkouts depended largely on whether the buildings were open, with UM seeing less of a decrease than ISU or UCCS. Several libraries instituted curbside pickup or shipping services. Recovery of reserved materials has lagged at all libraries.
All institutions saw increases in chat and virtual research interactions, but the increase was small compared over three years. The percentage of chat services compared with total reference remains small at ISU, said Rachel Scott, associate dean for information assets. "We rely on physical desk interactions to connect with our users. Libraries have hard questions to answer about what to do with in-person reference and research services."
Tabatha Farney, director of web services and emerging technologies at UCCS, noted fewer users on library websites during the pandemic.
Their data showed a clear decline in serials access use but stable ebook use. Jabaily speculated that libraries may have increased purchases of ebooks going into pandemic. Universities may have also taken advantage of temporarily free ebook collections, and users may have taken advantage of ebooks because they didn't have access to the print collection.
Panelists expected the pandemic to be over by the time they gave their presentation, said Caitlin Harrington, electronic resources librarian at UM, so they don't have the distance needed to see the big picture yet. But they can draw some conclusions to help institutions get through the pandemic and any future surges. Their data showed that ebooks were a good investment, and although the costs of streaming video were rising, its use had been steadily increasing over the three years studied, so it was also a good investment. "Broader trends toward ebooks and streaming video are continuing and accelerating," Harrington noted.
By contrast, the use of library services, physical collections, and some online serials have a long way to go before they can be considered recovered, she said.
It may be too early to define your pandemic value narrative, Harrington added, as the crisis is ongoing and life is far from normal. Nevertheless, she said, "Data can help librarians advocate for practices that do not increase risks without benefits and communicate the continued value that libraries deliver."