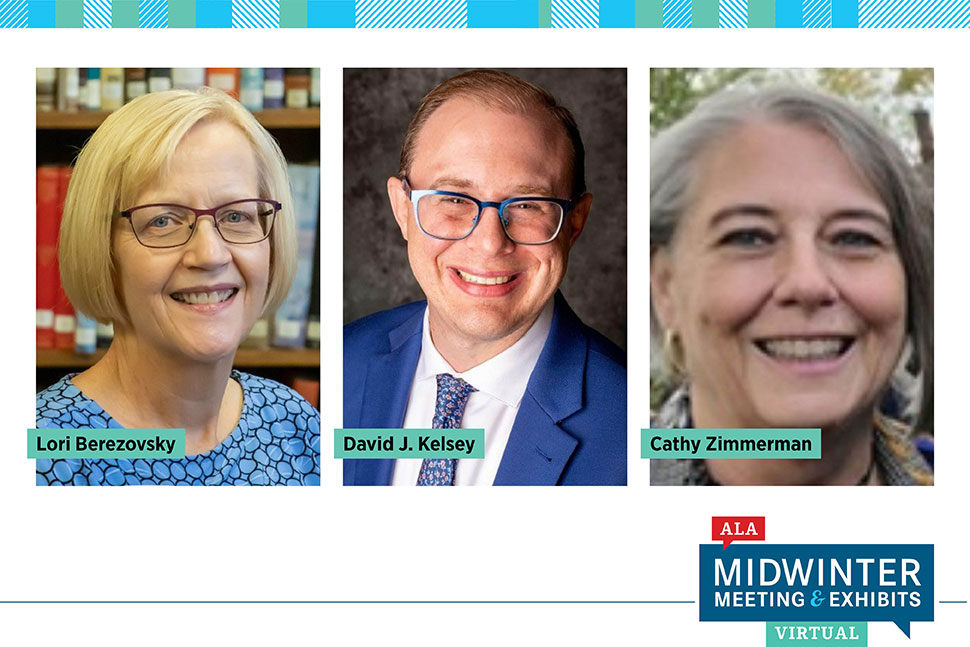 How has the coronavirus pandemic changed the ways libraries get out into the community? What adaptations have been made to bookmobiles, service vehicles, and outreach programs in the last year? What precautions are being taken in order to continue serving patrons?
At "Exploring Ways to Jazz Up Your Bookmobile, Outreach, or Book Bike Program during COVID-19," a January 23 session at the American Library Association's Midwinter Meeting & Exhibits Virtual, officers from the Association of Bookmobile and Outreach Services (ABOS) led a discussion on these questions and more and addressed how their roles are being reimagined in unprecedented times.
"The pandemic has changed everything," said ABOS President David J. Kelsey, outreach services librarian at St. Charles (Ill.) Public Library. "It's hard, because we're such a touchy-feely bunch in outreach."
Soon after COVID-19 shuttered library buildings and halted programs, bookmobile and outreach personnel across the country began exploring measures to safely continue services. "Homebound delivery, contactless delivery, drop-offs, pop-ups, social distancing—we've used all of those [methods] to get it done, to get those materials to our people," said ABOS President-Elect Lori Berezovsky, outreach librarian at Salina (Kans.) Public Library. She said that staffers at her workplace wear masks when delivering books, quarantine returned items for two days, and find themselves constantly sanitizing surfaces.
But almost immediately, library closures and safety mandates exacerbated existing problems in many communities, such as the digital divide and food insecurity.
"When the library is closed, there's a lot of people who cannot use Wi-Fi," Berezovsky said. Many bookmobiles saw this as an opportunity to step in.
"We've seen a lot of Wi-Fi programs that went out in just the last few months," said Kelsey, explaining that outreach vehicles not previously outfitted with Wi-Fi hotspots are now bringing broadband internet to mall and grocery store parking lots at set times during the day. "A lot of libraries are partnering with food pantries" to distribute food at bookmobile sites as well, he adds.
The need for social distancing has also affected the specific types of outreach library staffers can perform.
For example, Kelsey, who works with seniors in his community, has switched from in-person visits to activity kits and virtual programming, such as prerecorded sessions and Facebook Live broadcasts. One of Berezovsky's colleagues has filmed her doing read-alouds, which are then shown at local memory-care facilities.
ABOS Past President Cathy Zimmerman, bookmobile associate at Scott County (Iowa) Library, has hosted remote game shows for her seniors, and has even done window checks at a senior care facility where residents have outfacing windows; she calls residents on the phone from just outside their window so they can see her face while she's talking to them.
"I kept waiting to get arrested for stalking the seniors," Zimmerman joked, "[but the window checks] made all the difference."
"Seniors are truly isolated," Kelsey added. "You have to find innovative ways to reach your populations." Computer technology can be a challenge for older adults and preschool children alike, he pointed out, so grab-and-go kits and dial-a-story hotlines can bridge that knowledge gap.
Though COVID-19 has largely upended approaches to outreach, it has also prompted an overdue assessment.
"It's allowed me to step back and look at things from a distance," said Berezovsky, who took the crisis as an opportunity to reschedule and reorganize her bookmobile route to improve service and productivity.
Kelsey agreed: "The downtime has helped me and my team evaluate stops and services. As a world, we're discovering what's meaningful."