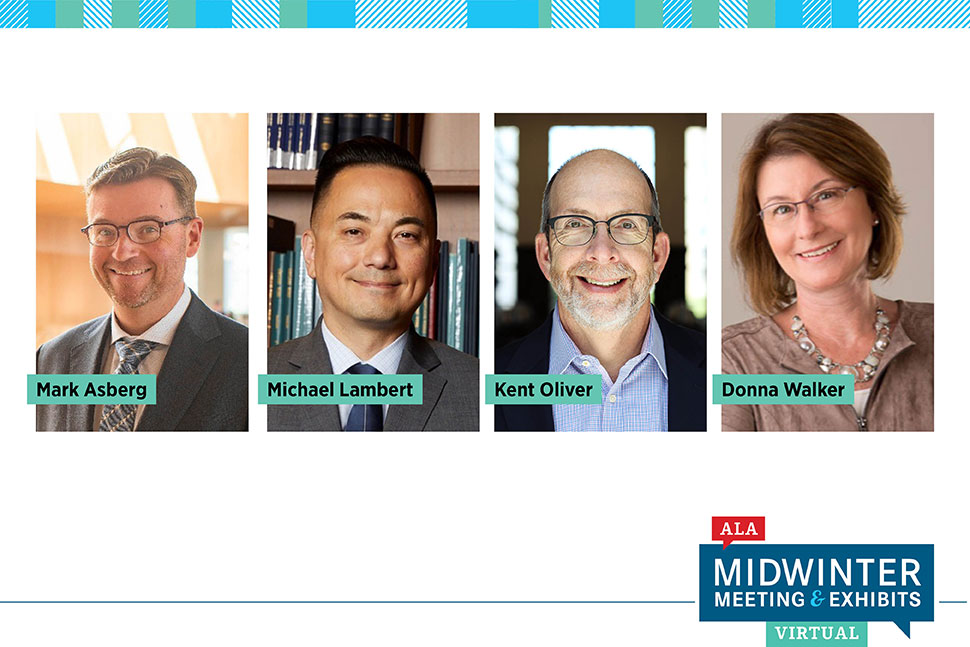 The first US fatality from COVID—as reported by the Centers for Disease Control and Prevention on Feb. 29, 2020—took place in a nursing center in the King County (Wash.) Library System's (KCLS) service area. Outreach services staff from the library had delivered materials to the facility just days before, making KCLS part of the pandemic's national epicenter.
Describing everything since the pandemic as "The After," KCLS Executive Director Lisa Rosenblum moderated "Rising to the 2020 Challenge" at the 2021 Midwinter Meeting & Exhibits Virtual on January 23.
With all the crises 2020 presented—including COVID, political unrest around ongoing systemic racism, economic turmoil—what lessons and future practices can libraries and library workers glean? What can libraries "do to help shape The After?" she asked.
Panelist Donna Walker, executive director of Jefferson County (Colo.) Public Library (JCPL), noted how the pandemic led her library to accelerate many of the alternative services it had already begun planning. Those services aimed to help the library "think outside the branch" by expanding into markets beyond its physical locations, focusing on convenience, and leveraging new technologies. Oddly enough, as a result JCPL had included a pilot curbside pickup program in its 2020 budget well before COVID, Walker said.
And, because JCPL now provides many services that no longer require people to visit the library, "snow days will never be the same," she joked. "A game changer for us [was] being open to taking bigger risks for implementing services that [otherwise] would have taken longer to plan, pilot, execute, and evaluate."
At San Francisco Public Library (SFPL), more than two-thirds of staffers are considered emergency workers under state law. As such, SFPL's "workforce was thrust onto the front lines of the city's public health emergency response," said panelist Michael Lambert, SFPL city librarian. Library staff comprise more than half of the city's disaster service workers, he said. Of 900 SFPL staffers, 588 have put in more than 10,000 weeks of aggregate service during COVID.
What has resulted, said Lambert, is amazing innovation. "The public health emergency has revealed how great and how heroic and downright essential library workers are," he said. He added that while the pandemic has raised the profile of SFPL staff among city leaders, the true "silver lining of COVID" is that it has accelerated necessary organizational development work. In his words, he's "encouraged and terrified and cautiously optimistic because we've demonstrated that our staff can adapt, and they can lead in taking on higher level functions in our community."
At Nashville (Tenn.) Public Library (NPL), Director Kent Oliver noted the city's hiring freeze, which has left 50 positions unfilled. As a result of that, the pandemic, and competition from the private sector, NPL has been trying to implement staffing resources that, he said, "can nimbly react" to these and future challenges.
In talking with a colleague, Oliver said, he realized that we are entering into a cycle of "reaction, recession, rebound, and reinvention. Or, quite simply, work, learn, work, learn." Among the advice he offered other managers: know your staff, trust them, and practice team management so you don't waste others' time. The challenges of 2020 have made Oliver question the need for elaborate strategic planning beyond a mission and vision statement and looking at values and general goals, he said. Other panelists agreed.
"Rigidity hurts and paralyzes progress," Oliver said. Borrowing from NPL colleague Andrea Blackman, director of the library's Civil Rights Room, Oliver summarized several lessons from the past year: "Get comfortable with the uncomfortable. Know your community. Listen to your customers now more than ever. Honor the process when you build coalitions, and really work collaboratively. Try to resist binary thinking. And challenge yourself to hear all the ideas."
Panelist Mark Asberg, CEO of Calgary Public Library (CPL) in Alberta, Canada, said that while COVID-19 has presented opportunities for innovation, crises—and our need to respond to them—"will exhaust our spirit" and "blur our strategic vision" in the long term. He cautioned that it's easy to "fall into the trap of being single-mindedly tactical in these moments."
Asberg pointed out two big dangers: First, when we move fast, we will invariably leave people behind. While he acknowledges that some decisions need to be made quickly and communicated in a straightforward way, we must realize that some people may feel unheard, he said: "We're going to have more disengaged teams as a result of this—a workforce that isn't as passionate about the work that they do."
The second danger in the tactical realm, said Asberg, is creating patchwork solutions. "Of course, we need to do that sometimes," he said. "Just fix it now and sort of move on." But, he argued, these solutions will not be sustainable for the future.
"We'll find ourselves post-pandemic bringing our libraries back to where they were before," he said, which would be a lost opportunity. To help tackle these challenges, he and colleagues kept their cross-disciplinary design-thinking teams front and center in their library's decision making and planning. He said their mission has been to institute solutions that will continue to evolve long after the pandemic, such as considering how CPL's virtual platforms will live on.
In addressing staff fatigue and burnout, panelists said they have been conscious of scheduling, reinforcing staff safety and health, encouraging taking time off, being deliberate in how new initiatives are being rolled out, emphasizing wellness, and, as Walker said, "showing our vulnerability as leaders."
Lambert agreed, saying that he never asks staff members to do anything that he himself isn't willing to do: "It's important to walk the walk as leaders."