From September 24–26, more than 300 LIS faculty, students, and practitioners gathered in Knoxville, Tennessee, to hear and share the latest research trends and thoughts at the 2019 Association of Library and Information Sciences Education (ALISE) conference. This year's theme centered on exploring learning in a global information context. Sessions covered advocacy; curriculum development; LIS theories; data and technologies; and diversity, equity, and inclusion.
Day 1: Perspectives on diversity and inclusion, data ethics, and fake news
In "The Hoax and the President: Historical Perspectives on Politics, Truth, and Academia" on September 24, Sharon McQueen, an independent scholar, explored the rise and impact of fake news in journalism and the information ecology. She said fake news can be traced back to 1275 BCE, when Ramses II glorified a victorious battle in ancient Egypt that could have been viewed as a draw based on historical interpretations. Mark Peterson, head archivist at the Woodrow Wilson Presidential Library, presented on the role of libraries in shaping political decisions and discourse of the early 20th century.
In the panel discussion "Embracing Diversity: What It Means for New LIS Professionals and the Organizations That Hire Them," LIS educators and leaders shared perspectives on recruiting and retaining LIS professionals from underrepresented groups. The panel—which included American Library Association (ALA) President Wanda Kay Brown, former ALA President Loriene Roy, professor Theo Bothma (University of Pretoria in South Africa, who presented virtually) and LIS faculty members Anthony Chow (associate professor at University of North Carolina at Greensboro), LaTesha Velez (assistant professor at UNC Greensboro), Dick Kawooya (assistant director of University of South Carolina's School of Library and Information Science), and Jaya Raju (associate professor and head of the library and information studies center at University of Cape Town in South Africa)—discussed what it means to diversify a library workforce and the challenges that LIS professionals from underrepresented backgrounds face in the workplace. Brown emphasized that "diversifying the LIS workforce means mirroring the communities that we serve." Other challenges mentioned by panelists included organizational barriers, tokenism, microaggressions, and the feeling of being an outsider in our own institutions and communities.
Raju delivered the keynote address, "Shaping LIS Education for Blended Professionals in a Pluralist Information Environment." She presented her research on the LIS field's disciplinary identities and their critical impact on professionals. She shared the global responses collected from various countries, including Australia, South Africa, Thailand, Uganda, and the US, and explored how the LIS field may need to emphasize information technology skills and teaching and learning skills and theories in this digitized information environment.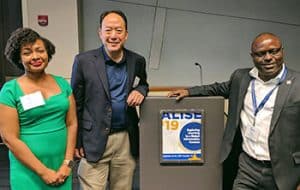 Day 2: The future of LIS education and programs
A September 25 panel, "Leadership during Organizational Restructuring of LIS Programs," discussed challenges and opportunities for LIS programs undergoing structural changes within their universities. Speakers shared how their LIS programs were affected by their university's leadership and vision, and how their programs would be integrated with other departments or colleges, such as computer science or human services. ALISE President-Elect Sandra Hirsh, director of San José (Calif.) State University iSchool, recommended, "Pay attention to what your academic leaders are saying, and ensure that the department is well aligned to this" and "be open to new possibilities."
In a special session, "The Future of LIS Education: Exploring Curricular Change in Response to Trends," ALISE President Heidi Julien, professor at University at Buffalo's (N.Y.) Department of Information Science; Lynn Silipigni Connaway, director of library trends and user research at OCLC; and Michael Seadle, LIS professor at Humboldt University of Berlin emphasized the importance of LIS core values and the challenges and evolving nature of the global information economy, including workforce skills and advances in technology and how they may affect education.
The session "Chatman Revisited: A Panel Re-examining and Resituating Social Theories of Identity, Access, and Marginalization in LIS," examined the work of the late LIS professor and researcher Elfreda A. Chatman. Panelists shared their research and experiences in engaging with Chatman's scholarship and its impact on their own works. The session was introduced by Nicole A. Cooke, associate professor at University of South Carolina's School of Library and Information Science. LaVerne Gray, assistant professor of information science at Syracuse (N.Y.) University, discussed Chatman's research methods and theories in studying marginalized groups, such as women who experience incarceration and their information-seeking behaviors. Shawne D. Miksa, associate professor of information science at University of North Texas in Denton, reflected on her experiences as a student studying under Chatman at Florida State University in Tallahassee. Bharat Mehra, EBSCO endowed chair in social justice at University of Alabama in Tuscaloosa, offered critiques of Chatman's scholarship and argued the importance of building on her works based on their limitations.
Day 3: Global advocacy and study abroad programs
Educators and practitioners examined library policy work from global perspectives in "Layers of Advocacy: How Librarians Everywhere Can Make a Difference and Lessons for LIS Education." The speakers drew from their own experiences to show that LIS curricula need to include advocacy and policy courses and argued that this work is instrumental to helping LIS graduates learn to advocate for funding, education, and their communities. Lauren Smith, digital support librarian at University of Edinburgh in Scotland, shared the challenges with UK's LIS curriculum. "Advocacy is holistically absent or limited," she said. "It may be a single lecture and mostly focused on digital libraries, public libraries, information policy, or library management." She recommended important tools such as logic modeling or contribution analysis to develop key advocacy skills within a course or under strategic planning.
A session presented by the International Library Association SIG, "How Effective Is Study Abroad As a Pedagogical and Experiential Learning Tool in LIS Education?", showcased examples of effective study abroad programs organized by LIS faculty. Speakers highlighted their unique programs' developments, benefits, and challenges. These recent courses took place in Costa Rica, Germany, Ireland, Italy, Rwanda, South Africa, South Korea, and Switzerland, and offered students, alums, and professionals a unique opportunity to explore the LIS field in global contexts. Lisa Hussey, associate professor at Simmons University's School of Library and Information Science in Boston, described the school's program in Rwanda, a country with a legacy of genocide, saying "Reflection is very important, and this kind of work is not volunteer tourism," but rather taking an appreciative inquiry approach on how Rwandans use information and resources in a whole different way.
The session concluded with Kawooya inviting attendees to share their experiences and work connected to the presentations and to the ALISE conference theme of global information contexts.