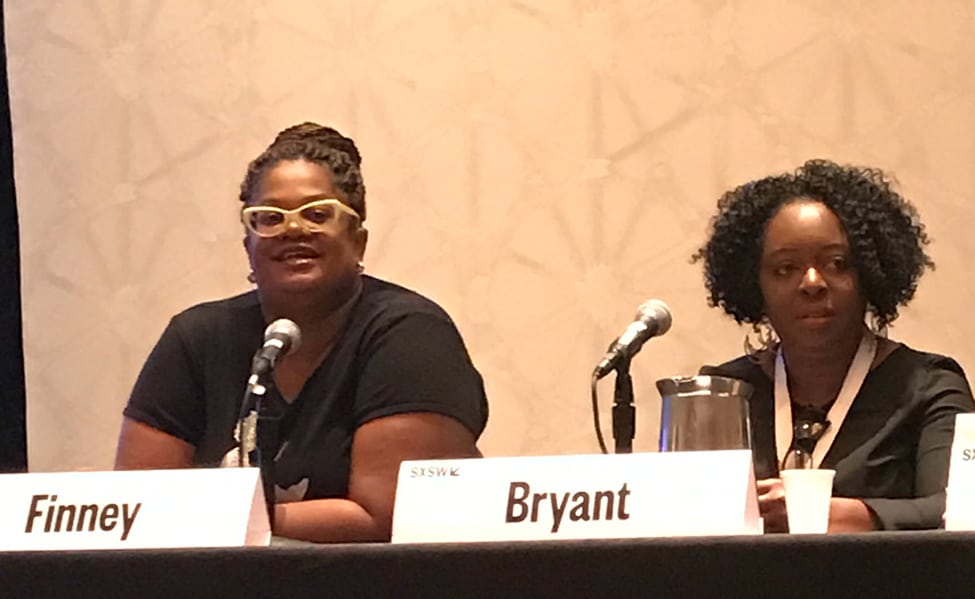 The diversity gap is an emerging theme in technology. As corporations, nonprofits, and individuals have embarked on their own solutions, libraries have risen as partners in bridging that gap, from coding classes for kids to the creation of makerspaces that foster access for all.
But how are we doing? What is the state of inclusion in technology, and what work is left to do? Two panels at South by Southwest Interactive on March 11 in Austin, Texas, tackled some of these questions.
Inclusion and funding
"Inclusion and the Digital Neighborhood" panelists Kimberly Bryant, founder and executive director of Black Girls Code, and Kathryn Finney, founder of DigitalUndivided, are African-American women who found success in science and technology: Bryant as an engineering manager in pharmaceuticals and biotech, and Finney as an epidemiologist and creator of fashion blog The Budget Fashionista. They then turned their focus outward—by creating nonprofits aimed at getting more African-American girls in the STEM fields (Bryant) and by supporting woman entrepreneurs of color, from coaching to mentoring to angel funding (Finney).
Just as Finney's and Bryant's key audiences differ in age and seniority in the tech pipeline, they also differ in their approach to the diversity gap. Bryant focuses on educating young women—and their parents—while simultaneously working with tech companies to make room for these bright young minds.
"It's not just about education," she said. "If there isn't inclusion, education will only get us so far."
In contrast, Finney said she works on empowering women to create their own companies and carve their own space.
"We're not about diversifying tech," she said. "We're about fostering our own power and empowering our communities."
Regardless of the approach, Finney and Bryant agree on one thing: While much progress has been made in exposure, education, and entrepreneurial support, all of it is useless without money.
"No longer is the question, 'Can black women be engineers?'" said Finney. "It's 'How do we fund?'"
Finney said that at the start of Project Diane, a report DigitalUndivided published on black entrepreneurship, only 11 black women had raised $1 million each in venture funding. Since then, they've noted only five more, and only one woman has raised more than $10 million.
Bryant underscored that point when asked about what organizations needed to be brought to the table to ensure diversity and inclusion. True inclusion will happen, she said, only when those who succeed look beyond their comfort zone for new ideas to fund. When she goes to Silicon Valley, she's often in rooms where she is the only woman or the only person of color. And in those rooms, friends fund their friends' projects.
"We're not in those rooms where the money is flowing," said Bryant. "We need to get there."
Making space, not just makerspace
In "Why Women in Tech Matter," the panelists gave a snapshot of where women are in technology, and how to create a more diverse technological workforce.
Moderator Doreen Bogdan-Martin, chief of ITU's strategic planning and membership department, kicked off the session with statistics that highlighted the dearth of female representation and the benefits of female leadership. Only 6% of mobile apps are developed by women, she said, yet when you look at the success of Fortune 500 companies, those led by women average 225% higher returns than those led by men.
This is where initiatives such as Equals, a new UN Women initiative to close the digital gender gap, come in. By focusing on the initiative's key points of improvement in access, education, and leadership, the session's panelists can be the rule, not the exception, she said.
Most of the panelists—Unoma Okorafor, founder and CEO of Working to Advance STEM Education for African Women (WAAW) Foundation; William Hurley, founder and CEO of Honest Dollar; and Yannick Glemarec, assistant secretary-general and deputy executive director for policy and program of UN Women—found great success in business and are now paying it forward.
"This issue is right for the bottom line," Okorafor said. "We are not doing women a favor" by pushing equality; it helps uplift all of us.
The fourth member of the panel, 14-year-old Niamh Scanlon, seemed to embody the goals of getting girls involved in STEM education early. Scanlon, 2015 EU Digital Girl of the Year, started coding at Dublin City University's CoderDojo at age 9, was mentoring by age 10, and a few years later, had developed reCharge my eCar, an app for finding open car-charging stations in her native Ireland.
One thread running through the discussion was a need to create a welcoming environment for women.
"Provide girls with a fun space that's welcoming and encourages them to learn tech skills," said Scanlon.
To do that, for both young girls and established women in the field, everyone has to put in the work, the panelists said. Women who have had some success need to mentor, and men need to put their money where their mouth is by not only hiring women but learning to retool their thinking to make space for them in the workplace. This means speaking up when a colleague says something inappropriate to a female colleague, or—mirroring Finney's and Bryant's comments—looking beyond the usual suspects for a new position.
"This movement can't be populated by just women. Men have to do the work, too," said Hurley.