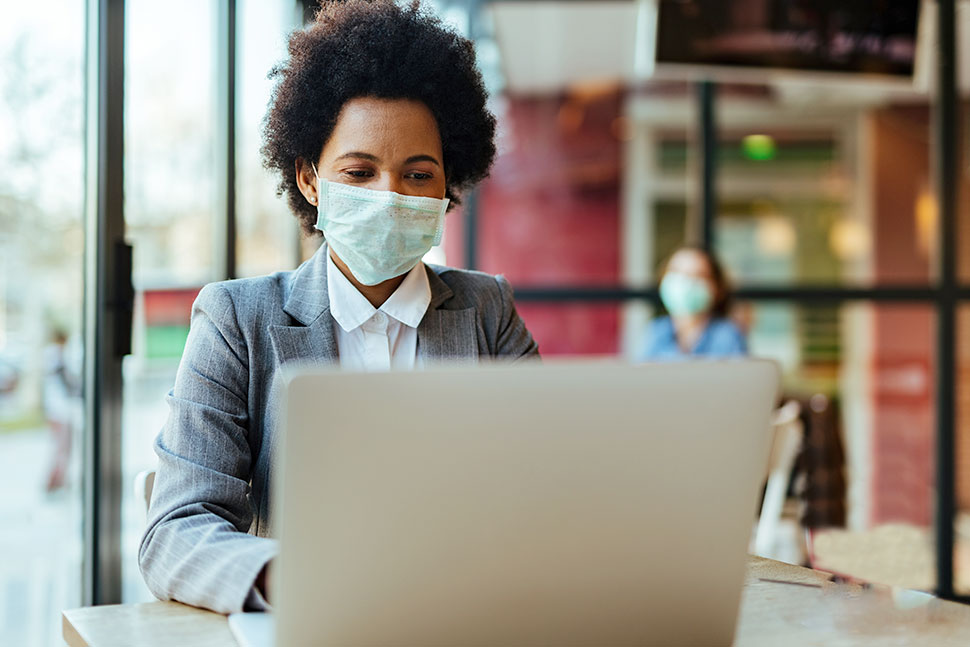 As stay-at-home orders extend deeper into spring, some public libraries are drafting plans for their eventual reopenings—even as it remains difficult to predict how and when those plans might be implemented.
Once reopened, most will likely continue to support social-distancing measures through such steps as rearranging furniture, cleaning computers between uses, disinfecting books and other materials, and—as the Radnor Memorial Library in Wayne, Pennsylvania, is considering—perhaps providing special hours for at-risk populations such as the elderly and immunocompromised. "Public and staff safety will always be my number-one priority," says Anny Laepple, the library's executive director.
Other tactics remain in flux. Rather than creating a definitive plan prior to opening, many libraries intend to retool strategies as updated information about the virus becomes available. "We're trying to make things more flexible," says Amanda Bressler, assistant director of the Albany (Oreg.) Public Library (APL). "It feels like the recommendations and timeline change constantly."
Many librarians are envisioning a staged reopening, wherein services are gradually rolled out over time.
Lori Smith Thornton, public services bureau chief for New Mexico State Library (NMSL) in Santa Fe, developed one of the first staged-reopening draft plans. "It seemed rational to me that we just weren't going to be able to reopen to the public and go back to business as normal," she says. The draft plan begins with maintaining interlibrary loan and book-by-mail services, then calls for rearranging furniture and computers to allow for social distancing once parts of the building reopen to the public.
Though originally created with NMSL's space and resources in mind, the draft plan is being used by several other state and public libraries as a springboard for designing branch-specific strategies. Still, as Thornton points out, the NMSL draft plan relies on factors outside of a library's control: "A lot of this is contingent on other services being restored"—such as security services, which at NMSL are provided by a separate organization. Too, she points out, "it may be that before we're allowed back in the building that all the air filters have to be changed."
APL is anticipating what Bressler calls "a great need in the community" for assistance with job-seeking. For that reason, staff are considering strengthening partnerships with community organizations that can provide services such as résumé assistance. Given social-distancing concerns, the library is also "looking into getting a set of laptops, so that people can check out a laptop and find their own space comfortable and far away from people," Bressler adds.
Pima County (Ariz.) Public Library (PCPL), headquartered in Tucson, is considering adding a potentially controversial feature to its reopening plan: Temperature checks for both staff and patrons. Pima County Health Department has drafted a proposal calling for "wellness checks," which include temperature checks for anyone entering a county building.
"I'm trying to figure out what that's going to look like for libraries, because we have hundreds of people who come in every day," says PCPL Director Amber Mathewson. "We've never disallowed anyone from coming into the library. We've always felt like we're the safe haven for the most vulnerable people"—but given the potential for germs to spread, "we could also cause the most harm for the most people."
In addition, once reopened, PCPL may begin offering curbside service, limiting computer access, monitoring the number of patrons in the building, and limiting library hours. Mathewson says the library will need to remain flexible to ensure staff and patron safety: "Everybody is feeling this immense pressure to try to make the best decisions that will keep people well."
While libraries are working to address the physical challenges caused by the pandemic, many wonder how to address the psychological fallout for both patrons and library staff. Patrons will need to feel comfortable visiting public spaces, while staff will need to adapt to a new way of working.
"Retraining the community about how the library is used is going to be really difficult, but expecting staff to enforce these limitations is going to be really challenging," says Bressler. "We're a library, and we want to give people everything we possibly can, but that's just not something that seems possible in the immediate future."
Update, April 28: The American Library Association and other library organizations announced their support of a new research partnership on safe materials handling and reopening practices for libraries and museums, led by the Institute of Museum and Library Services, OCLC, and Battelle. 
Update, April 30: Corrected link to New Mexico State Library reopening plan document.