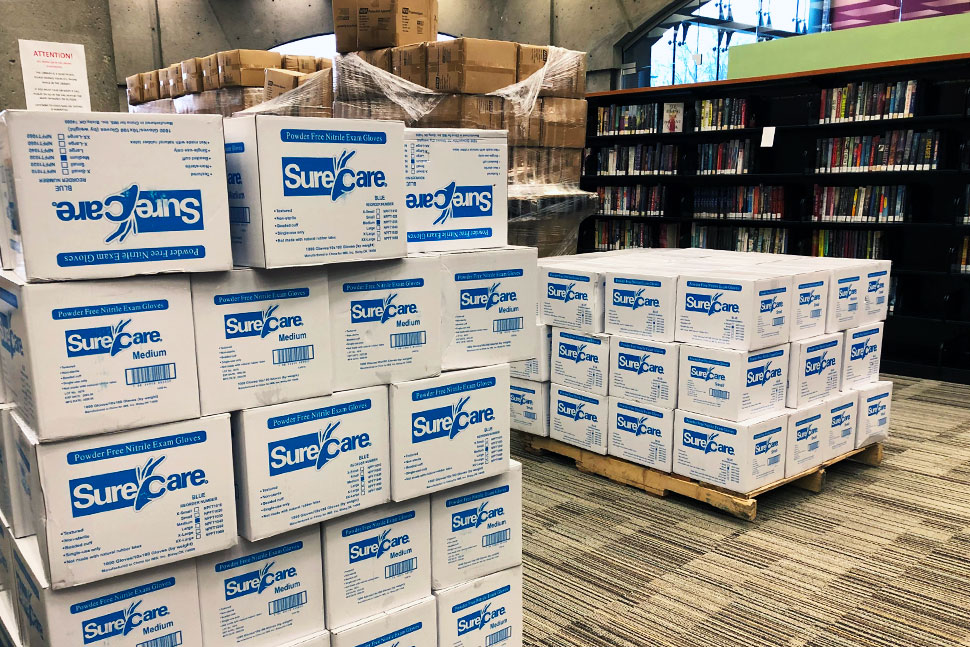 When Karen Bradley, director of Schenectady County (N.Y.) Public Library (SCPL), learned in late October from the county manager that the Central library would become a distribution center for the COVID-19 vaccine, she wasn't sure what to expect. The library was used to receiving books and DVDs from "little delivery-type trucks," Bradley says, but things changed in December when shipments of medical supplies began arriving.
"Now, we're getting these big commercial vehicles—these long tractor-trailer things that pull in here," says Bradley. "It's quite the image."
In 2020, many libraries proved essential to their counties' coronavirus pandemic response by acting as testing sites, manufacturers of 3D-printed personal protective equipment, and donation centers for food pantries. In 2021, some are once again being called to assist in the fight against the virus—this time to serve as sites for vaccinations. Several factors may make libraries suitable in this regard: They're usually open seven days a week, are typically wheelchair-accessible, and often boast safety features such as security cameras.
Beginning January 4, health care workers from Schenectady County Public Health Services, along with volunteer doctors and nurses, have been vaccinating 100–150 people per day in a large room at SCPL that is usually used for programming. Bradley and another library worker are directly assisting the vaccination effort by providing technology and equipment support such as copying necessary forms, managing supply inventory, and sourcing equipment like clipboards and pens.
The library is also printing forms, information, and vaccine cards for recipients and providing laptops for health care workers to use. Library staffers have been tasked with receiving and unloading gowns, gloves, masks, syringes, syringe-disposal containers, and other equipment. (The vaccine itself is brought in a refrigerated case with a security escort each day.)
Noble County (Ind.) Public Library (NCPL) volunteered space in its Albion location in late December to county commissioners and the Noble County Emergency Management Agency. The location's lower level—which previously housed a media room and space for meetings and private events—has been turned into a vaccination clinic staffed by the Noble County Health Department and volunteer nurses. No library workers are involved in vaccine distribution, and the initiative has not disrupted library services.
NCPL Director Sandy Petrie, who brought the library to the county's attention during its search for vaccination sites, says that though the library has lost some space in the short term, she hopes that the vaccination drive will help speed a return to normal service.
"We have a lot of people in the county coming into the library that have probably never been here before," she says. "The faster we can get people vaccinated, the faster I can get back to providing those services that our community craves."
In addition to providing space for vaccinations, NCPL has dedicated a computer station so staff can help residents sign up for vaccine appointments. (The only people in Indiana currently able to receive vaccines are frontline workers and residents over age 65. Many older adults in Noble County, Petrie says, do not have internet access in their homes.)
Rather than serving as ongoing vaccination sites, some libraries have hosted pop-up clinics while their counties organize other, larger venues. Two Lee County (Fla.) Library System locations—East County Regional and Lakes Regional—acted as distribution centers for one day each in December.
The effort was run by the Florida Department of Health in Lee County and Lee County Emergency Management, with vaccines available on a first-come, first-served basis for residents 65 and older. As the vaccinations took place, East County Regional remained open to the public with regular service, while Lakes Regional closed because of the large number of people who came hoping to get the vaccine.
Lee County has a process by which staffers from county departments can be reassigned to assist in emergency situations. As a result, a handful of library staff members were formally assigned to help in the effort, along with staff from the county's facilities, public safety, and other departments. "Everyone pitched in as needed," Library Director Mindi Simon says.
Those reassigned library workers, along with other county employees, greeted people waiting to receive the vaccine, distributed intake forms, answered questions, and managed the recovery area, where people were observed for side effects after getting their shots. Additionally, library staffers took the opportunity to register people for library cards, renew expired library cards, and show patrons how to use online resources while waiting in line for vaccines. Between the two libraries, more than 1,600 people were vaccinated.
Glad as they are to help, some staffers worry that having their libraries serve as vaccination sites means increased foot traffic—and increased potential exposure to COVID-19. At SCPL, staff have been permitted to work on the second floor of the building, away from the vaccination effort. Petrie of NCPL says there's a sense of pride among her staff members, but adds: "I haven't heard anything negative, and that doesn't mean it's not there."
Providing space to distribute the vaccine can also help library workers access it faster themselves. At SCPL, both Bradley and the other staff member working in the vaccination clinic have been vaccinated, as have cleaning staff. Other library staffers have received vaccines after appointment no-shows.
In a time when libraries around the country are being hit with severe budget cuts, vaccination efforts can raise awareness of their community value, Petrie says: "This is a really good opportunity for us to show people that almost anything can happen at your library, including this."