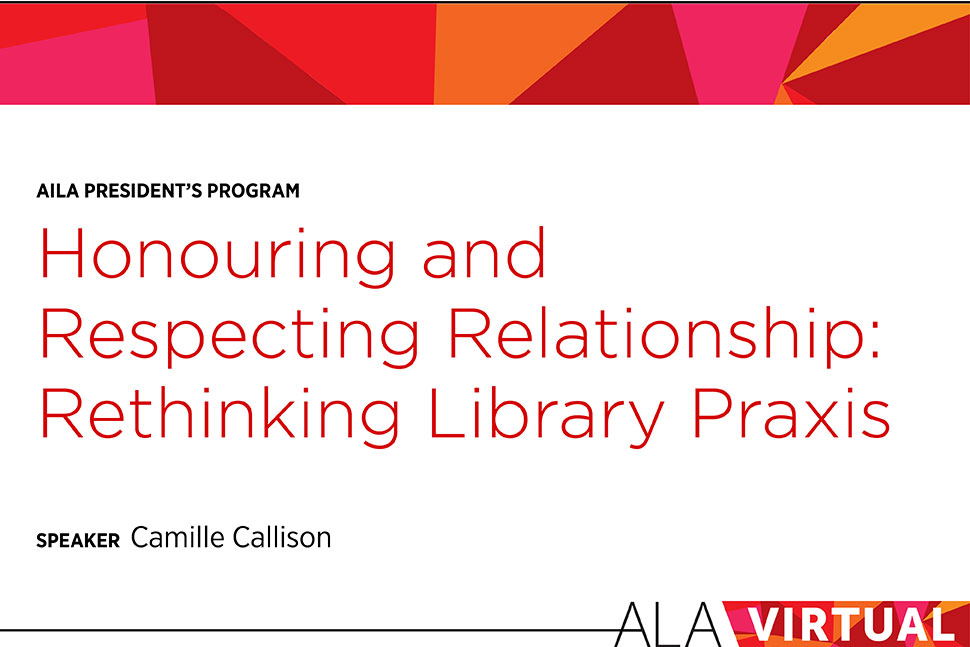 "It's very important to remember who you are and your heritage and move forward with that."
Camille Callison, Indigenous strategies librarian at University of Manitoba in Winnipeg, commenced the American Indian Library Association President's Program "Honoring and Respecting Relationship: Rethinking Library Praxis" June 25 at ALA Virtual by introducing herself as member of the Tahltan Nation and recapping some of the racist and problematic actions Canada has inflicted upon Indigenous people.
"Due to colonization and things like the Indian Act, we didn't have the right to vote here in Canada until 1960. There were signs that said, 'No dogs or Indians.' Our cultural memory has been sold," she said. "We want the same rights over our knowledge as nonindigenous people have over their knowledge."
Callison believes this cultural memory—the Indigenous knowledge and materials sitting in libraries, archives, and museums—plays an essential part in repatriation.
"We have been, as librarians, caretakers of Indigenous knowledge. We have a crucial role," she said. "[It's] important because Indigenous people, we are sovereign people. We can't go home—we are home."
In order to move forward, Callison presented 10 overarching recommendations from the Canadian Federation of Library Associations' Truth and Reconciliation Committee, of which she serves as chair. Guidelines include decolonizing libraries and spaces through culturally appropriate interior design, signage, and territorial acknowledgment in collaboration with stakeholders; enhancing opportunities for Indigenous information professionals through appropriate pedagogy, recruitment, and training; and respecting the Indigenous cultural concept of copyright with regard to oral traditions, songs, dance, storytelling, anecdotes, place names, hereditary names, and other forms of Indigenous knowledge.
"I think it's important people stop saying 'I'm sorry' and do the work with us," said Callison.
What does that work look like?
Callison shared examples of the recommendation that libraries decolonize access and classification by integrating Indigenous epistemologies into cataloging and knowledge management: the X̱wi7x̱wa Library, founded by librarian Gene Joseph, which uses First Nations House of Learning subject headings; the Brian Deer Classification System; and the Indigenous Materials Classification Schema, adopted by the Film Board of Canada.
"Describe Indigenous people as we describe ourselves," said Callison. "There are many of us around but by no means are we homogeneous."
She also stressed being respectful of Indigenous timelines and building relationships with area tribes. "You want to get the right people. There's elected leadership—go and ask what you need to do," she said. However, no relationship should amount to unpaid labor: "We need to acknowledge [our elders] as our PhDs, and they need to be paid appropriately."
Callison capped her talk with a connection to current events—the intergenerational trauma of all Black, Indigenous, and people of color that has more vocally come to the fore—and a note of hope. "Let's work together to create a better future," she said. "I always think about how amazing our profession is and we need to continue that and be the catalyst for change."