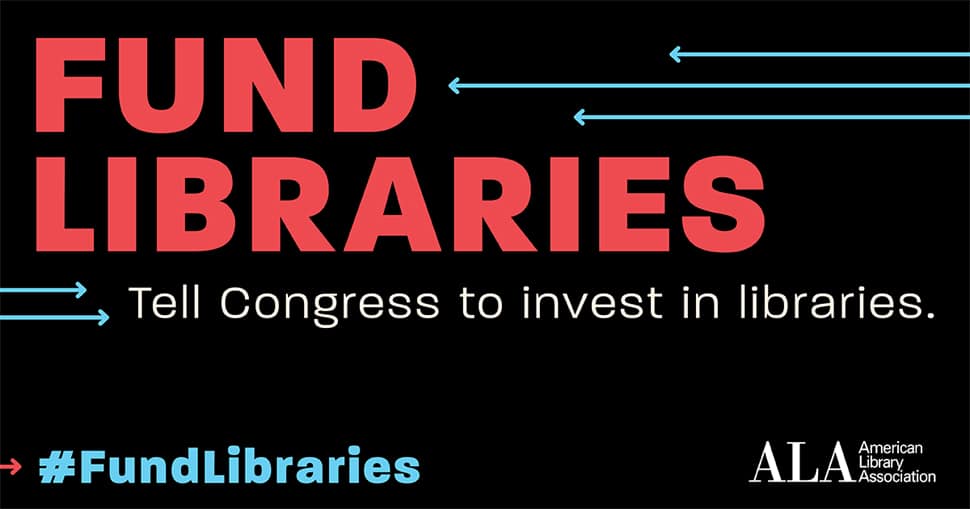 Congressional appropriators needed overtime to complete the FY2020 budget, but the result brought good news for libraries: a $10 million increase for the Institute of Museum and Library Services (IMLS), including $6.2 million for the Library Services and Technology Act (LSTA)–the largest increase in LSTA funding in 12 years. The final federal spending bill also includes increases for other library programs. The budget bill now heads to the president, who is expected to sign it.
For the third year in a row, American Library Association (ALA) advocates called, emailed, tweeted, and met with their members of Congress in Washington, D.C., and at home. ALA President Wanda Kay Brown said in a December 19 statement, "This is your win!"
Congress appropriated $252 million for IMLS, including a $6.2 million increase dedicated to LSTA. Highlights from the $195.4 million for LSTA include:
$166.8 million for LSTA Grants to States ($160.8 million in FY2019)
$5.3 million for LSTA Native American Library Services ($5.1 million in FY2019)
$10 million for LSTA Laura Bush 21st Century Librarian grants ($10 million in FY2019)
$13.4 million for LSTA National Leadership for Libraries ($13.4 million in FY2019)
Overall funding for the Department of Education increased by $1.3 billion, raising its total budget to $72.8 billion. The Innovative Approaches to Literacy (IAL) program, another priority for ALA, also escaped the White House's original proposed elimination and received $27 million for FY2020, the same level as last year. Other library-eligible programs received increases:
$1.21 billion for Title IV Part A Well-Rounded Education ($1.17 billion in FY2019)
$192 million for Striving Readers Comprehensive Literacy Grants ($190 million in FY2019)
$1.25 billion for 21st Century Community Learning Centers ($1.22 billion in FY2019)
$16.3 billion for Title I Grants to Local Education Agencies ($15.9 billion in FY2019)
$2.13 billion for Title II Supporting Effective Instruction ($2.06 billion in FY2019)
Other programs receiving increases include the Library of Congress, National Library of Medicine, Carl D. Perkins Career and Technical Education Act, National Endowment for the Arts, and National Endowment for the Humanities.
ALA's annual campaign to gather support for LSTA and IAL began in January with strong opposition to the president's proposal to eliminate IMLS. When the congressional appropriations process began in March, advocates were ready to educate and gather support from their elected leaders, many of them newly elected in the House and unfamiliar with LSTA and IAL. ALA's combined efforts to gain signatures on the annual "Dear Appropriator" letters of support for LSTA and IAL increased, with bipartisan support in both the House and Senate.
The appropriations process began with a flurry but stalled over the summer. A House funding bill approved in May included significant increases to many domestic programs, while the Senate bills were austere. As discussions between the House, Senate, and White House slowed into autumn, Congress passed a temporary funding measure set to expire December 20. The final spending bill passed December 19 added funding for libraries and averted a government shutdown.
Level funding in the current fiscal environment is considered a win; increased funding is a major accomplishment. Library funding has steadily increased over the past three years. As advocates continue to demonstrate the impact libraries have on our communities—including policymakers' voters—ALA is in a stronger position than ever to start the FY2021 budget cycle.
To be part of next year's process, sign up to be an ALA advocate and register to participate in ALA's 45th National Library Legislative Day in Washington, D.C., May 4-5, 2020.