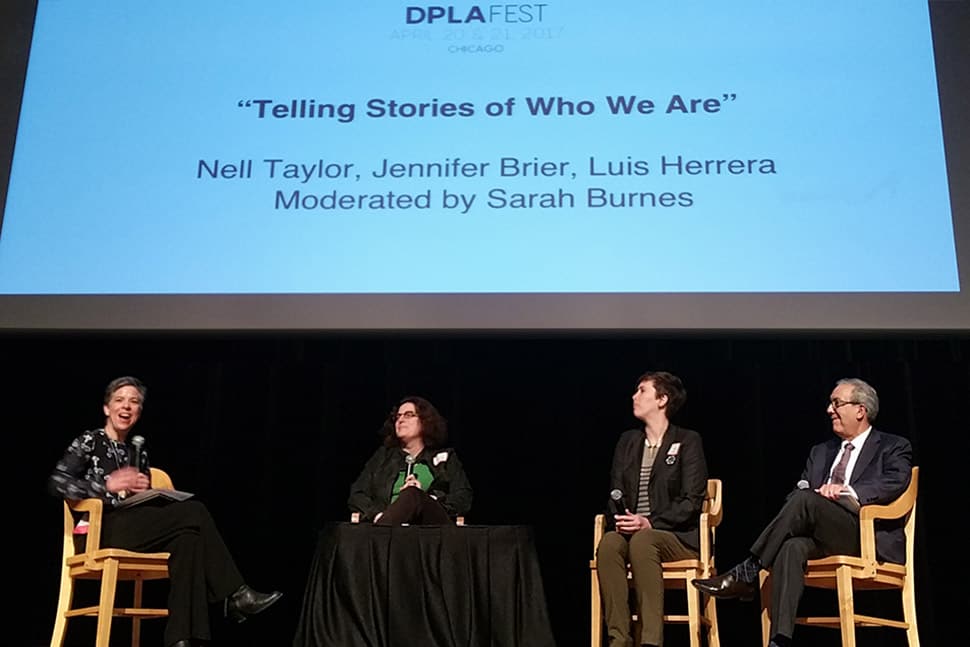 Access, diversity, and cooperation were central themes on the first day of DPLAFest 2017, held April 20–21 at the Harold Washington Library Center in Chicago. The first day began with the unveiling of the Digital Public Library of America's (DPLA) new values statement, and sessions throughout the day examined issues of inclusion, community, and outreach, while exploring the various technologies that enable the growth of a national digital library for all.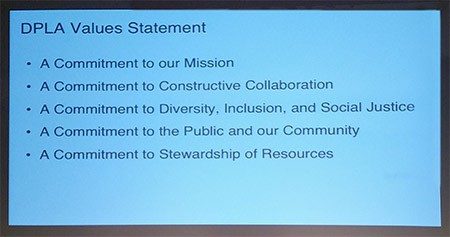 In the same rooms where the final planning sessions establishing the DPLA were held five years ago, Executive Director Dan Cohen announced that the archive now held more than 16 million items from 2,350 member institutions and is on track to have hubs in all 50 states. The Open eBooks program, launched in 2016 to provide free access to popular and award-winning titles for children from in-need communities, passed 1.5 million books read this year.
In the plenary session, Jennifer Brier, director of gender and women's studies at University of Illinois at Chicago, Nell Taylor, founder of Read/Write Library Chicago, and Luis Herrera, city librarian at San Francisco Public Library (SFPL), joined DPLA board member Sarah Burnes for a conversation about how archives are put together and made useful to the public.
All spoke of DPLA as a pipeline for local, personal archival contribution. Both Brier and Herrera worked extensively with projects that document the AIDS epidemic. Herrera and SFPL are currently working to consolidate AIDS-related records at SFPL, University of California San Francisco, and the GLBT Historical Society into a single, universally accessible collection. Brier cocurated "Surviving and Thriving: AIDS, Politics, and Culture," which focuses on the experience of people living with AIDS. Brier spoke of listening to women who had been living with AIDS as they viewed photos, and asked the audience to think about what it meant to "not just collect, but ask people to interpret with you."
"Breaking down barriers requires travel, going to people," said Taylor. Training community members to do the work themselves and providing infrastructure that connects them back to the archive afterward should be a goal.
At the center of engagement
At "The Impact of Digital Communication on Civic Engagement," Angel Ysaguirre, executive director of the Illinois Humanities Council, and panelists Dan X. O'Neil, Harper Reed, and Andrea Sáenz discussed civic engagement and how libraries play a role.
Sáenz, Chicago Public Library's (CPL) first deputy director, spoke about the library's successful efforts to increase online engagement by improving the user experience on its website, while also emphasizing the importance of in-person and blended programs. She noted that, while she agreed that libraries have a role in public discourse, CPL decided to focus its resources on analog discussion.
"It's not going to happen using technology," added O'Neil, the director of business strategy and development at Ad Hoc. "It's not going to happen on social media. That's where we're the least civil."
Reed, former chief technology officer for Obama for America, spoke about the importance of injecting empathy into building new technological tools. He traced many of the problems with technology to the mindset of those who create it. "Technology is not normally accessible," he said, noting the ego inherent in the ways that some technological solutions are built. "How do you work together when you're used to just saying 'I can solve this'?"
Goals and new features
Franky Abbott, curation and education specialist at DPLA, outlined the goals for its curation projects. Primary goals included:
increasing the use of partner content in order to make a clearer value proposition to those who would share content
demonstrating the unique value of DPLA's ability to connect items from local collections with nationally significant themes
attracting new audiences by making the archive easier to use
She also noted that among the curation principles is a goal to elevate marginalized content to "even the score" because historically, "what has been preserved has not been equal."
DPLA plans to continue releasing two to three digital exhibitions per year, and it has been experimenting with more timely exhibitions, such as the October 2016 release of "Battle on the Ballot: Political Outsiders in US Presidential Elections." Another 30 primary source sets, curated by educators and funded through grants, are planned to be released by December 2018.
Providing context for items is a large part of the curation staff's job. As a part of its upcoming website redesign, Abbott announced that DPLA is exploring a topic browse feature, which would allow users to get a sense of content through examples and suggestions. Additional goals are connecting item pages and collections together, providing suggestions for related items, noting when something is in a primary source set, and showing exhibitions and primary source sets in general search results.
Capturing physical stories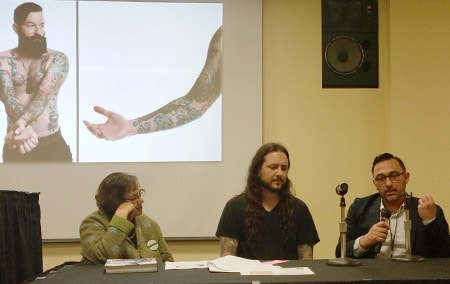 In "The Walking Art Collection: How Tattoos Tell Stories of Identity," panelists explored personal stories contained within tattoos, their connection to the culture at large, and what it means to validate these expressions by exhibiting them. Moderator Jamie Hollier, a DPLA board member, likened the challenge of archiving tattoos to that of other multimedia formats.
"There's a lot of art that is transient or ephemeral that is never going to get captured, but representations are the best you can get," said Field Museum Curator of North American Anthropology Alaka Wali. The long history of tattooing makes it important to acknowledge as an art form, and "if we validate them, that that becomes a way to connect."
David Allen, a Chicago-based tattoo artist who recently published an article in the Journal of the American Medical Association on the healing role of postmastectomy tattoos, and who offered tattoos of images from the DPLA archives before the festival, focused on the kinds of communication that tattoos enable. "If I don't get accurate context, if I'm not present with my client, they're not going to give me their full story," he said. Of the images themselves, he asks his clients, "Do you want it to be literal, or do you want something representative of your time so you can choose what you communicate with people?"
Chris Brown, deputy county librarian for Santa Clara (Calif.) County Library District and project director for the exhibit "War Ink," spoke about the importance of focusing attention on things that people collect in their own time. "Having your experience or care not reflected back to you is a recipe for alienation," he said. "Giving some space and room to stories that are maybe a little less marketable but also that no one's necessarily going to tackle—it's a public good."