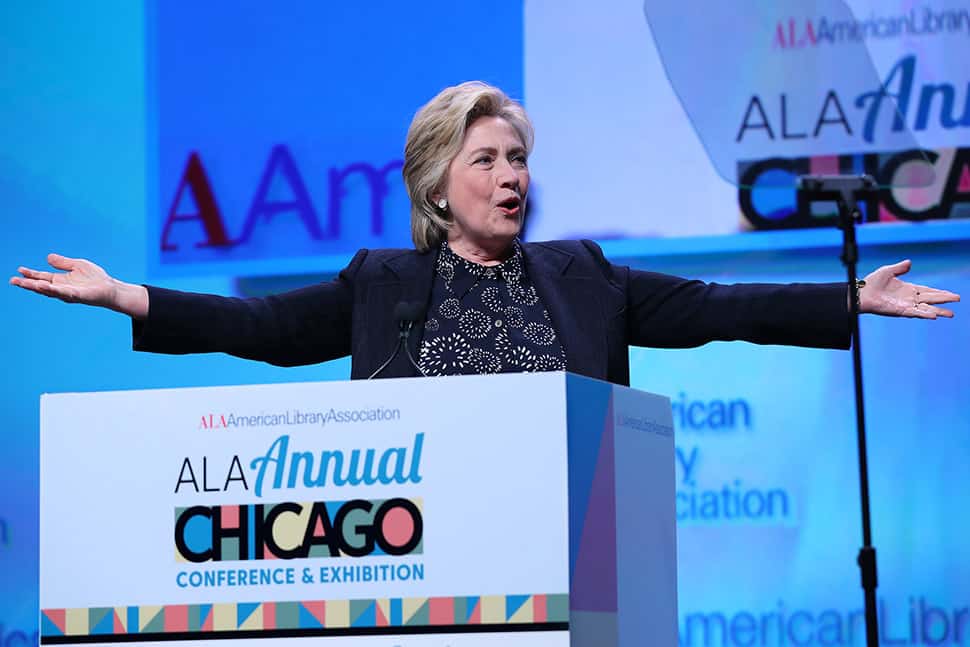 Before former Secretary of State Hillary Rodham Clinton even took the stage, there was celebration. Several hundred librarians stood and began clapping and dancing to "We Are Family" by Sister Sledge as music streamed in through the speakers inside the Skyline Ballroom at McCormick Place in Chicago.
An estimated 3,200 conferencegoers arrived well before the 10 a.m. Closing General Session at the American Library Association (ALA) Annual Conference and Exhibition on Tuesday to hear the former First Lady and 2016 Democratic presidential nominee speak.
When Clinton stepped out to a standing ovation, she said that she told ALA President Julie B. Todaro backstage that the term "madame president is still one of my favorites."
Clinton touched on topics ranging from fake news to resilience to literacy and reading to censorship. And hiking. "After this election, one of the things that helped me most—aside from long walks in the woods and the occasional glass of chardonnay—was once again going back to the familiar experience of losing myself in books," she said.
She cited three reasons why the country needs librarians and libraries now more than ever.
First, she said, "reading changes lives." She recalled the excitement of getting her first library card: "When I got that library card, it felt like I had been handed a passport to the world." Clinton discussed the empathy built from reading fiction and the benefits to brain health and education success from reading in general. She noted Marley Dias's 1,000 Black Girl Books campaign and the We Need Diverse Books campaign.
The second reason why libraries are needed more than ever, said Clinton, is because "they are places for communities to come together." As a gathering space for all people and as a technology hub for internet access, job training, and small business help, "the library becomes an irreplaceable resource," she said. Clinton mentioned an elementary school in Wisconsin that had to cancel an event in support of transgender students because of threats from a hate group and said it was the local public library that stepped up and hosted a reading event in support. "What a powerful message that sent," she said. "Because as librarians, you go above and beyond every day to serve the needs of the people living in your communities."
Clinton also addressed the opioid epidemic and how librarians have been called on to become first responders. She specifically cited the Free Library of Philadelphia for "training librarians to be literal life savers."
The third reason the nation needs libraries, Clinton said, is because "we need critical thinkers now more than ever." Long before fake news and alternative facts, she said, librarians were teaching media literacy in libraries and classrooms throughout the country. She quoted her former colleague Sen. Daniel Patrick Moynihan (D-N.Y.) who used to say, "Everyone is entitled to his own opinion but not his own facts."
She called librarians the "guardians of the First Amendment and the freedom to read and to speak…. I believe libraries and democracy go hand in hand."
She ended her nearly 30-minute talk with a powerful message to attendees: "As librarians, you have to be on the front lines of one of the most important fights we have faced in the history of our country: the fight to defend truth and reason and evidence and facts. You have to help us wage that fight one book at a time, one library at a time, one person at a time."
Without the exposure to books in school and at the local public library in her hometown of Park Ridge, Illinois, Clinton said she would not have been as successful as she is today. She said that librarians are changing lives every day. "Even when it's hard, even when it feels thankless, please know you are making a difference." She thanked librarians and encouraged them not to give up. "You're really standing up for tens of millions of others who need your advocacy, your voice, your quiet commitment. I'm with you."
Click here for a full transcript of Clinton's speech at ALA.
---
Hillary Rodham Clinton, on librarians making a difference: