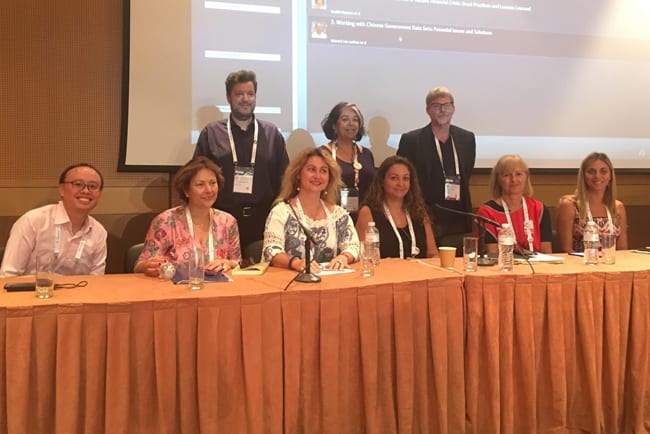 When the global financial crisis erupted in 2007 and sent ripple effects lasting through 2011, individuals and organizations were dramatically affected. The crisis challenged many governments around the world—including Greece—to consider austerity measures. These events were the subject of "International Financial Institutions, Governments, and Austerity: Banks, Bailouts, and Information on the Global Debt Crisis," a program at the International Federation of Library Associations and Institutions' (IFLA) 2019 World Library and Information Congress in Athens, Greece, August 27.
"How can libraries best serve populations during a global economic crisis or make sense of government data?" was the question posed by Jim Church, librarian for economics and international government information at UC Berkeley and chair of IFLA's Government Information and Official Publications section, which sponsored this program. Thanos Giannakopolous, director of the United Nations Dag Hammarskjöld Library, moderated the session.
Anthi Katsirikou, library director at University of Piraeus, and Ifigenia Vardakosta, head librarian at Harokopio University, addressed the deep impact of the global financial recession in Greece's economy, particularly for libraries, banks, and other institutions. In response to the crisis, they noted, the Hellenic Economic Library Network (HELIN) was formed in 2012. HELIN is a partnership of 10 libraries from academic, banking, and government agencies to create a consortium to exchange economic information. Member institutions share resources, information services, and collections internally and externally and host events to strengthen skills in economic data research and financial literacy.
Vasiliki Rigakou, documentation specialist at Athens University of Economics and Business, presented research on the role of the European Documentation Centres (EDC) in information services and networks under the European Union (EU). Rigakou highlighted the history of EDCs and provided descriptive data on a survey of EDC staff about what actions, initiatives, resources, or services that they focused on during the years of the financial crisis. The findings revealed that EDCs are heading toward a more collaborative and cooperative model, and their staff are focused on expanding specialized tools to support the general public in finding EU information.
As China's economy continues to boom, interest in its economic and business data has increased. Edward Junhao Lim, reference and research librarian for business at New York University Shanghai, explored common challenges of finding, researching, and using data sets produced by the Chinese government. He recommended sources such as the Peking University Open Research Data Platform and cautioned that data sources derived from the government can be inconsistent but not necessarily invalid.
Church concluded the session by noting the need to collaborate, preserve, teach, and share government information and data even during challenging times.