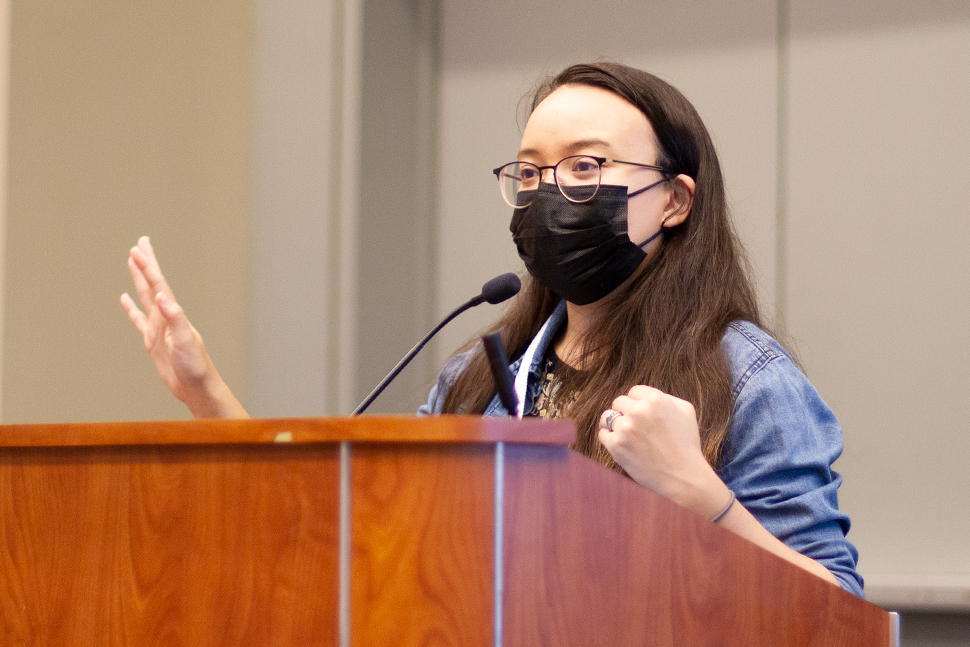 Binghamton (N.Y.) University is known for being a top research facility for sustainability and its multidisciplinary course offerings that address the topic. But Jennifer Embree, subject librarian and Sustainability Hub coordinator for Binghamton University Libraries (BUL), noticed some gaps.
"Despite how big our school is, there was no sustainability office," Embree said at  "Sustainability Hubs in Practice: How Libraries Can Develop Dynamic Spaces and Services to Help Foster an Action-Based Sustainability Culture in Communities," a June 26 session at the American Library Association's (ALA) 2022 Annual Conference and Exhibition in Washington, D.C. "Unless you're really involved in research, it was really hard to get involved on campus."
Embree and her colleague, librarian Neyda Gilman, began to consider that students and faculty needed a centralized place where people could find information and connect around sustainability. "All of these groups of people would be doing this work, but they weren't talking to each other," Embree said.
What resulted was BUL's Sustainability Hub, an initiative to create physical space on campus and virtual resources for those looking to engage on the topic.
The space started as a corner of the library, with poster sessions and student artwork. But when COVID-19 hit, Embree and Gilman began to reevaluate their approach to sustainability work, apply for ALA Resilient Communities and Carnegie-Whitney grants, and reach out to potential partners. The duo used funding to create an Equitable Sustainability Literacy Guide and outfit a larger space in BUL's science library with bulletin boards, a bookshelf of curated sustainability titles, citizen science kits, and—its most popular offering—a seed library.
"As our services continue to grow, we're looking to expand and reimagine this space," Embree said.
In-person programming has been a highlight of the Sustainability Hub. Embree, along with her colleagues and partners, have hosted a clothing swap, a Paint 'N Pot event (where students de-stress by painting terracotta pots and planting seeds), a workshop on seed saving, a climate migration talk with professor Robert McLeman, and terracycling events (where people bring hard-to-recycle products and the university pays to dispose of them). More than 800 people have attended the 19 events so far sponsored by the hub. Embree said there is more active-skill workshops on the way, such as bike repair and clothing mending.
BUL administration has been supportive of Embree's work—she has been given a budget for the Sustainability Hub and her job title was updated to better reflect her responsibilities—and her planning and innovation has contributed to a larger goal of fostering a sustainability culture on campus.
For those looking to do something similar at their library, Embree suggested asking: What do you really want your hub to be?
"Learn your campus or community's strengths and weaknesses, as well as your own," she recommended. "One of the things I like to highlight about sustainability work is that it's really collective." To that point, she advises libraries to look for partners and opportunities they can join (rather than start from scratch) and recruit student volunteers.
She also cautioned that people doing this work—especially those who tack it on to their regular jobs—take care to avoid burnout: "Make sure you give yourself and others a lot of grace."