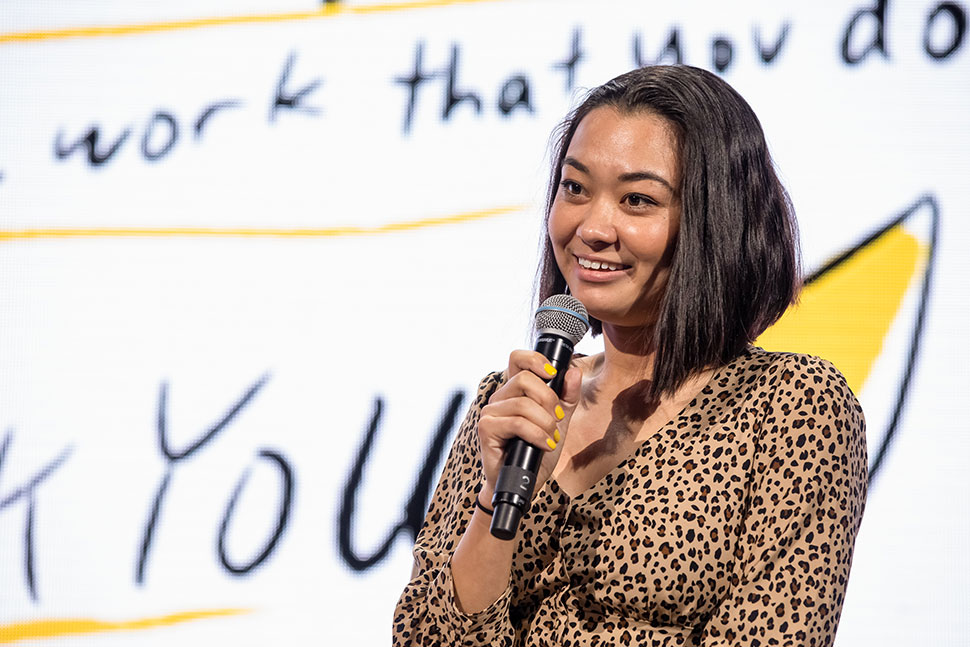 You already know Chanel Miller's story. Now she's ready for you to know her name.
As "Emily Doe," she was at the center of a widely publicized sexual assault case at Stanford University, in which members of the media and public fixated on assailant Brock Turner's swim times and how a guilty verdict—the judge sentenced him to six months in prison when the case wrapped in 2016—would negatively impact his future. Now in her memoir, Know My Name (Penguin Random House, 2019), Miller reclaims her identity through a narrative of trauma, hope, and survival.
"From the very beginning, my story was being told whether I wanted it told or not. There were so many renditions of it in the media," Miller told the crowd gathered at the Closing Session of the American Library Association's Midwinter Meeting in Philadelphia January 27. "If I don't actively work to form my own identity, [theirs] is the one that's going to be waiting for me."
Miller hadn't necessarily set out to write a book. "I still needed time to grow up and figure out what I liked and what I stood for," she said to moderator Chera Kowalski, assistant to the chief of staff at the Free Library of Philadelphia. But when her victim impact statement, published on BuzzFeed the day after sentencing, was read by 11 million people in four days, it was as if "the world breathed life into my words," she said.
The messages Miller has for society and other survivors? "Being an activist doesn't look like one thing; it's not just a megaphone in the streets," she said. "You can fight in your own way." To her, that fight looked like spending three years of her life in a room alone writing.
"A lot of times I didn't cope, and that's really important to know," she said. "Being gentle to myself in those times, while I wasn't being productive, while I wasn't fully functioning—I think that saved me." She added: "The only reason I'm here today is because people didn't give up on me. There are so many people who continue to propel me forward. That's truly why I feel healthy and happy and fulfilled."
Miller's happiness is evident in the whimsical drawings—"vessels of well-being"—that she used to introduce herself to the librarians and library workers in attendance. In a comic specially made for the Closing Session, Miller hailed libraries as sanctuaries, empathy centers, and brain feeders. "Librarians are the leaders, the community builders, the welcomers to people of all backgrounds," she said. "They make the vulnerable feel safe."
Miller fondly recalled going to the Los Altos (Calif.) Library as a kid, earning personal pizza vouchers and Oakland A's tickets for participating in summer reading programs, and doing extra credit book reviews to pull prizes from the school treasure chest. When visiting colleges, the two things she would always look for were the library and "how much grass was on campus," because it's where she liked to read. And at the University of California, Santa Barbara, Miller declared herself a literature major.
"[The library is] such a good place for lonely kids to go," said Miller. "I love the library. It's just such a place of unquestioned peace."
It's that deep, unwavering affinity that brought the self-identified introvert into a room of book lovers. "I have been looking forward to this for so long," she told Midwinter Meeting attendees. "It was the single event where I was like, 'Duh, I will do this.'"