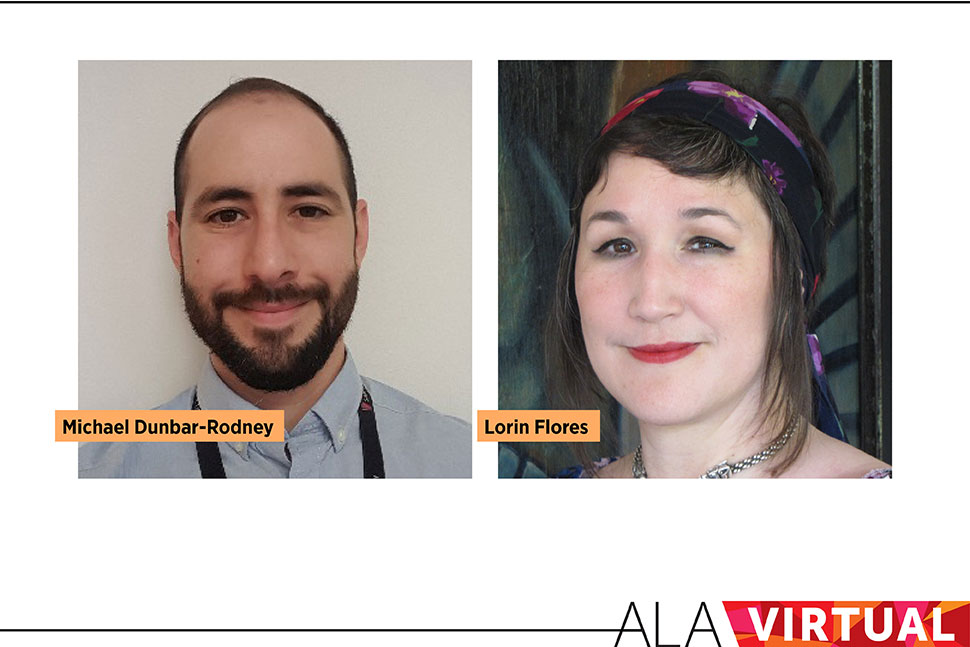 The streaming platforms Twitch and Discord are most often associated with teens, young adults, and the growing world of e-sports. But library programs that use these platforms are starting to see adults showing up, too.
Lorin Flores and Michael Dunbar-Rodney, librarians at San Antonio (Tex.) Public Library, discussed how libraries can take advantage of these emerging online streaming platforms to reach new audiences and expand digital services during the COVID-19 pandemic in their ALA Virtual 2020 session, "Twitch and Discord in Public Libraries: New Opportunities for Adult Services."
Twitch, a livestreaming platform, allows the audience to interact with the stream host through live chat. It is home to a thriving online community, and some of its stars have achieved mainstream fame. More than half of the platform's users are older than 24—placing them, as Dunbar-Rodney noted, into most libraries' adult services category.
Some research indicates not only that Twitch may function as a "third place"—somewhere in addition to home or work/school where people are comfortable—but also that it is treated as an information source to supplement and sometimes replace online search engines and libraries, Flores said.
The communication platform Discord was created to help online gamers chat while playing team games. Because it allows for quick, informal conversation organized into text channels and enables small-group voice chat, it has since been adopted by a broad range of young users.
Flores and Dunbar-Rodney explored Twitch and Discord not only because of their features, but also because of their continuing development, ease of use, and user familiarity. The few libraries that currently use Twitch for programming use it for gaming and e-sports, online workshops, and other programs, such as art, book clubs, and guest speakers.
"Because of quarantine, it makes it very attractive for speakers to stream their presentation," Flores notes.
Dunbar-Rodney adds: "Twitch isn't just a performance space, it's also a way to interact with the performer, and this interactivity is important to keep in mind when moving forward with programming."
Libraries that use Discord for programming most often use it for games and gaming-related programs as well as to host book clubs or roleplaying games like Dungeons and Dragons. Dunbar-Rodney praised the way Flores uses it: "She shows cheesy old B-films, and she has a Discord server set up to allow people to heckle the movie while they're watching it" without disturbing other patrons. "It's a really nifty tool that's meant to be used alongside other resources or programs," he says.
"When looking at these platforms, and any new technology platforms as they emerge, it's good to think about what they can do for us as librarians and not just librarian-to-patron interaction," Dunbar-Rodney adds. That is, Discord can be an effective tool for professional communication or communication within a library. You can set up servers for staff on certain projects or in certain departments, or use it for inter-departmental communication.
Best practices for these platforms in libraries are still being established. "It is an evolving skillset, and we're understanding the platforms and their capabilities as we go along," Flores says. She notes that Twitch is already being used in some higher education settings for language learning, lectures, coding demonstrations, and office hours. When it comes to producing content, many standard best practices for streaming and broadcast apply.
"Streaming is a new aspect of digital literacy," Flores says. Programming on how to use these platforms can focus on vocational outcomes (Twitch is a source of income for many streamers who use it), educational outcomes including e-sports scholarships, and community support (such as sharing cultural heritage information).
Flores and Dunbar-Rodney have created (and are continuously updating) a libguide with further information on integrating these platforms into library services.