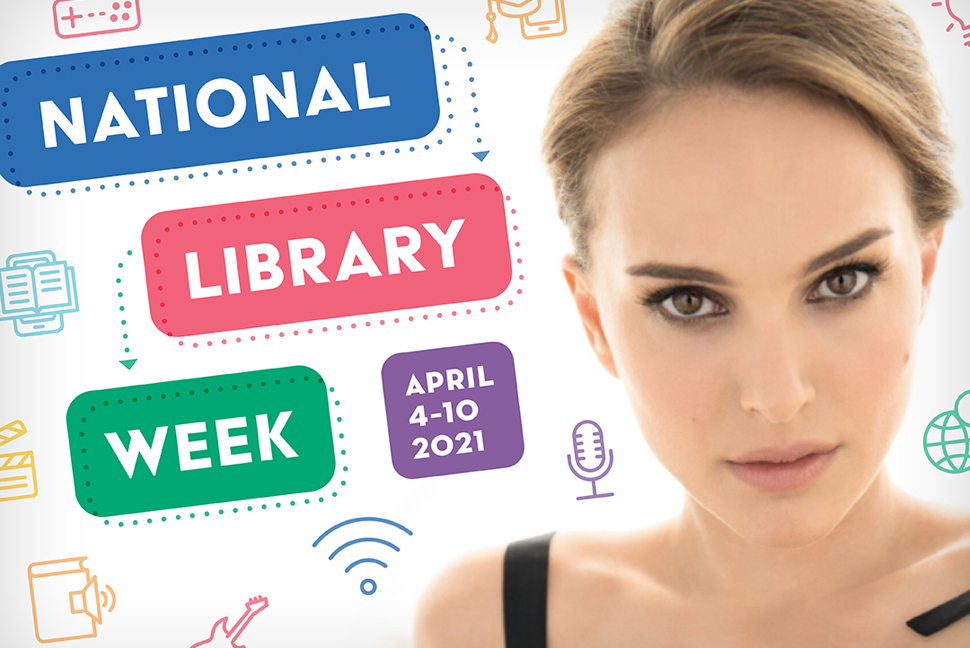 Natalie Portman will serve as honorary chair of the American Library Association's (ALA) National Library Week, April 4–10, 2021. In her role, she will help highlight the essential role libraries, librarians, and library workers play in serving their communities, especially during challenging times.
Portman is an Academy Award–winning actor, director, producer, and activist whose film credits include Black Swan, Jackie, and the upcoming Thor: Love and Thunder. A lifelong fan of books, she shares on her Instagram feed titles that she's reading—as part of Natalie Portman's Book Club—using the hashtag #WhatNatReads. Natalie Portman's Fables (Feiwel and Friends, 2020) is her debut picture book.
"I'm delighted to join ALA and libraries everywhere in celebrating National Library Week," Portman said in a December 7 statement. "Libraries are open, inclusive places that foster a sense of belonging and community. They show us anything is possible by encouraging a love of learning, discovery, and exploration. I hope people will take time during the week to visit their library online or in person."
The theme for National Library Week 2021, "Welcome to Your Library," promotes the idea that libraries extend far beyond the four walls of a building and that everyone is welcome to use their services. During the COVID-19 pandemic, libraries have adapted by expanding resources and continuing to meet the needs of users, whether through access to technology, multimedia content, or educational programs.
"We are so pleased to have Natalie Portman as the honorary chair of National Library Week 2021," said ALA President Julius C. Jefferson Jr. in the news statement. "As a children's book author, Natalie is a champion of empowerment and equality, values that reflect the work of librarians and library staff every day to make a difference in people's lives and communities."
Free digital graphics that promote National Library Week are available at ala.org/nlw, and promotional items are available for purchase through the ALA Store and ALA Graphics Gift Shop.
First sponsored in 1958, National Library Week is an annual observance by the American Library Association and libraries across the country each April. National Library Week celebrations include:
For more information about National Library Week, visit ala.org/nlw.