In this five-part series, American Libraries presents case studies and interviews with thought leaders looking at research trends in academic libraries. We'll be covering trends on the topics of social justice, information literacy, digital archives, faculty outreach, and new technology. This is our third story in the series.
In only nine months, a LibGuide on copyright at the University of Texas (UT) at Austin has been accessed more than 50,000 times. Colleen Lyon, head of scholarly communications at UT, created the LibGuide three years ago from a course her predecessor Georgia Harper had developed in the 1990s.
Even with all that traffic, Lyon still gets many follow-up questions from people who have specific needs they can't find in the guide. About 80% are about fair use.
"A lot of times questions are from graduate students who are working on their dissertation and have something that they want to include, and they're trying to figure out whether or not it would be considered fair use," says Lyon. "Fair use has varying shades of gray. And the answer is, a lot of times, 'Well, it depends.'"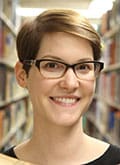 Along with students, faculty have questions about copyright with regard to materials they use in the classroom and online course content. To help students and faculty, librarians are preparing workshops, drop-in sessions, and online materials to inform those who need advice. Faculty can also be referred to the ALA Office of Information and Technology Policy's Exceptions for Instructors resource.
At Virginia Commonwealth University (VCU) in Richmond, two librarians created a copyright crash course for creatives—those involved in music and the arts who will need to protect their work from potential online pilfering and learn how to use other artists' works properly in their multimedia projects. (Read their how-to story.) "When you are an artist and you are creating things that are copyrightable, you have to have certain know-how on how to use people's work legally and how to protect your own," says Hillary Miller, scholarly communications librarian at VCU. Miller developed the copyright crash course with Carla-Mae Crookendale, arts research librarian at VCU. Though the course is currently on hiatus, the VCU librarians continue to field calls and make referrals on copyright use for student artists and faculty.
One of the easiest ways to navigate around copyright restrictions is to use Creative Commons images or Gale's digital archive collections that offer digital rights management–free content. For example, educators and students can copy a story from Gale's archive Amateur Newspapers from the American Antiquarian Society for a research paper, a classroom PowerPoint, or even a multimedia collage. Alexis McQuigge, writing coordinator at Canada's University of Regina, says she likes Gale's model because "once we've paid for a database, we don't have to pay again. It's ours."
Whether a question concerns fair use, public domain content, or digital rights management, academic librarians continue to develop new materials and educate their communities. "One of the things we're trying to do is give people the tools they need to be able to interact with all the content that they're using and finding," says Lyon. "This is complicated stuff. We don't expect everybody to know it off the top of their head."