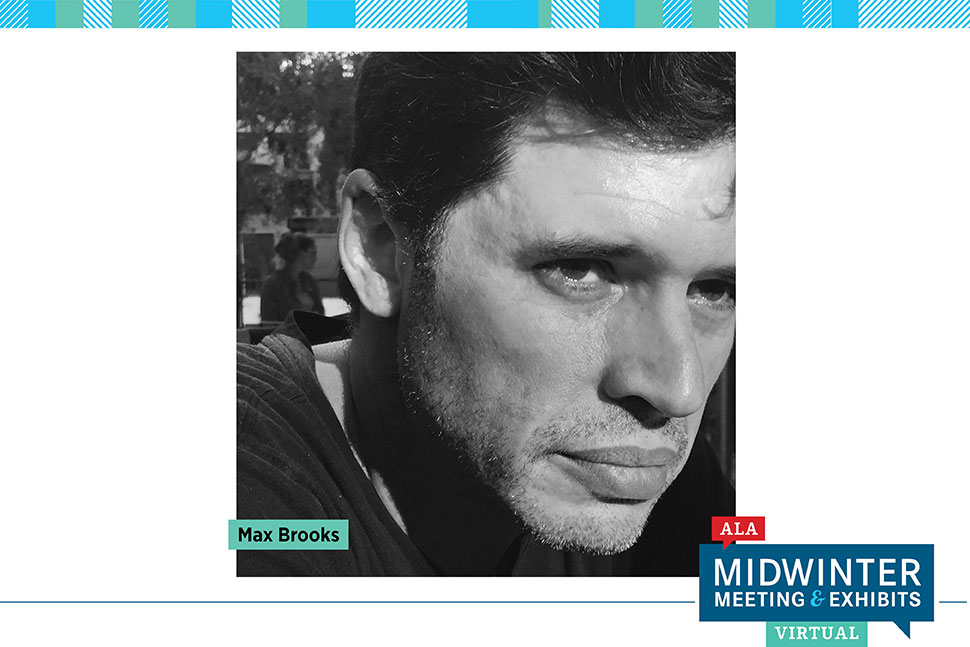 Author Max Brooks is best known for his ability to frighten readers. The 2006 bestseller that put him on the map, World War Z: An Oral History of the Zombie War (Del Rey, 2020), and his most recent novel, Devolution: A Firsthand Account of the Rainier Sasquatch Massacre (Del Rey, 2020), are masterworks of horror and tension that retell—in diary-like accounts—the stories of a global zombie apocalypse and a Bigfoot attack on an isolated mountain community, respectively.
Not to be pigeonholed, the author has moved into more family-friendly fare in recent years with books based on the popular Minecraft videogame, including the upcoming Minecraft: The Mountain (Del Rey, 2021), a sequel to the 2019 Minecraft: The Island. The books follow an unnamed hero embarking on multiple adventures in the block-like world of Minecraft.
Brooks joined Sarah Peed, senior editor at Dey Rey Books, on the Graphic Novel and Gaming Stage Friday at ALA's Midwinter Meeting & Exhibits Virtual to discuss his work in the Minecraft book series. He said, like all of his work, he began by rooting the adventure in reality.
"If this were real, how would you survive?" Brooks said he asks himself and readers when writing. In Minecraft: The Mountain, the lone hero navigates a barren, icy taiga, battles wolves and zombies, and climbs a dangerous mountain before encountering another traveler who changes his outlook on life. Brooks said he conducted countless hours of research to ensure that every detail rang true.
Brooks said that playing the game itself was instrumental to recreating the Minecraft world in the book. It also influenced how he approached the narrative.
"One of the best lessons that the character [in the game] learned, I learned too," he said. "Just as I was getting used to the game, it would change suddenly. And you have to change with it. If you can do that, you'll thrive."
Teaching kids how to adapt to a changing world is one of the great things about Minecraft, Brooks says.
"Minecraft is the best teaching tool since the printing press," he said, because it breaks away from regimented teaching methods and encourages flexibility. "There are a million ways to solve problems [in the game]."
When asked by Peed about his thoughts on libraries, Brooks turned to another video game: Civilization, a world-creation strategy game developed by Sid Meiers in the early 1990s. Brooks said he played the game as a kid, and libraries were crucial to successful game play. If you don't build a library for the cities in the game, he says, you won't advance to the next level—paralleling real life.
"Libraries are the fire, the energy, that raises civilization," he said. "Societies that don't invest in their libraries stagnate and collapse."