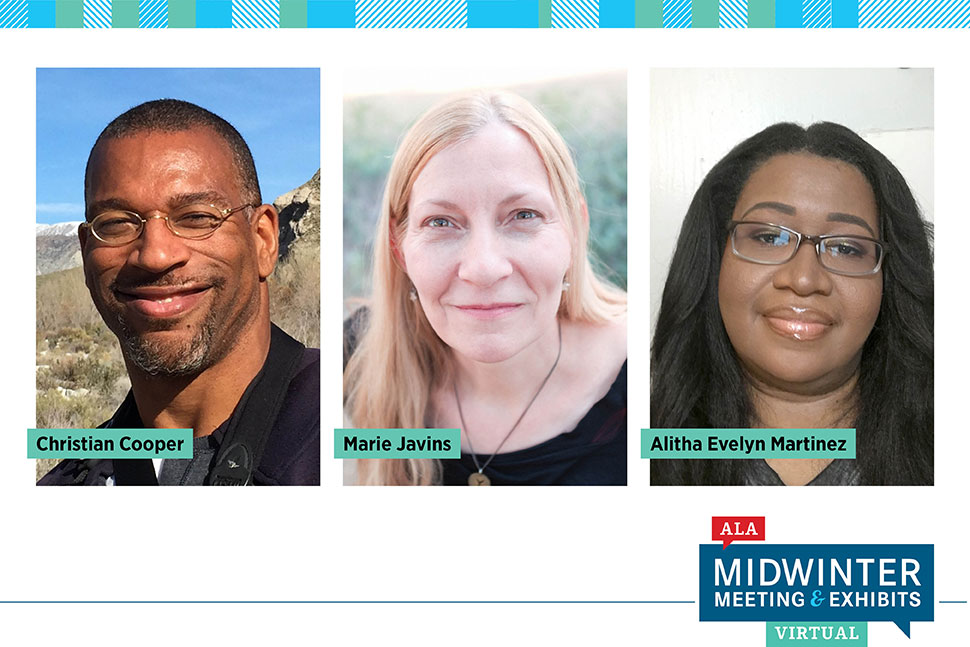 "Superhero comics are the last bastion of mythmaking in Western culture, and they're incredibly valuable for that reason," said Christian Cooper, writer of the first issue of DC Comics' new series Represent!, which explores fictionalized personal histories from voices that aren't often heard in mainstream comics. "The more we get unique personal perspectives into all comics, mainstream comics, and superhero comics, the better."
Cooper, joined by DC Comics Executive Editor Marie Javins, artist and illustrator Alitha Evelyn Martinez, and moderated by Andrew Aydin, former aide to the late Rep. John Lewis and coauthor of his March graphic novel trilogy, discussed bringing new voices to comics at "REPRESENT!: Stories of Personal Experiences, Unheard Voices, and Social Change—a Panel" at the 2021 ALA Midwinter Meeting & Exhibits Virtual Graphic Novel stage on January 22.
Cooper, who worked for Marvel Comics early in his career and is now a science writer and editor in addition to being a board member of the New York City Audubon Society, was tapped by Javins to create a comic book version of his story after he was falsely accused of assault in New York City's Central Park by a white woman he confronted for not leashing her dog. At first hesitant about taking on the project, its title, "It's a Bird," a play on the classic Superman line, helped sell him. "As soon as I heard that, it was funny how my wheels just immediately started turning, and the story that I wanted to tell just immediately fell into place," he said.
Translating experiences into pictures is no easy task. Martinez, who has been illustrating comics for 21 years, said she's usually able to keep a distance with her subjects. Working on Represent! punctured that wall. Being asked to depict real-life experiences closer to her own was a difficult and new challenge.
"I deliberately did not watch what happened to George Floyd," Martinez said, but drawing Cooper's story— which depicts the deaths of Black people at the hands of the police—meant she had to imagine their last moments. "I feel the pain of having to see that, having to dredge up my own experiences," she said. In one scene, a vivid memory of her son's reaction to her being profiled in an airport became the basis for the main character's expression as he realized the seriousness of his situation.
Discrimination and racial barriers have been a big part of her professional experience. Despite loving the medium, "I've always felt a disconnect with comics," Martinez said. "I fought my way through a door that was not truly open to me. It was not mine."
Combating that disconnect was part of the reason for the series, said Javins. She compares it with an oral history passed down through generations. "Maybe what we need to do is help create a more just and compassionate world through telling stories that are not typically told in a mainstream comic book company," Javins said. "I have to believe that storytelling can change people's hearts and minds."