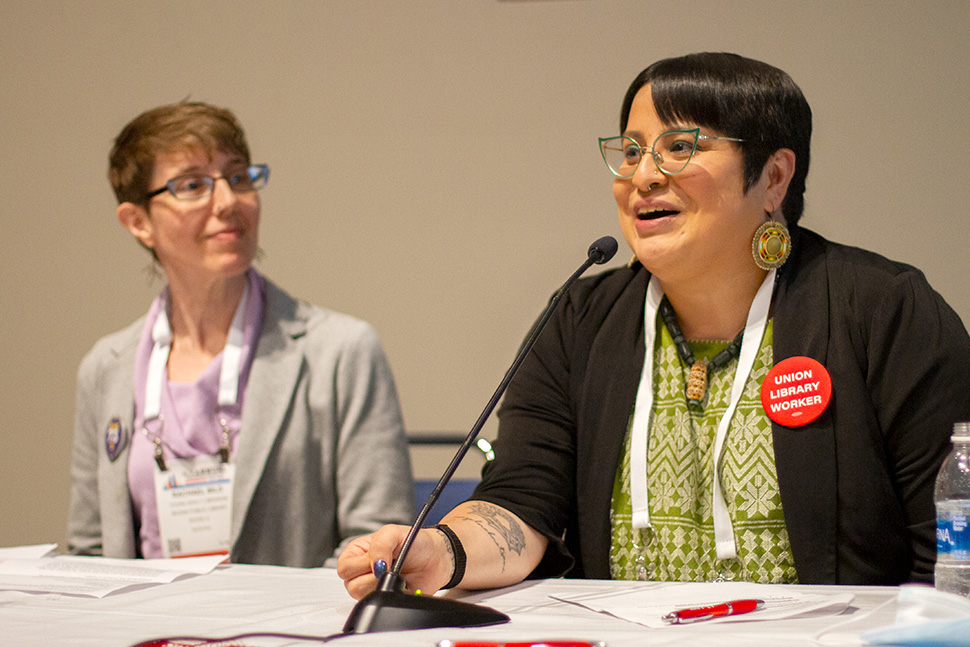 Why start a union? How do you go about organizing? And how do you combat the fear that comes with the process?
At "An Introduction to Organizing and Collective Bargaining in Libraries," a session at the American Library Association's 2023 Annual Conference and Exhibition in Chicago on June 24, a panel of five Chicago-area library workers addressed these questions by sharing their experiences with organizing, winning recognition for their unions, and negotiating contracts at their respective libraries.
Most panelists cited similar reasons for forming unions, such as a lack of transparency from administration, pay inequity, workers being left out of decision making, and no room to advance.
"Things we would hear were, 'Well, this is just the way things were always done,'" said Analú María López, Indigenous Studies librarian and assistant curator at the Newberry Library in Chicago. "We wanted things to change sustainably."
For Cate Levinson, youth services librarian at Niles (Ill.)–Maine District Library, organizing was a response to a board election that gave austerity candidates a 4–3 majority and threatened the library's operations and core values.
"Forming a union was the only way to save our jobs," Levinson said. "We jumped into action, and I think that was testament to how strong the organization was." About 92% of workers signed onto the union, she said.
Panelists agreed that while the pandemic did not cause the problems that motivated them to unionize, it exacerbated longstanding issues in the workplace.
"We had a pile of dry tinder, and the university threw a match on that tinder by furloughing staff and laying off staff," said Alice Tippit, developer and systems coordinator at Northwestern University Library in Evanston, Illinois. Then the administration "poured gasoline on the fire" by running a surplus, she said.
"The boss is the best organizer!" remarked moderator Meredith Kahn, librarian for gender and sexuality studies at University of Michigan in Ann Arbor.
Anna Feuer, acquisitions and collection manager at the Art Institute of Chicago's Ryerson and Burnham Libraries, noted that constantly speaking with colleagues will not only help you form the union, but goes a long way to reassure reluctant coworkers.
"Once you start talking, it breaks those barriers down," Feuer said. "The very act of having these conversations and going through this process does so much to assuage people's fears." Though, she cautions: "You want to be very careful about how you strike up these conversations."
For López, conversations were a tool to dispel misconceptions. "They would say, 'Well, we're private sector, we can't even have a union,'" she said. Being able to point to examples of successful unions at private institutions helped convince her colleagues.
Panelists also stressed that unionizing is not about attacking management but improving the workplace.
Rachael Bild, teen services librarian at Skokie (Ill.) Public Library (SPL), said her union practiced open negotiation. In trying to get her library director back to the negotiating table, "I appealed to his values because I knew he cared about staff," she said. "In that moment, he still said no, but they came back."
SPL workers and management were able to come to tentative agreements in January, and the union contract went into effect last month.
Feuer agreed with Bild: "There's nothing that says this has to be a contentious process that pits staff against managers. It is a choice to take an adversarial stance."
"A workplace doesn't have to be 'bad' to be unionized," Tippit added. "You can have a perfectly great workplace that is going to unionize for all the right reasons."