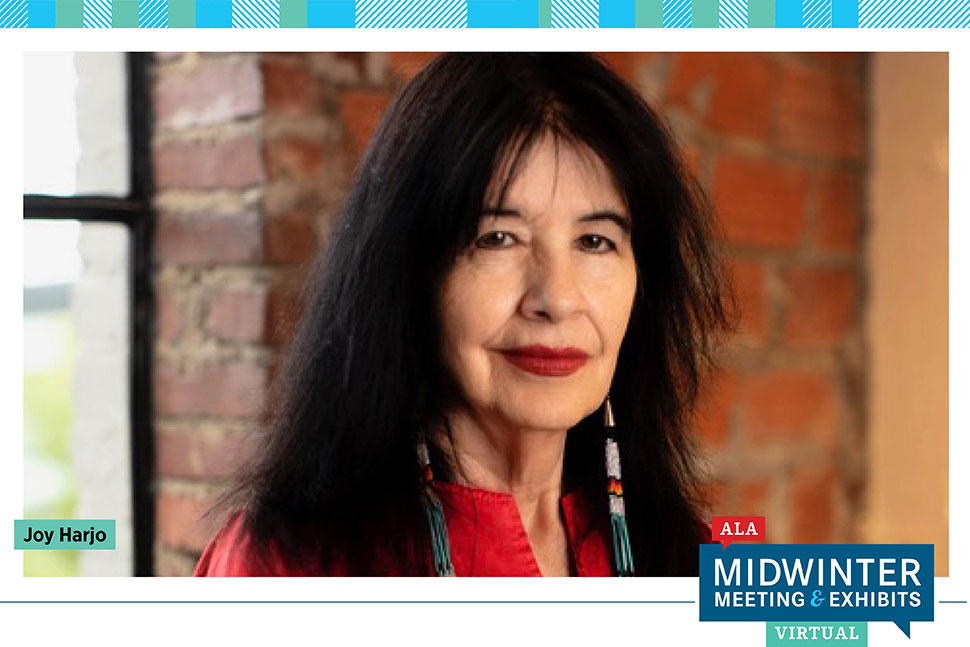 US Poet Laureate Joy Harjo headlined the January 24 President's Program at the 2021 Midwinter Meeting & Exhibits Virtual. Harjo, a member of the Muskogee (Creek) Nation and the first Indigenous US poet laureate, joined her longtime Norton editor, Jill Bialosky, for a discussion about the importance of poetry and collecting Indigenous stories. She also read several poems, including "My Man's Feet" from her latest collection, An American Sunrise, and "Perhaps the World Ends Here" from The Woman Who Fell from the Sky.
"I think of those old traditions of poetry, like African and Indigenous traditions all over the world. The poets are the truthtellers," Harjo said. "They tell the truth that has roots in the spiritual realms and has roots in the very earth itself, in the original teachings. I always like thinking of a poem like a house, or like a pocket; it can hold time. It can hold many different kinds of time. It can hold the questions we can't answer. It can hold the grief that we have no words for, and it can hold joy."
In addition to her work as US Poet Laurate, which has included collecting native poetry for an interactive map administered by the Library of Congress, Harjo edited a Norton anthology of Native poetry, When the Light of the World Was Subdued, Our Songs Came Through (2020). The volume gathers the work of more than 160 poets representing nearly 100 indigenous nations.
Of the book's title, which comes from a Hawaiian creation story, she said: "I was thinking about how the light of the sun and the light of the world has been subdued by any number of things that we humans do, like pollution, earth changes, cultures where everything is texted. We're forgetting metaphor, and we're forgetting poetry. It speaks to the importance of poetry, how we need poetry, and perhaps some of the light of the world is stored in poetry so then we open it."
Updated January 27, 2021: The term creation myth has been changed to creation story.