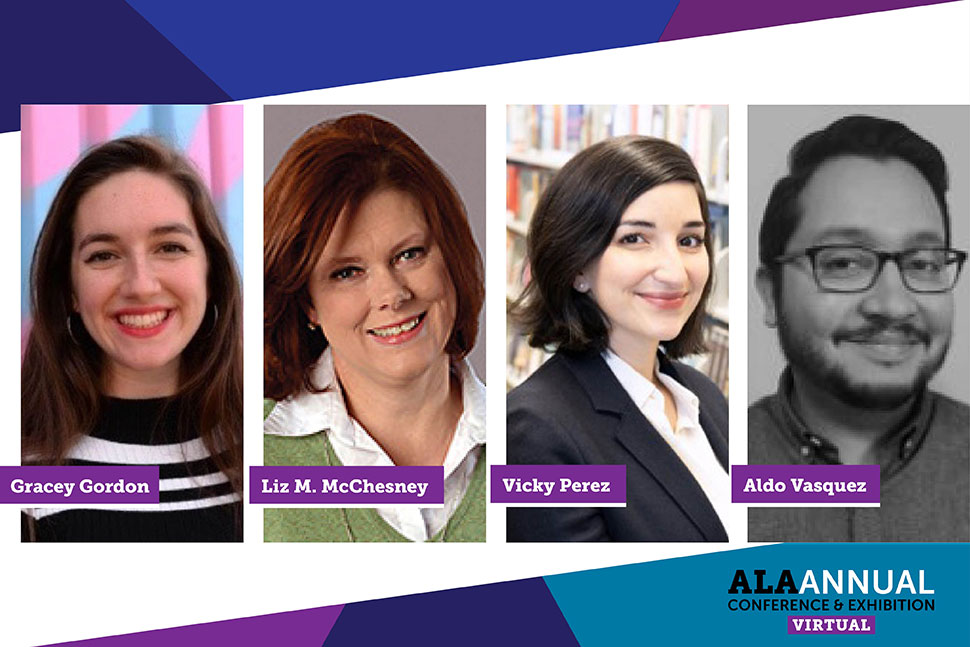 Middle school is an important time in a child's development, as their identities grow and career and postsecondary plans come into focus. Community-based relationships that allow kids to see themselves positively are essential, said Liz McChesney, senior advisor in educational equities for the Urban Libraries Council, especially when it comes to science, technology, engineering, and math (STEM). McChesney moderated the panel "Building Equity through Science, Technology, Engineering and Math," which highlighted programs from three Institute of Museum and Library Services (IMLS) grant recipients, on June 24 as part of the American Library Association's 2021 Annual Conference and Exhibition Virtual.
The STEM career pipeline is "leaky," often leaving behind students of color and those in poverty. For this reason, the Urban Libraries Council—with funding from IMLS—launched Partners for Middle School STEM in 2018. This grant funded programs at 11 libraries to develop models for building strong STEM community partnerships for middle school children.
Durham County (N.C.) Library (DCL) piloted its "STEAM Off" program in 2019 at its Stanford L. Warren branch, which was founded as one of the first African American libraries in North Carolina, and the Durham County Youth Home, a juvenile detention center. This four-week themed STEM program featured three local partners with specialties in computers, robotics, and science experiments for students. Each partner led one week, and the final week was dedicated to celebration of the program participants and included speakers from local universities. The final week was an opportunity for the kids to show off projects that they'd finished and share their experiences with local speakers. Gracey Gordon, STEAM services manager at DCL, described the programs at both locations as "a huge hit" that the participants and partners are eager to continue.
The library has also partnered with local museums, schools, and clubs. In the shift brought about by COVID-19, the library has been unable to open its new STEM spaces, which are designed to serve both kids and adults. Instead, the team has focused on providing make-and-take kits, many of which include materials 3D printed by the library. Gordon noted that the kits been helpful in building interest in the new STEM spaces.  The best feedback, she added, is that families come back for more.
Building Partnerships
Aldo Vasquez, Chicago Public Library (CPL)'s STEAM specialist for children's services and family engagement, highlighted partnerships that have helped CPL's STEM programs gain trust and respect in the community. The Museum of Science and Industry's participation in the library's programs has raised awareness and trust while providing resources, training, and funding, while CPL's partnership with the Institute of Electronics and Electronics Engineers provides a steady source of professional volunteers for STEM programming as well as support in developing programs.
Vasquez also recommended connecting with local professional interest groups. CPL maintains partnerships with the University of Illinois chapter of the National Society of Black Engineers and the Society of Professional Engineers chapter at Illinois Institute of Technology. Volunteers from these organizations connect youth programming participants to mentor figures that help them to imagine themselves in STEM fields.
CPL was able to continue providing STEM resource kits during the COVID-19 pandemic largely because of its community partnerships, according to Vasquez. Partner organizations helped develop grab-and-go kits that young people could take home.
"STEM partnerships really help fill so many different resource gaps for our system," Vasquez noted, including skills, volunteer support, outreach, relationship building, and technology.
When outreach reaches further
Vicky Perez, branch manager at Gwinnett County (Ga.) Public Library, set out to create programming that would serve the roughly one-third of the county's population for whom English is not a first language. Perez chose to create STEM programs in a mix of English and Spanish, tailored to the needs and abilities of the participants, as Spanish is the most common first language in the area. The library is also exploring similar programs in Korean, Vietnamese, and Chinese. Through these programs, the library discovered a multifaceted approach: "We learned that we can discuss language and STEM topics together," Perez noted.
The program launched with four different sessions: Lego Mindstorm, where participants created simple robots using block programming; circuit embroidery, which involved stitching a simple circuit with conductive thread; cellular art, where participants created paintings based on cellular structures viewed through an electronic microscope; and a video game design demo using Bloxels.
One of the surprises, Perez said, is that "it was unintentionally a great intergenerational program." Children would arrive with their parents, who would get drawn into the activities, even sharing regional vocabulary and enriching the programs in a new way. Another unexpected effect was that some monolingual English-speaking students would participate in the programs to practice their Spanish, and some English-learners preferred for the programs to include less Spanish.
"We had the idea that this was going to be a program that was entirely in Spanish for Spanish-speakers," Perez said, "and it turned out to have a very wide range of applications."