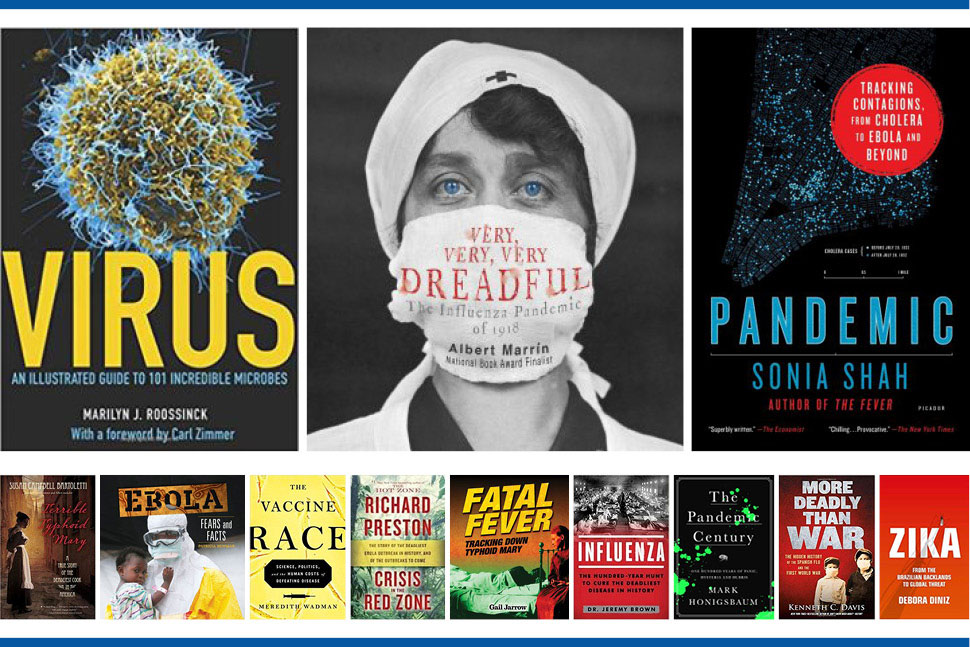 On February 13, Booklist compiled a list of resources for librarians looking for information on the coronavirus and other epidemics and pandemics. The full list is reprinted below. 
First reported in Wuhan, China, on December 31, the respiratory illness prompted by coronavirus (dubbed COVID-19) has since spread to 28 countries worldwide, infecting more than 60,000 individuals. Unfortunately, as cases across the globe increase, so too does the dangerous misinformation surrounding them. The below titles, about outbreaks, viruses, and vaccines, attempt to set the record straight.
Adult Books
★ Crisis in the Red Zone: The Story of the Deadliest Ebola Outbreak in History, and of the Outbreaks to Come by Richard Preston
Preston, who first wrote about Ebola in the best-selling The Hot Zone (1994), chronicles the 2014 Ebola outbreak in West Africa. Over 11,000 people died across eight countries, including the U.S. Preston addresses issues of medical ethics and justice throughout, and the clash between superstition and science, duty and self-preservation are constantly in play. Medical thriller, cautionary tale, and a public health call-to-arms are all bundled together in this powerful read.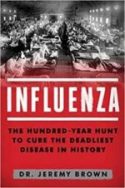 ★ Influenza: The Hundred Year Hunt to Cure the Deadliest Disease in History by Jeremy Brown
The influenza pandemic of 1918 was responsible for an estimated 50–100 million deaths worldwide. A century later, "The flu is still a serial killer," writes emergency-medicine physician Brown. He laments that there is yet no highly effective means to battle it. Current antiviral medicines, such as Tamiflu, are not very helpful. Brown smartly examines this viral infection from all sorts of angles—medical history, virology, diagnosis and treatment, economics and epidemiology' health-care policy, and prevention.
★ Pandemic: Tracking Contagions, from Cholera to Ebola and Beyond by Sonia Shah
Investigative science journalist Shah (The Fever, 2011) is at it again, and if the words, and beyond, in her latest book's subtitle don't grab a reader's attention, they should. This time, she is calling on global leaders, public and corporate, to pay attention to an impending public health emergency. One-by-one she ticks off (no Lyme-disease pun intended) half a dozen conduits by which deadly microbes can spread faster than you can say Methicillin-resistant Staphylococcus aureus (MRSA). Yes, Shah is back and in rare form. And this time it's personal.
★ The Pandemic Century: One Hundred Years of Panic, Hysteria, and Hubris by Mark Honigsbaum
This engrossing history of the fight against pandemic disease explores how outbreaks emerge—usually when humans insert themselves into the disease organisms' environment in a way that provides a bridge to new victims—and how medical and epidemiological experts fight against them. It's a war, argues medical historian and journalist Honigsbaum, that we'll never be able to win, since new diseases will always confound our expectations. An important and timely work.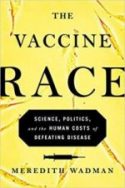 The Vaccine Race: Science, Politics, and the Human Costs of Defeating Disease by Meredith Wadman
We tend to take vaccines and their benefits for granted until a new scare erupts, such as the Zika virus. Biomedical reporter Wadman explores in great detail the often controversial background stories of various major breakthroughs in cell biology that led to the creation of some of the world's most important vaccines. Wadman reveals the unsung heroes behind the research as well as the medical experiments that readers will now find abhorrent. In all, an important book on a persistently controversial aspect of health care.
Virus: An Illustrated Guide to 101 Incredible Microbes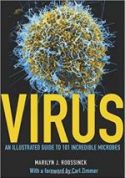 by Marilyn J. Roossinck
The book begins with a history and time line of virology and a discussion of the life cycle of the major classes of virus. Profiles of 101 viruses follow, each with a color illustration. The profiles are grouped by host: human, vertebrates, plants, invertebrates, fungi, bacteria, and archaea. A short paragraph discusses relevant historical facts and the role of the virus in diseases, ecosystems, and so forth. A glossary, resource list, and index provide further information. This is a very useful resource suitable for school, public, and undergraduate libraries.
Zika: From the Brazilian Backlands to Global Threat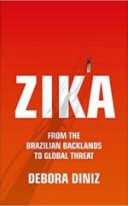 by Debora Diniz and translated by Diane Grosklaus Whitty
Brazilian bioethicist and filmmaker Diniz provides an eyewitness account of the 2015 Zika epidemic in northeastern Brazil. Her narrative is largely constructed from interviews with doctors and lab scientists but, more notably, conversations with mothers whose babies suffered from congenital Zika microcephaly, an abnormally small head associated with brain damage. An important and informative book because Zika has become a growing health concern for women of reproductive age.
Youth Books

★  Ebola: Fears and Facts by Patricia Newman
Identified fewer than 40 years ago by scientists and health workers, Ebola is still misunderstood by much of the general public. Newman's level-headed, clearly written title, which reads like a well-researched and in-depth journal article, covers many aspects of the disease, from the structure of the virus and its possible origins to symptoms and how it spreads. Incredibly up-to-date, sobering, and sensibly written, this multidisciplinary approach to a timely, important topic will be a practical addition to both public and school libraries.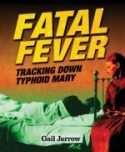 ★ Fatal Fever: Tracking Down Typhoid Mary by Gail Jarrow
The name Typhoid Mary lives on, but those of George Soper, Sara Josephine Baker, and Mary Mallon are relatively unknown. In this thoroughly researched book, Jarrow tells their intertwined stories. The writing is lucid, well organized, and informative. The book's large format allows for excellent reproductions of the many period photos, prints, and documents. Readers who are curious about Typhoid Mary, including those who enjoyed Julie Chibbaro's historical novel Deadly (2011), will find this an absorbing account of what actually happened.
More Deadly Than War: The Hidden History of the Spanish Flu and the First World War by Kenneth C. Davis
Davis (In the Shadow of Liberty, 2016) argues persuasively that the Spanish flu pandemic had as much—if not more—of an effect on the outcome of WWI than any military strategy. Citing plenty of primary sources, Davis lays out how the pandemic was spread, the largely ineffective efforts to curtail it, and the many ways government officials, swept up in waves of nationalism, ignored the advice of medical professionals, which ultimately made the pandemic worse. Engaging and illuminating.
★ Terrible Typhoid Mary: A True Story of the Deadliest Cook in America by Susan Campbell Bartoletti
Little is known about Mary Mallon, better known as Typhoid Mary, apart from what can be garnered from case studies and wildly sensational newspaper articles, but Bartoletti impressively fills in the gaps with illuminating historical context and lively descriptions of events. Expertly weaving together both historical background and contemporary knowledge about disease and public health, Bartoletti enlivens Mallon's story with engrossing anecdotes and provocative critical inquiry while debunking misconceptions.

★ Very, Very, Very Dreadful: The Influenza Pandemic of 1918 by Albert Marrin
Acclaimed for incisive explorations of America's bleakest moments, Marrin homes in on the "most deadly disease event in the history of humanity." In six riveting chapters, Marrin examines the virus's precursors, including past plagues and prior medical breakthroughs, its aftermath, and its festering backdrop Fusing hard science and first-person accounts, cold reason and breathtaking sensitivity, Marrin crafts an impeccably researched, masterfully told, and downright infectious account.
Further Reading
Centers for Disease Control and Prevention
Coronavirus COVID-19 Global Cases by Johns Hopkins CSSE
Kaiser Health News
Library Journal
MedlinePlus
Stat News
World Health Organization