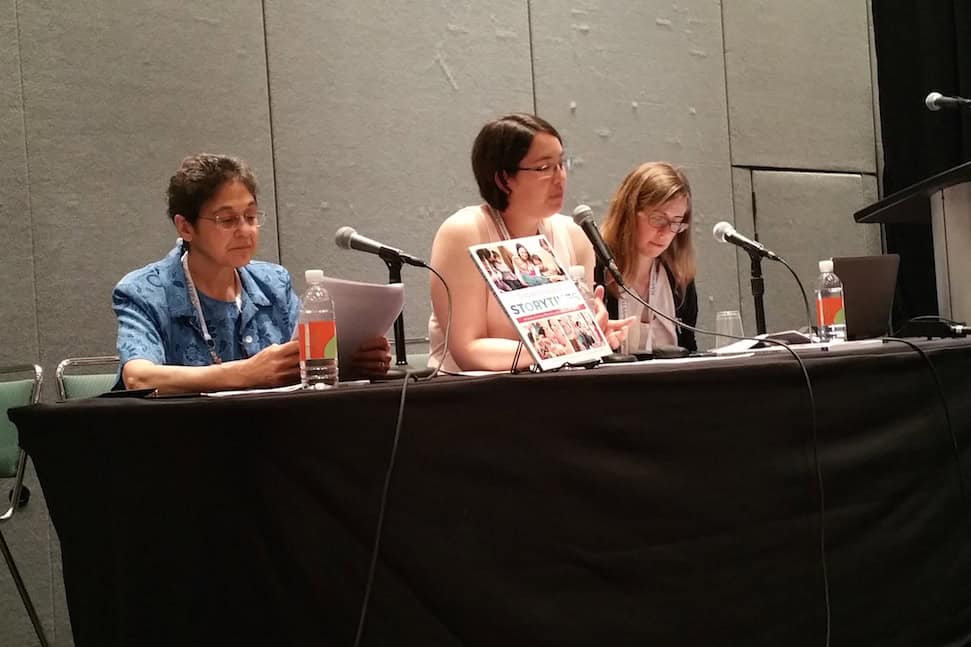 J. Elizabeth Mills and Kathleen Campana of the University of Washington Information School came together in a panel with early childhood literacy consultant Saroj Ghoting to discuss their new book, Supercharged Storytimes, which provides guidelines for how to utilize Project VIEWS2.
Project VIEWS2 is a study that focuses on early childhood literacy. It's a program that's complementary to Every Child Ready to Read, although the trio strongly emphasized that VIEWS2 is a distinct program.
VIEWS2 emphasizes intention and community, and can be used as a planning tool or guide for librarians to build from. "When you are intentional about including early literacy, you will see the result," Mills said.  It outlines modeling behaviors for adults, as well as resulting behaviors for children, by giving literacy tips.
Mills, Campana, and Ghoting instructed the room full of youth librarians to examine an outline of VIEWS2 and discuss possibilities with each other. After that, Ghoting demonstrated modeling behaviors with the book The Napping House, having her audience repeat a recurring phrase. She explained that she usually plans eight storytimes and inserts an intentional connection from there.
Next, Ghoting modeled how interactivity can give children multiple ways to interacts with storytime content, primarily through scaffolding (the process of providing support to students tailored to their needs to help them achieve learning goals).  She used the example of "Old McDonald" to show how youth librarians can help children strategize and stated that the least used "element of interactivity is participating all together."
Campana ended the session by talking about assessment.  She professed, "Assessment is not a scary thing" and went on to say, "It's all about you using a process to help you gain information about what your community needs."  She used a chart to show how assessment, or reflection, leads back to the planning stage.  She emphasized once more to her audience that they can use VIEWS2 as a guide, rather than something more stringent.  "You need to develop your own process," she said.  "You can use them to figure out what works best for you."
Save