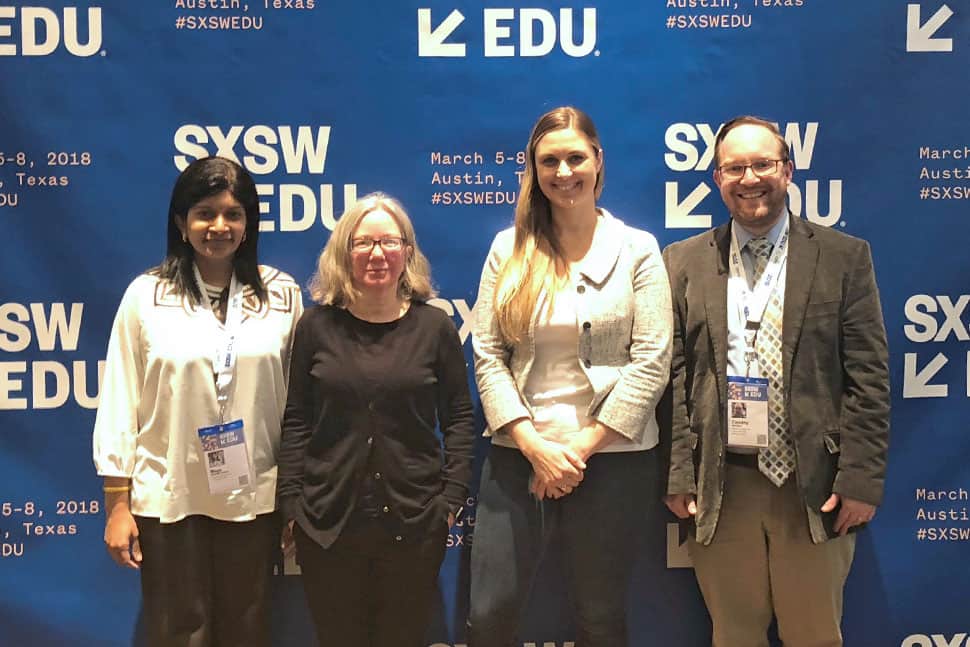 What's going on with computational thinking (CT) and computer science (CS) activities in libraries for and with youth and families? The answer was the focus of "Ready to Code: Libraries Supporting CS Education," a panel presentation at this year's SXSW EDU, held in Austin, Texas, March 5–8.
Moderator Tim Carrigan, senior program officer at the Institute for Museum and Library Services (IMLS), presented a picture of how the CT work of libraries closely aligns with national and IMLS priorities. Carrigan highlighted the shifts in library practice over the past decade, such as emphasizing audience engagement and experience, embedding activities and programs in the community, and focusing on learning outcomes. Such shifts are deliberate, strategic, and underscore the responsive nature of the library profession.
Within this context Carrigan asked the panelists—Linda Braun, continuing consultant for the Young Adult Library Services Association; Nicky Rigg, program manager for CS education at Google; and Mega Subramaniam, associate professor at the University of Maryland College of Information Studies—"Why libraries and CT?" For Braun the answer is the connections between the library and the community; for Subramaniam it is connecting to teen interests and supporting the needs of underrepresented youth by broadening access to CT learning opportunities; and for Rigg it means broadening participation for diverse youth by linking them to learning experiences that relate to personal interests.
The panelists offered unique insights as team members of the Libraries Ready to Code (RtC) initiative, a collaboration between Google and the American Library Association (ALA).
Using quotes from guiding documents of each organization, Rigg demonstrated how RtC connects to their respective mission and priorities. For example, Google's Letter from the Founders states, "We believe a well-functioning society should have abundant, free, and unbiased access to high-quality information." ALA's "Access to Electronic Information, Services, and Networks" states, "The internet provides expanding opportunities for everyone to participate in the information society, but too many individuals face serious barriers to access."
For Braun, a focal point is the RtC concepts, which build a framework through which library staff can successfully support CT learning. RtC concepts include broadening participation to guarantee that underrepresented youth have access to high-quality CT learning, integrating youth voices in the planning and implementation of CT projects, engaging meaningfully with community and families to make sure that the needs of the community and families are met, and focusing on impact and outcomes in CT activities.
Subramaniam presented the skills library staffers need to succeed in their work with youth. These skills are highlighted in a number of reports, including The Future of Libraries for and with Teens: A Call to Action and Re-Envisioning the MLS: Findings, Issues, and Considerations. She made clear that the RtC work focused on preservice skills development is one critical step to ensure that librarians graduate from LIS programs prepared to meet the diverse needs of youth. In the RtC phase focused on preservice library staff, six LIS professors in schools from around the US revised youth course syllabi to include CT learning. Similarly, the University of Maryland College of Information Studies Youth Experience project, funded by IMLS, supports skills development of in-service library staff through a certification program that includes courses in design thinking and integrating technology into rich learning experiences, along with a capstone project.
Libraries continue to design innovative programs that support the development of CT literacies among youth and families. Learn more about the RtC initiative on the project website.
---
Ready to Code programs facilitate/foster CT by:
engaging with community
connecting to youth interests and emphasizing youth voice
providing and creating inclusive learning environments
engaging with families
demonstrating impact through outcomes