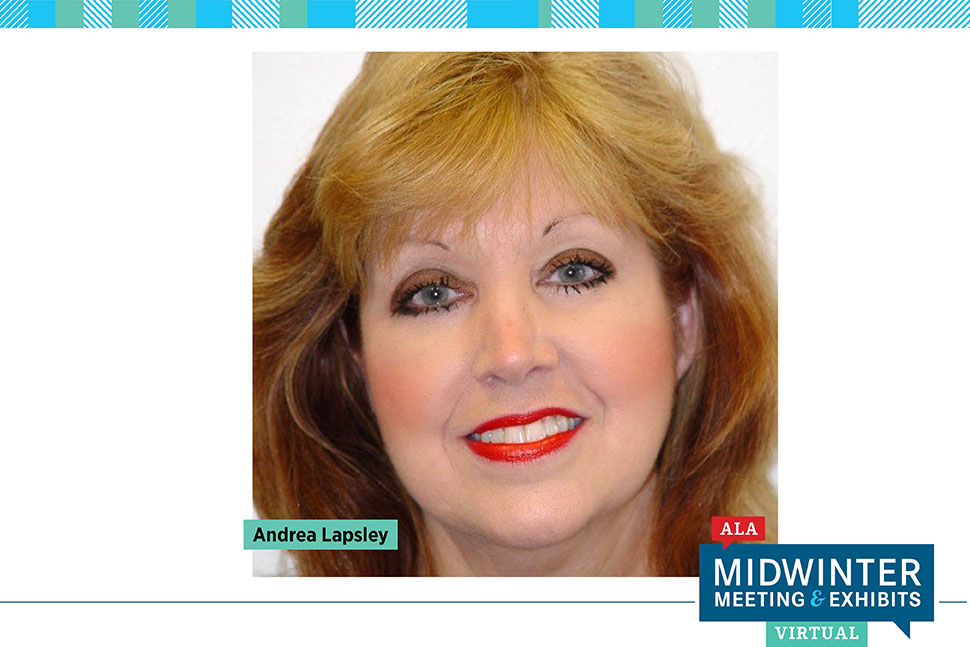 The COVID-19 pandemic has upended nearly every aspect of library life, from programming and outreach to collection development and staffing. One vital but less discussed facet: fundraising.
"This [past] year I personally took charge of looking at our donors and thinking, 'How can we fundraise during this difficult time?'" said Lauren Trujillo, director of the Santa Barbara (Calif.) Public Library Foundation (SBPLF).
Trujillo, along with Andrea Lapsley, president of Texas Library and Archives Foundation (TxLAF) in Austin, moderated "The Future of Library Fundraising," a United for Libraries-sponsored discussion at the American Library Association's 2021 Midwinter Meeting & Exhibits Virtual on January 24. The two women talked about the challenges of raising money and maintaining relationships during these unprecedented times, as well as best practices for growing foundations and Friends groups.
For Trujillo, it was important to stay in touch with supporters during the pandemic. "I made a goal to call 100 donors per month," she said. That outreach made a big difference when SBPLF's annual appeal rolled around: "They remembered our conversation. It was something that took time, but I'm so grateful that I reached out in that way." From 943 appeals, Trujillo received 115 responses, which she considered a success.
SBPLF also had to decide if it wanted to continue a $5 million capital campaign for its Central Library's plaza, an outdoor restoration project aimed at beautifying a pedestrian thoroughfare and creating a performance space. After speaking with several dozen people for advice, Trujillo decided to move forward with an October 2020 kickoff; today, SBPLF is already halfway to its goal. The campaign's progress reflects the importance of "letting the city know that it's important to support the library," she said. "[Libraries have] the social infrastructure that's needed, especially as we climb out of the pandemic."
For Lapsley, 2020 was an opportunity to reorganize. "The building was closed, we were not going to be having the foot traffic, we were not going to be having the programs in-person," she said. "It was a perfect time for strategic planning."
TxLAF was originally a Friends group but, under Lapsley's leadership, was rechartered as a foundation last year. The launch took "time and paperwork," and potential board members from across Texas were vetted. "We were really trying to build our Foundation board with great diversity and representation," she said.
Fundraising became a priority of the new foundation. Lapsley said TxLAF began devoting a lot of time at board meetings to discussion of possible donors—both corporate and individual—and focusing on those "ripe for asks." Additionally, group members compiled a detailed grants calendar of outside foundations and corporations that disperse annual funds, so they could remember to send out applications and letters of inquiry before due dates. "All of our board members [were] involved in this activity, which has revitalized them to think of potential donors," said Lapsley.
While corporate partners can be enticing to court, "corporations only make up about 15% of all nonprofit giving, so you don't want to put all your eggs in that basket," Trujillo pointed out. To that end, many Friends groups and foundations have been brainstorming creative virtual fundraising ideas (that adhere to social distancing guidelines) as a way to reach individuals and community partners. Trujillo and Lapsley noted that live bids, virtual tours, stay-at-home galas, and online auctions—many facilitated through Zoom or other videoconferencing tools—have become popular.
Attendee Charity Tyler, executive director of the Cedar Rapids (Iowa) Public Library Foundation, said that her group raised money by selling "I Love My Library" bundles—holiday gift boxes priced at $45 each that included coffee mugs, blankets, and leather bookmarks made with the library makerspace's cutter.  "Our community was virtual evented-out," she said. A tangible experience proved successful, with the foundation selling 101 bundles before Christmas.
Paramount to keep in mind: no matter what events or tactics are used, fundraising campaigns won't be successful without genuine and personal connections.
"Funding is all about relationships and that exchange of values," said Lapsley. "The only way you can do it is meeting people and talking to them and making sure you've got a good match."