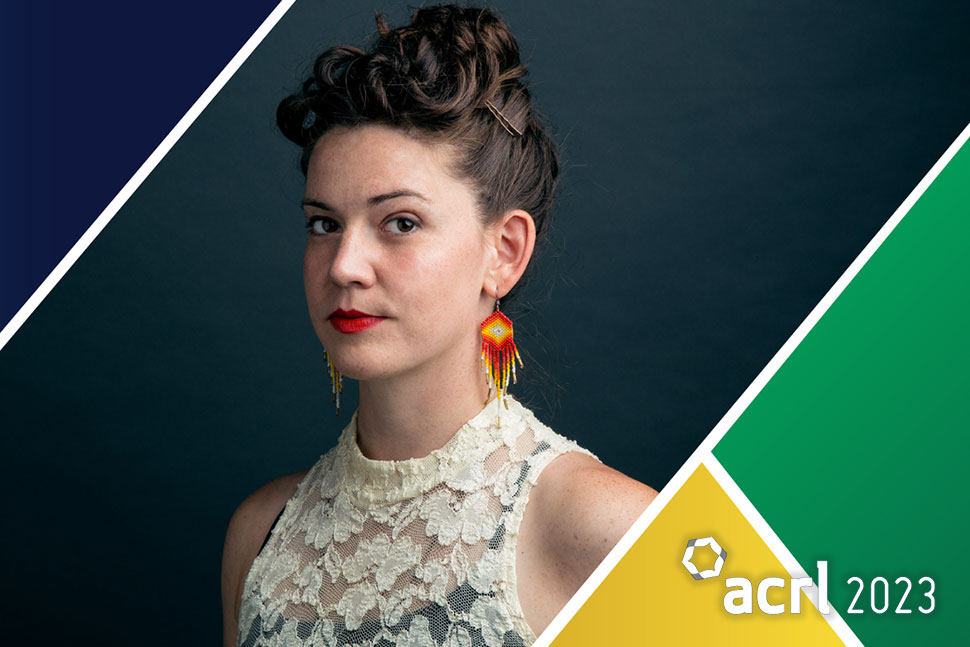 More than 2,100 attendees filled the halls of the David L. Lawrence Convention Center in Pittsburgh for the Association of College and Research Libraries (ACRL) Conference, held March 15–18. The theme was "Forging the Future," and it was the first in-person ACRL conference since 2019; the biennial event was held virtually in 2021. In addition to in-person attendees, the conference also hosted more than 700 virtual participants.
Award-winning advocate, journalist, and Cherokee Nation citizen Rebecca Nagle opened the conference, shedding light on the lack of representation of Native Americans in media and how it affects public policy.
"The stories we tell ourselves about who we are and where we come from inform our public policy," Nagle said.
Through her award-winning podcast This Land and writings for national publications, Nagle informs listeners and readers about Native representation and tribal sovereignty. "Until we have a public and a citizenry that understands tribal sovereignty, we won't have public officials that do," she said.
Racism against Indigenous communities includes their erasure, Nagle said, making them invisible. She shared examples of how mainstream media outlets exclude Native Americans stories, whether in election coverage or by not reporting the COVID-19 pandemic's impact on Indigenous communities. To mitigate this, she encouraged the audience to add contemporary Native voices to their news and social media feeds.
Throughout the conference, attendees had the opportunity to participate in several sessions on diversity, equity, and inclusion. Sessions ranged from developing a racial equity culture in academic libraries to leadership development programs for those who are Black, Indigenous, or people of color.
ACRL President Erin L. Ellis said in her opening remarks that 1,109 registrants were first-time attendees. Registrants represented all 50 states and 20 countries.