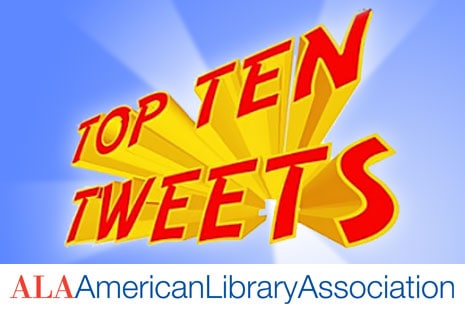 The first day of ALA Annual Conference was full of exhibits and inspiring evening events.
First you pick up your fun ribbon.
We are gathered today to celebrate this thing called libraries #alaac17 https://t.co/HoAvu9cXW9

— Joe Salem (@jsalem75) June 24, 2017
But only if it matches your clothing.
Not one hour into #ALAAC17 and I spotted that horrid bookshelf tie. I deliberately left mine at home.

— Will Harbauer (@wi11yam) June 23, 2017
Then you head to the opening session that may have inspired some librarians to code.
@reshmasaujani is inspiring me to finally take the leap to learn to code. #GirlsWhoCode #alaac17

— Shannon DeSantis (@MsD_Reads_vt) June 23, 2017
Once the exhibits open, it's time to pick up some ARCs.
I can get used to this… #alaac17 #esuscala #freebooks pic.twitter.com/Nml4Te9XNe

— Erin (@erinthehawk) June 24, 2017
… Or meet your favorite literary celebs, including Lincoln.
Look at us starstruck kids!! @janecesther @LibnOfCongress #alaac17 pic.twitter.com/80RzoCJl53

— Gabi (@chickflick1979) June 24, 2017
https://twitter.com/KatCho/status/878442356223201282
I told him I was sworn-in as Librarian of Congress with his Bible. #LOCatALA #alaac17 pic.twitter.com/B8Th2WVe4h

— Carla Hayden (@LibnOfCongress) June 24, 2017
Then you remember you have evening receptions tonight.
Waiting for Printz reception at #alaac17 like pic.twitter.com/y9CVMzfLcx

— D (@D_TheGamer) June 24, 2017
And leave feeling inspired!
"We can travel. We can see things. Because of books." –@repjohnlewis #Printz #alaac17

— Becky Fitzgerald (@BeckyAFitz) June 24, 2017
At the end of the day, you realize you might have stayed up too late, but that's what coffee is for, right?
https://twitter.com/tonyajade/status/878483702313103360
P.S. Can someone make sure to save a tote bag for #alaleftbehind?
Feeling tweet-depression about being #alaleftbehind #alaac17 Please save me a #totebag

— Jan MacLeod (@Bookie15) June 23, 2017