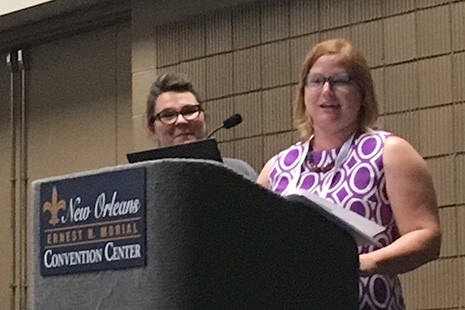 How did two academic librarians with no archival background become researchers into the history of World War II internment camps in Louisiana?
For Hayley Johnson and Sarah Simms, speakers at "The Accidental Researcher: a Case Study in Librarian-led Historical Research and Social Justice" on June 24 at the 2018 ALA Annual Conference, their research on the Camp Livingston internment camps started with a May 2016 newspaper article on letters from interned World War II–era Japanese American children.
Johnson, head of government documents at Louisiana State University, and Simms, undergraduate and student success librarian at Louisiana State University, both knew POW camps in Louisiana had existed but didn't know if internment camps had. Although neither had any archival training, they were up to the challenge because they had "a voice and a skill set" as librarians.
Their research took them on two paths, the first being to find the families connected to Camp Livingston. Johnson and Simms were eventually put in touch with the family of a Buddhist priest, Reverend Kano from Hawaii, who had been interned at Camp Livingston. Reverend Kano's family had his journal from the time of his internment and shared it with Johnson and Simms to support their research.
Their second path was to locate government primary sources. Through a set a grants, Johnson and Simms traveled to the National Archives and the Library of Congress. The grant funds also allowed them to purchase two iPads, which were key in saving time and money in collecting their data.
At the National Archives, the biggest learning curve was using finding aids, which were very basic and not descriptive. "It took us half a day" to figure out how to fill out the pull slip, Simms said. A "huge find," she added, was Reverend Kano's arrest record from December 7, 1941 (Pearl Harbor Day). The pair also found documents relating to the building of the camp and how the barracks were laid out. A pivotal moment was the discovery of a single photo of the people interned at the camp.
"To be able to actually see faces" was enormously impactful, Simms said. They continued to the Library of Congress's microfilm collection, where they found so much information on the broader topic of internment that was later useful for an exhibit at LSU.
The work really began after they returned home. At that point, copies of the camp rosters were painstakingly transcribed to Excel spreadsheets and then the internees' backgrounds were researched using online genealogy websites such as Ancestry.com and FamilySearch.org. This research eventually created a fuller picture of the men, "tracking them through their journeys," Johnson said. Interestingly, none of the men interned were from Louisiana; instead, they lived mainly in Hawaii, California, and Oregon.
Johnson and Simms also found new resources from reading Reverend Kano's journal. Beyond getting a sense of what daily life was like in the camp, the journal mentioned visits to the camp by the International Red Cross. This led the researchers to new records, albeit in French, that they had not previously considered to investigate.
Johnson and Simms also spoke to the social justice aspect of their research, finding it very relevant to the current times. Through their ongoing research, Johnson and Simms hope to establish the human to human connection and break through archival silence to tell the stories of Camp Livingston.