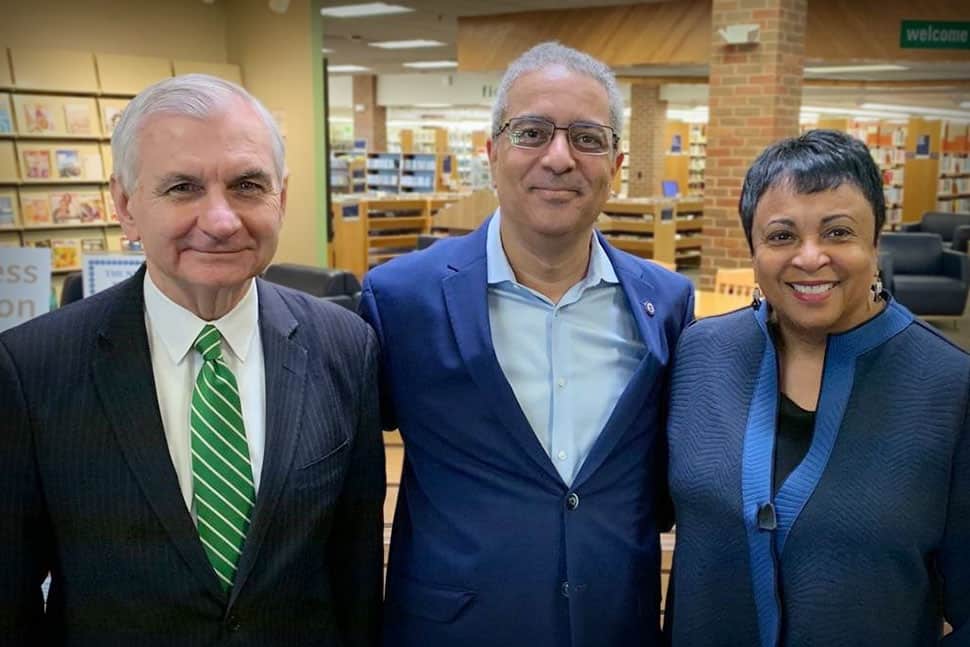 Librarian of Congress Carla Hayden often speaks of the library as America's treasure chest. She celebrated one of those treasures on November 4 when she joined us at Cranston (R.I.) Public Library (CPL) with Sen. Jack Reed (D-R.I.) to commemorate the 20th anniversary of the Veterans History Project (VHP).
Housed in the library's American Folklife Center, the VHP collects and preserves interviews and remembrances of US military veterans from World War I through the present. VHP also includes memoirs and collections of original photographs, letters, diaries, maps, and other historical documents that capture the diverse experiences of veterans from every state.
Hayden's goal for the VHP is ambitious: She would like every US veteran to have their stories told. So far, Rhode Island veterans have contributed about 260 of the 110,000 interviews since 2000. Their stories present a robust view of history through a more inclusive lens, revealing the truth of war through stories of death, hardship, comraderie, and bravery.
Hayden and Reed were joined by local veterans who shared stories that will become part of the VHP collection. Collecting their stories is essential, Reed said.
"Caring for our veterans includes remembering and honoring their sacrifices," he said. "But it also must include working to better understand their experiences so that we can incorporate lessons learned on the battlefield and in how we care for our service members and veterans so that we are always making progress."
Hayden and Reed also moderated a future of libraries panel—a joint effort with the Rhode Island Office of Library and Information Services—highlighting other state projects that focus on equity, diversity, and inclusion; community outreach; workforce development; and ebook purchasing. Joining me on the panel were Maria Cotto, bilingual children's librarian at Pawtucket Public Library; Cheryl Space, director of Providence Community Library; Steve Spohn, director of Ocean State Libraries in Warwick; and Karisa Tashjian, education director at Providence Public Library.
On the panel, Reed spoke of the importance of libraries as they navigate the challenges of disinformation, advance digital equity, and deepen community engagement.
"Libraries are critical hubs of information and interaction … [and] are ever-evolving as they strive to meet the changing and diverse needs facing our communities, from literacy to workforce development to tech know-how, and so much more," he said.
It was an honor to mark VHP's 20th anniversary with Hayden and Reed and discuss the future of libraries with them. They returned to Washington, D.C., with stories from decorated veterans, as well as a vision for libraries in Rhode Island and across the US.