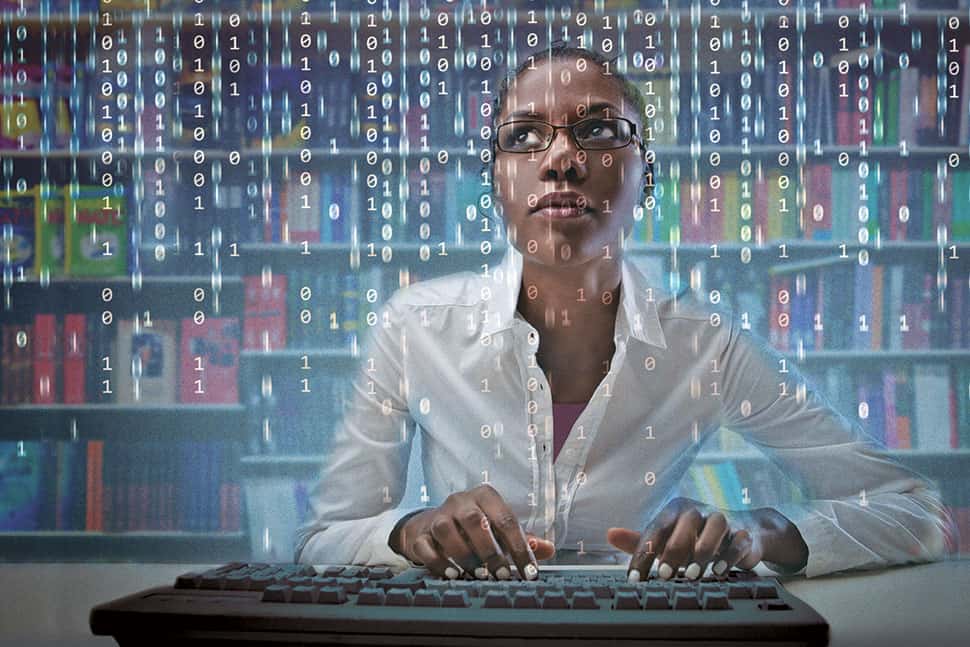 The technology infrastructure libraries implement can affect their ability to manage internal operations efficiently and deliver high-quality services, in person and online. Weak or obsolete technology products impede success.
Libraries have much at stake in products that align well with their strategies, resonate with their patrons, and facilitate the work of their staff. Previously established products are evolving to gain long-overdue modernization. In an era of web-based and cloud computing, library technology has held fast to aspects of the previous age of client–server computing. Library systems continue to see uneven progress.
A new shape of the industry
Some of the most significant shifts of strength in the history of the industry took place in 2015, and a new set of dynamics emerged with important implications. Consolidation among top players occurred in both the library software and RFID sectors. Each recently acquired smaller companies to expand into additional product areas synergistic with business strategies or new international regions.
The transitions seen in 2015 were not lateral changes of ownership among investors but strategic acquisitions that concentrated power among a smaller number of much larger companies and reassembled product portfolios. Libraries may resist consolidation, but this could enable the development of technology products and services that are less fragmented and better able to support libraries as they provide access to increasingly complex collections.
A number of major business transitions transpired this year, and each significantly affected a corner of the industry.
An academic powerhouse: ProQuest and Ex Libris
Ex Libris, an established powerhouse of technology for academic and national libraries, was acquired by ProQuest, a less mighty competitor in the technology sector but a top-tier company offering a broad portfolio of content products and workflow applications. Ex Libris had made costly investments in research and development, which meant less profitability in the short term. But this strategy ultimately established Ex Libris as the most valuable commercial entity in the library technology industry. The company's Alma platform has emerged from a business strategy that emphasizes the development of new products—or new product categories—positioned to attract revenues for the 2020s. This strategy, based on deep investments in research and libraries, has been beneficial to both libraries and the company's financial position.
The acquisition of Ex Libris by ProQuest, announced in October 2015 and completed two months later, stands as one of the most significant events in the history of the library technology industry. The new company, formally called Ex Libris, a ProQuest Company, merges the former ProQuest Workflow Solutions personnel and products including Summon, Intota, SIPX, Ulrich's, and 360 Link into the Ex Libris organization, which now operates as a wholly owned ProQuest subsidiary. Previously, Golden Gate Capital owned Ex Libris. ProQuest is majority owned by Cambridge Information Group with minority equity held by Goldman Sachs.
The executive management of Ex Libris remains intact under the new ownership, supplemented by ProQuest executives, and now reports to the ProQuest board of directors. Prior to the acquisition, the raw personnel counts were 615 employees from Ex Libris and 255 from ProQuest, but the headcount will fall below that figure as the organizations integrate.
Commitment to production products
Ex Libris has committed to support and follow all existing development road maps of both companies' products. Alma takes center stage as the flagship library services platform and will be aggressively developed and marketed. Primo, which can be paired with Alma or used in conjunction with any other integrated library system (ILS), continues as a strategic discovery service. Summon joins the fold with equal standing.
The central indexes of Primo and Summon will be combined, which will extend the Summon index to include resources uniquely covered by Primo Central. The combined index will power both Primo and Summon. Until now, Primo has been the exclusive public interface for Alma. Summon will be enhanced to integrate with Alma, possibly increasing the appeal of Alma to libraries that prefer Summon's interface to Primo's.
Demise of Intota v2
The merger spells the demise of the Intota library services platform. The continued delays in completing Intota allowed Ex Libris to solidify its position, greatly mitigating any impact Intota might make in the academic library market when introduced.
The functionality of Intota Assessment and some of the concepts and workflows intended for Intota v2 will be folded into Alma, but its development as a comprehensive resource management platform will not go forward. This move will not disrupt the operation of any libraries because it had not yet been deployed as a production system. ProQuest offered a package branded as Intota v1, which included Summon, Intota Assessment, and components of its electronic resource management suite, all of which will be retained.
Other recent acquisitions 
Prior to the acquisition of Ex Libris, ProQuest made two other strategic acquisitions in 2015. In early April, it bought SIPX, an application that provides more efficient and cost-effective ways to acquire, share, and manage copyright licensing for course materials. Only a few weeks later, ProQuest announced the purchase of Coutts Information Services, including the MyiLibrary and OASIS platforms, from Ingram Content Group. The move strengthened its position in ebooks and gained further access into the acquisition workflows of libraries.
Also in April, Ex Libris acquired oMbiel, the creator of the campusM content management and distribution platform for mobile devices. This platform addresses the campus-wide need to provide an optimal presence for mobile users and is not specifically oriented to libraries, providing Ex Libris a new area within the bounds of its specialty in higher education.
ProQuest Workflow Solutions operated independently for most of the year before acquiring Ex Libris in mid-December 2015. ProQuest made 158 new subscriptions to Summon, increasing its total to 718. The 153 new libraries signing up for 360 Link increased the number of total subscriptions to 1,094.
EBSCO acquires YBP and PlumX
As an example of the synergies EBSCO seeks with YBP, the company worked with the Kuali OLE Project to develop the OLE GobiAPI, which provides close integration between their respective platforms.
In April 2015, EBSCO acquired LearningExpress, an online platform that helps students improve academic skills and prepare for standardized tests.
Bibliotheca acquires 3M, forms RFID megalith
Bibliotheca's acquisition of 3M Library Systems's assets in October consolidated the top two global companies involved in RFID and self-service. Bibliotheca operates as a portfolio company of One Equity Partners, which financed this acquisition. The former 3M Library Systems team in Minnesota has moved from the 3M campus into new facilities to continue the development, sales, and support of that product line, now branded as Bibliotheca. This merger significantly reshapes this business sector, though challenges from regional companies are expected.
A little over a week into 2015, Bibliotheca acquired Aturis Group, a provider of RFID and self-service products in Belgium, Germany, and the Netherlands. The move added yet another geographic area to its global business.
Boopsie goes to Demco
Boopsie, a company that specializes in mobile apps for libraries, was acquired by Demco in October 2015. The company's operations will continue intact, with Tony Medrano serving as president. Demco is a subsidiary of Wall Family Enterprise.
EBSCO: A formidable competitor
The technological prowess of Ex Libris heightens its competition with EBSCO Information Services, a much larger competitor in the library services arena that has a sharply differing strategy for its content and technology products and services.
ProQuest and EBSCO Information Services have opposing visions for resource management and discovery, and the stage is now set for a new round of competitive discourse. These visions center on whether discovery should be bundled with resource management or if libraries should have the ability to select discovery products independently.
EBSCO Information Services stands as one of the major forces in the library technology sector, despite not offering its own comprehensive resource management product. Its Discovery Service is used in more libraries than any competing index-based discovery service, and the company provides applications for electronic resource management, acquisitions, and other tools and interfaces that library personnel use. EBSCO reports a workforce of 3,028, of which 553 are assigned to technology development, more than any other company in the industry.
EBSCO's discovery products are based on the primacy of subject indexing, because of the value it places on that approach and its vast experience in creating abstracting and indexing services. EBSCO's technology strategies are rooted in its vision of the importance of end-user discovery.
The company reports impressive counts of libraries using EBSCO Discovery Service. Many of these numbers are seen in large-scale deals that include many smaller libraries. EBSCO also competes well among the lucrative sector of large academic libraries, but this position is challenged by current market dynamics. Should Ex Libris make a sweep of this sector with Alma—as it seems well positioned to accomplish—its nearly mandatory packaging with Primo will be a major concern for EBSCO. Gaining Summon as an alternative discovery service that can be paired with Alma within the ProQuest family further amplifies the threat to EBSCO.
Although EBSCO, unlike ProQuest, has not opted to build or buy its own comprehensive resource management platform, it participates in other ways. EBSCO has engaged in partnerships with almost all of the companies involved with ILS products to facilitate the integration of EBSCO Discovery Service. This can enable EBSCO Discovery Service to be used instead of the ILS's online catalog module or allow its index to provide article-level access to a library's collection of electronic resources.

Another thread of this strategy favoring unbundled discovery can be seen in EBSCO's investment in open source management products. In February 2015, the company provided funding to the open source Koha ILS, supporting a slate of development requests that enabled better integration with its discovery service and provided other areas of functionality. EBSCO joined the Kuali Foundation in 2013 and is a Kuali commercial affiliate for Kuali OLE.
The Kuali OLE Project has had little impact to date beyond its handful of development partners. Only three libraries have implemented the software (version 1.7), and it is used only to manage print collections. The vision of comprehensive resource management is slated for later versions. Given the delayed delivery of the software, broad ranks of academic libraries are no longer holding out for this open source option and are moving forward with procurements among the commercial systems, with Alma currently showing almost unstoppable momentum.
EBSCO has recently engaged in a new initiative to alter the direction of academic library resource management by pledging a massive donation to support the creation of a new open source solution.

In partnership with the Kuali OLE , EBSCO will provide funding to accelerate development and availability of a competitive open source resource management system. Index Data, a Copenhagen-based firm specializing in open source development, will help create a new modular technical infrastructure that supports third-party functional modules. EBSCO has not publicly disclosed its level of funding other than to mention that it is the largest financial grant ever given in the industry and is comparable to investments made in the creation of commercial products.
OCLC's position
OCLC, despite its vast resources and global membership base, has so far seen only moderate success in the deployment of its WorldShare Management Services (WMS). WMS uses a multitenant web-native platform and employs internal knowledge bases to provide consolidated workflows for the management of print and electronic resources. This year, OCLC added a new set of analytical tools to WMS. Although it is a product with functional similarities to Alma, it has advanced more in the midrange of academic libraries than in the top tier. Ironically, given OCLC's roots in resource sharing, WMS has not found resonance among the large consortia and multicampus university systems seeking deeper collaboration and shared technical infrastructure. Even though sales of WMS have not set records, OCLC's investments may be seen as both a valuable service offered to its members and a hedge against the likely softening of potential revenues associated with its core bibliographic services.
This year, OCLC made 68 new contracts for WMS. The 386 total installations reported by OCLC are around half the number of Ex Libris Alma installations. The number and size of libraries involved in WMS installations is also considerably smaller than those for Alma. In addition to the libraries using WMS, 839 use WorldShare License Manager.
OCLC has made strides in the realm of linked data. It has been a key partner with the Library of Congress and the broader library community in the development of BIBFRAME and other initiatives involving linked data.
Innovative's evolution
Innovative Interfaces prospers as one of the largest standalone library technology companies. It has seen impressive adoption of Sierra, primarily from existing customers moving from Millennium but also through the acquisition of new clients. The transition from Millennium to Sierra has not been without some leakage, as a small portion has opted for competing products. Overall, Innovative has seen net gains in its customer base.

Innovative has grown though the strategic acquisitions of Polaris Library Systems and VTLS in 2014, which are now well integrated into its business. Many former Polaris executives now populate Innovative, and some of its technologies, such as its Leap web-based interfaces, have become key infrastructure components. Sales of Polaris, once the rising star of the large public library sector, have flattened since the Innovative acquisition, but its previous level of sales may have been unsustainable regardless.
Innovative has expanded to serve multiple types of libraries. Originally rooted in academic libraries, its products have been widely adopted by public libraries, and it has been a favorite of law, medical, and other special libraries. Innovative now faces more formidable competition in the academic sector from Ex Libris and OCLC. There has already been some drifting, with a much larger portion of public libraries using Sierra than was the case for Millennium.
Innovative has consistently followed an evolutionary product strategy. Each of its successive generations—INNOPAC, Millennium, and now Sierra—has poured existing codebase and functionality into new architectures and interfaces. This approach has meant fewer disruptive migration processes for libraries and lower costs relative to purchasing a new system from another vendor. Libraries signing up for Innovative's products do so with full awareness of its evolutionary strategy, which may account for the levels of loyalty seen so far, even in the context of revolutionary alternatives.
EBSCO Information Services stands as one of the major forces in the library technology sector, despite not offering it own comprehensive management product.
SirsiDynix focuses on BLUEcloud
SirsiDynix, now a year post-acquisition by ICV Partners, offers its products to all library types. In recent years, the company has seen the majority of its new sales come from public libraries. Of the 2,548 libraries using Symphony, only 615 are academic libraries.
SirsiDynix, like Innovative, faces the challenge of retaining existing and attracting new academic libraries courted by Ex Libris, which has concentrated on this sector.
The company has focused its efforts on the development of products based on its web-native, multitenant BLUEcloud platform. SirsiDynix has opted for a hybrid approach where libraries continue to operate their Symphony or Horizon ILS, deploying new interfaces and functional modules via BLUEcloud. The company reports that more than 1,700 of its customers have implemented at least one of its BLUEcloud products.
Drifting away from standalone ILS companies
These business transactions further reinforce a growing trend. OCLC, Follett, ProQuest, EBSCO Information Services, Civica, and Infor all provide technology products to libraries but only as a relatively small portion of their overall business activities. The traditional ILS companies continue as well, with many growing into larger-scale organizations through prior rounds of business consolidation. In the context of a ProQuest or EBSCO, however, even the largest ILS companies like SirsiDynix and Innovative compete with much more modest resources. Many midsized and small companies continue to survive, with some prospering, by catering to specific niches.
Progress toward fully web-based platforms
Libraries of all types are ready to take steps forward in technology. Opportunities abound for academic libraries to take the full plunge into comprehensive web-based platforms offered in the true software-as-a-service (SaaS) model. These products move data and workflows into cloud infrastructure, eliminate the need to worry about servers, and eliminate the need for software installed on staff computers. Outside the academic library arena, multitenant platforms have not been sold as aggressively. Established products deployed as server-oriented software and graphical clients endure. Almost all new sales are based on servers hosted by the vendor, reflecting libraries' widespread preference to not maintain local infrastructure.

Academic libraries have seen the most rapid progress toward web-native, multitenant platforms, especially Ex Libris Alma and OCLC WMS. Such platforms have not emerged in larger public libraries, where Innovative's Sierra and Polaris or SirsiDynix's Symphony and Horizon dominate. Web-based interfaces for staff functions have inched ahead the last couple of years, though graphical clients still lead. Web-based interfaces have been standard fare in the K–12 school arena for quite some time, especially via Follett's overwhelmingly popular Destiny Library Manager. COMPanion Corporation, seen as the second-place contender, launched its new web-based Alexandria v7 this year. Small public libraries have shown considerable interest in Biblionix's fully web-based Apollo ILS.
The track toward fully web-based systems has slowly accelerated. Both Innovative and SirsiDynix have launched initiatives to develop web-based interfaces, with both working toward new technical architectures less oriented to institutional servers. SirsiDynix's BLUEcloud strategy and Innovative's Open Library Stack represent progress to a more modern infrastructure.
Technology architectures themselves should not necessarily be seen as inherent requirements but more as a means to fulfill library strategies. These involve deep collaboration among groups of libraries to increase the impact of their collections, reduce costs of operations, expend fewer resources on local technology infrastructure, and to streamline processes related to managing their collections. Multitenant platforms have emerged as the architecture best able to support these strategies, but these are alternate approaches.
Open source library software
Another power play is in the arena of open source library software. The stakes here pit community-based development against development of proprietary software by commercial companies. Libraries value open source options and yearn for less expensive software and flexibility often not delivered by proprietary products, but an alternative will prevail only if it has superior functionality. Regardless of the software license and development model, the outcomes depend on how the software aligns with the needs of the organizations it is intended to serve.

Open source software has seen mixed results. Repository platforms such as DSpace, Fedora Repository, and Hydra are widely implemented. VuFind and Blacklight are widely adopted open source discovery interfaces capable of enabling libraries to create highly customized search environments, integrating a wide variety of content repositories, indexes, and other services.
Koha and Evergreen are well established among specific library sectors. Evergreen prospers in supporting consortia of small to midsized public libraries. Equinox Software, whose team includes its original developers, has built its business on providing development and support services. The company not only faces stiff competition from the realm of proprietary ILS products but also from libraries that forgo paid support and rely on their own resources for hosting and support. It is not uncommon for a consortium to contract with Equinox or another support provider during its early years of migration and operation of Evergreen but eventually shift to local support.
ByWater Solutions is the dominant provider of support for Koha in the United States, attracting a diverse demographic of small to midsized academic, school, and public libraries. The company has strengthened its niche and continues to prosper, attracting libraries that value excellent support services, desire an ILS with ample functionality, and embrace the values of open source. With support provided through an external provider, libraries can implement an open source ILS with about the same level of local technical expertise as for a proprietary system.

ByWater Solutions, a relatively small company of 22 employees, provides services surrounding the Koha ILS and other open source library software. This year the company reported 40 new support contracts for Koha, representing 76 libraries. Though the counts of libraries are lower than last year, the libraries involved were larger. The company's support clients now total 919 libraries, of which 665 are public, 100 are academic, 95 are schools, and 59 are special.

As part of the global community of Koha developers, ByWater Solutions created several new enhancements in 2015, including an advanced module designed for professional catalogers as an alternative to the more simplified templates available, implementation of NCIP for interlibrary loan integration, and EDI in the acquisitions module for orders and invoices. Work is underway for integration of ebook lending for libraries using OverDrive, Recorded Books, and Axis 360. ByWater Solutions completed the integration of EBSCO Discovery Service with Koha through funding provided by EBSCO Information Services.

The Kuali OLE Project began in 2008 with a mission to create an open source resource management system for academic libraries. Despite a series of grants from the Andrew W. Mellon Foundation, Kuali OLE has seen limited impact with only three libraries placing the software in production and only for management of print resources. The library of the School of Advanced Oriental Studies, affiliated with the University of London, became the third to use Kuali OLE in April 2015. Two additional libraries, Cornell University and the Texas A&M University System, committed to Kuali OLE in January 2016. The Mellon Foundation awarded a new grant of $1.2 million to Duke University in support of the project in February 2016.
LibLime, a division of PTFS, represents another thread of open source software for libraries, though one which has increasingly drifted toward a proprietary flavor. PTFS specializes in providing library technology products and services to libraries in the US federal government. Its subsidiary LibLime works outside of this sector, developing and supporting software for public, academic, and school libraries and consortia. LibLime has a history of providing services related to the open source Koha ILS and has developed LibLime Koha and LibLime Academic Koha as derivatives.
Over the years, LibLime's software has increasingly diverged from Koha, culminating this year in a new product entirely dissociated with Koha: Bibliovation. PTFS has likewise rebranded its ArchivalWare product Knowvation.
While LibLime continues to support LibLime Koha and LibLime Academic Koha, this year marks a new phase emphasizing Bibliovation as its strategic direction. LibLime positions Bibliovation as a comprehensive suite of products, including a newly developed discovery layer composed of LibLime Academic Koha, the GetIt acquisitions application, and Knowvation. Development efforts in 2015 included enhanced search capabilities through the latest version of Apache's Solr, cross-language searching, and the creation of RESTful APIs exposed through the new discovery layer. LibLime has also integrated with EBSCO Discovery Service.
LibLime characterizes its approach as an open development model. In this model, any enhancements funded by one library are included in subsequent releases and made available to all LibLime customers.
Sales leaders
Many complexities prevent simple rankings of the performance of library technology businesses. The vast majority of this economy is fueled by the annual maintenance fees or SaaS renewals. But success can also be seen in terms of business won through sales of new products to existing customers and by winning away clients from competitors. Any comparisons must take into consideration the vast differences in contract values, ranging from as little as $1,000 per year for small libraries to hundreds of thousands of dollars for larger projects.
In 2015, SirsiDynix made the most sales with 122 contracts for Symphony, 77 of which were to new clients, and 52 new contracts for EOS.Web. The company also saw significant sales of its new BLUEcloud components, including BLUEcloud Analytics (83 contracts), MobileCirc (93 contracts), and BLUEcloud Visibility (31 contracts). SirsiDynix also had 91 new contracts for its Enterprise discovery interface.
Ex Libris led in terms of economic impact. Momentum for Alma among academic and research libraries continues to accelerate, and the 88 contracts representing 202 library organizations signed for Alma in 2015 more than doubles the previous year's performance. Of these contracts, 35 were to libraries not previously using Ex Libris products. Many of these involve shared platforms for large library systems or consortia. Ex Libris has 626 institutions subscribed to Alma, and 375 of those already in production.
Innovative had an impressive year moving its Millennium sites to Sierra and attracting new libraries. Innovative inked 90 new contracts for Sierra in 2015—56 to academic libraries, 20 to public, 13 to special libraries, and one to a consortium. Of these contracts, 76 were to libraries migrating from Millennium.
The majority of Millennium sites selecting a new ILS in 2015 chose Sierra. Of the 166 libraries using Millennium known to have selected a new system in 2015, 95 went to Sierra. Public libraries on Millennium were even more loyal, with 28 out of 38 selecting Sierra. Innovative retained a smaller percentage of academics, with 52 going to Sierra, 31 to Alma, and seven to WMS.
Innovative made 13 new contracts for Polaris that represent 38 library organizations and span 493 individual branches. Polaris displaced Virtua for the 25-branch Hamilton (Ont.) Public Library. The selection of Polaris for the Saskatchewan Information and Library Services Consortium alone brought 336 new facilities into the fold. Sales of Polaris were down relative to last year in terms of contracts (10 signed in 2015), but it saw an increase in the number of branches using it (100 in 2015).
Overall, sales of Polaris were stronger prior to its acquisition by Innovative, though it continues as one of the top products in new sales for large public libraries and consortia.
In 2015, Innovative also signed three new contracts for Virtua, which has seen annual sales drop consistently since 2012 when it made 14 contracts for the system.
OCLC saw 68 new subscriptions for WMS, representing 73 libraries. Of these, 47 were academic libraries and 21 special. Total WMS subscriptions increased to 386 libraries, which is up from 303 in 2014. The similarity of the numbers reported for contracts and libraries in 2015 shows that most were single-facility organizations rather than large library systems or consortia. Many new subscriptions signed this year were made by midsized institutions, and more than half were from outside the US. Internationally, WMS has been adopted in Aruba, Australia, Canada, France, South Africa, Spain, the Netherlands, and the United Kingdom.
OCLC continues to support a variety of integrated library systems acquired through previous business acquisitions. These ILS products include Amlib (264), Bibliotheca (3,972), OLIB (98), SISIS-SunRise (164), and Local Library System (250). No new sales of these products were reported.
OCLC has been a key partner with the Library of Congress and the broader library community in the development of BIBFRAME and other initiatives involving linked data.
Public libraries
The public library technology sector had a relatively quiet year in 2015 with a steady churn of libraries shifting to alternative ILS products in a competitive environment characterized by marginal differentiation.
Public libraries have not yet seen the drastically reshaped technology products that have swept through the academic sector. Each of the ILS products of interest to public libraries is evolving toward more modern architectures and extending functionality to meet shifting requirements. ILS continues as the preferred automation model in public libraries. High circulation volumes of physical materials and ever-increasing interest in ebook lending services have so far reinforced the model of the ILS rather than the creation of a new genre of software. Yet thorough integration of ebook lending and other digital services has become essential, as well as other features that increase patron engagement or modernize interfaces.
These dynamics put Biblio­Commons in a good position because of its focus on public library interfaces. The company provides its BiblioCore discovery environment and BiblioCMS website environment for public libraries. A relatively small company, BiblioCommons focuses on patron-facing discovery and portal products and does not offer its own ILS. The company's flagship product, BiblioCore, is a discovery interface based on social features able to fully replace the online catalog of a public library. All libraries subscribing to BiblioCore participate in the same instance of the software and are able to customize many aspects of how it is presented to patrons through its deployment as a multitenant platform.
Major development work included the transition to a responsive design to support mobile access and the creation of additional features and enhancements to the BiblioCore and BiblioCMS platforms. The company continues to build the ebook lending platform BiblioDigital. BiblioCommons continues to offer integration of ebook lending through OverDrive and other external services.
BiblioCommons completed a consulting project with the Society of Chief Librarians in the UK to develop a report that envisions a unified digital presence for public libraries in England.
The Library Corporation (TLC), a midsized company, specializes in technology products for public libraries. Owned and managed by its cofounder Annette Harwood Murphy since 1974, TLC has kept itself apart from external investment and acquisitions, other than its purchase of CARL Corporation in 2000. Its CARL.X product finds use in larger public libraries, and its Library.Solution product is primarily used in midsized public libraries and school districts. CARL.X also manages the inventory of at least two book publishers. In July 2015, Baker & Taylor completed the second phase of its implementation of CARL.X to manage the cataloging operation of its Customized Library Services group.
The Loudoun County (Va.) Public Library selected CARL.X to replace its Horizon ILS. Salano, Napa, and Partners Library Consortium in California moved partially from CARL.X to Polaris. TLC did not provide detailed sales statistics. Major contracts include the Hawaii Department of Education, which has more than 220 school libraries.
In 2015, the company continued development and deployment of CARL.Connect, a suite of web-based interfaces for the CARL.X ILS. Modules of CARL.Connect now available include circulation, collections, and reports. This year TLC also enhanced Library.Solution, including integrating it with reading level metrics, such as Lexile and Accelerated Reader, and providing a new simplified interface for circulation.
TLC partnered with SocialFlow as the exclusive distributor of its platform for the syndication of content to social media destinations. SocialFlow allows organizations to optimize their presence on social networks and increase their visibility to their clientele.
Auto-Graphics, a midsized company, offers the VERSO ILS and SHAREit interlibrary loan platforms. Approximately 94% of the company's revenues come from libraries in the US. In 2015, it finished integrating a variety of ebook and digital media content resources into VERSO, including OverDrive, Recorded Books, Zinio, and OneClickdigital. Auto-Graphics made five new contracts for VERSO that represent 10 libraries, increasing installations to 506. New SHAREit installations include statewide projects in South Dakota and Indiana.
Book Systems has developed its Atriuum ILS primarily for small public and school libraries, though the company has increasingly attracted a more diverse demographic. In 2015, the South Dakota State Library opted to replace its Aleph ILS with Atriuum, as did six public libraries that previously participated in the South Dakota Library Network using Aleph.
Book Systems made 165 sales of its Atriuum ILS, 42 to public libraries and 92 to K–12 schools, including one district migrating from Evergreen. The number of libraries using Atriuum now totals 3,526, and about two-thirds of those are school libraries. Development accomplished this year includes the release of Atriuum Mobile Interface and Mobile Asset Tracking, both offered as iOS and Android apps.
InfoVision Software is a small company with 10 employees who develop and support the Evolve ILS, which is primarily oriented to public libraries. The company originally distributed the Amlib ILS developed in Australia by InfoVision Technology. When OCLC acquired Amlib from InfoVision Technology in 2008, the US-based InfoVision Software began development of Evolve and eventually migrated its customers to it. InfoVision made seven additional sales this year, driving the total of libraries using Evolve to 129, 102 of which are public.
Open source integrated library systems have become a routine part of the public library automation landscape. Thirty-four public libraries, for example, opted to exchange a variety of incumbent ILS products for Koha with support from ByWater Solutions. Evergreen likewise saw gains of 21 libraries. Some libraries opted to retain Koha or Evergreen but moved to a new support provider. Ten public libraries shifted to LibLime Koha, most by joining the AspenCat consortium in Colorado. Total public libraries using Koha have reached substantial numbers: 665 supported by ByWater Solutions, 253 supported by LibLime, 33 by Equinox. Evergreen has also attracted even more public libraries with 791 receiving support from Equinox Software and at least 400 others belonging to consortia that use Evergreen apart from a primary support provider.
Equinox Software provides services surrounding the Evergreen and Koha open source ILS products and focuses mostly on public libraries. Mike Rylander took over as president in 2015 following the exit of Brad LaJeunesse.
The company made progress in moving its customers to its Sequoia platform, which is designed for efficient hosting of open source library software applications supporting Evergreen, Koha, and FulfILLment. Equinox reported that 17 production instances representing more than 436 library facilities are now deployed on Sequoia. The Bibliomation consortium in Connecticut became the first organization to contract with Equinox for FulfILLment, an interlibrary loan application it had previously developed.
Equinox made an additional 20 service agreements for Evergreen this year, representing 93 library branches. The company now supports 876 installations of Evergreen.
Biblionix focuses on the small public library sector. Though one of the smaller companies in the industry, it has seen a strong response to its Apollo ILS, developed specifically for the modest needs of these libraries.
With web-based interfaces for staff functions and patron services through a multitenant platform, Apollo supports an ever-larger customer base. This architecture enables the company to efficiently deploy new features or other changes on behalf of its clients. This year, for example, Biblionix shifted all 106 of its public libraries in Iowa to a new consortial arrangement for its OverDrive ebook lending service with no intervention or cost to those libraries. New capabilities include the authentication and proxy services for patron access to a restricted licensed database.
The company is one of the few to protect the privacy of library patron activity with mandatory encryption of all traffic through HTTPS. Security was increased this year through encrypted storage of the data stored on its servers. Biblionix also began offering libraries the option to implement Apollo using their own domain name, even though still deployed through the company's multitenant platform. For example, a domain name may now appear as catalog.georgetown.org/catalog.
Biblionix made an additional 63 sales for its Apollo ILS in 2015, bringing total installations to 547. Apollo is able to attract small libraries that have previously been using an ILS more typical of larger libraries, such as Symphony, Polaris, or Library.Solution.
Looking ahead
Compared with academic libraries that typically chase new areas of functionality absent from legacy ILS products, the public library sector has less movement because there are few new technology platforms that offer radically different capabilities from incumbent mainstream products.
In the public sector, many of the migrations are lateral, in which a library moves from one actively supported ILS of similar capability to another. Polaris, Sierra, Symphony, and Horizon can all be considered mature ILS products with rich functionality for public libraries that continue to receive development and support from their vendors. Yet there has been considerable movement among these products. Some libraries have even exchanged products supported by the same company. Interestingly, nine public libraries moved from Polaris to Sierra and nine from Sierra to Polaris. Little movement occurred from Horizon to Symphony, reflecting an acceptance that SirsiDynix's support of Horizon will be on par with Symphony, providing equal integration, new functionality, and modules offered through BLUEcloud.
Several public libraries moved away from products oriented to academic libraries. The South Dakota Library Network, for example, supported many public libraries with Aleph, which is designed primarily for large academic libraries. Many of these libraries exited to implement various systems designed for public libraries, including Atriuum and Koha.
Smaller public libraries continue long overdue movement from outdated products such as Winnebago, Athena, Circulation Plus, or InfoCentre. These libraries make significant progress by adopting a more current product, often by joining a consortium or implementing a web-based service.
Academic libraries
Library services platforms can now be considered a well-proven model of automation. These products have been successfully adopted by academic libraries of all sizes, including large-scale, complex consortial implementations. Academic libraries demonstrate resonance with library services platforms, which provide comprehensive print and electronic resources management, deployed through web-based platforms, with workflows streamlined through built-in knowledge bases.
Competitive options for academic libraries are limited. Ex Libris dominates with Alma. OCLC's WMS provides some degree of competition with a platform based on a similar vision. Sierra provides an alternative for academic libraries comfortable with its more traditional approach.
In the US, 252 academic libraries selected new automation systems in 2015. Of these, 171 selected Alma, 27 opted for Sierra, 20 chose WMS, and 11 contracted with ByWater Solutions for Koha. Six small academic libraries moved to Polaris by virtue of their participation in a multitype consortium. In 2015, eight members of the ­Association of Research Libraries (ARL) signed contracts for a new automation system, all opting for Ex Libris Alma.
Using ARL as a barometer for the large academic library sector, Ex Libris has a commanding lead. Sixty-eight ARL members use a resource management product from Ex Libris. Twenty-seven use Voyager, 25 use Alma, and 16 use Aleph. Innovative follows with 31 ARL members, with 18 using Millennium and 13 using Sierra. SirsiDynix has 19 ARL members, with 17 using Symphony and two using Horizon. Three have selected WMS.
School libraries
The pre-K–12 school library sector has its own set of business and technology characteristics. The companies involved with school libraries tend to focus on a single country or geographic region. Follett dominates the school library sector in the US, with only a minority of its business from other regions. Although the number of school libraries is quite large, each library is quite small, with limited budgets for automation systems. School libraries made the shift long ago to central systems for districts rather than those for individual schools.
Follett School Solutions, a business unit of Follett Corporation focused on pre-K–12 schools and districts, offers a variety of technology products for libraries. The company's flagship Destiny Library Manager ILS is used in 66,129 libraries after 5,679 new sales were made in 2015. In October 2015, Nader Qaimari was named executive vice president and general manager for Follett School Solutions following the retirement of Tom Schenck, who had been with Follett for 26 years. Qaimari will also serve on the executive committee of Follett Corporation.
Integration with learning management systems and other school infrastructure has become a key concern for pre-K–12 school libraries. This year Follett extended Destiny Library Manager with integration mechanisms such as basic LTI (Learning Tools Interoperability), the broadly accepted standard for building plug-ins for learning management platforms. Single sign-on capabilities via Security Assertion Markup Language is also underway. Ebook lending integration is also a key interest for these libraries. Follett made new content integration partnerships with OverDrive and Mackin Educational Resources, one of the top suppliers of books, ebooks, and other materials to K–12 schools. In February 2016, Follett partnered with EBSCO to add around 600,000 ebooks to the catalog of titles available for purchase via its Titlewave e-commerce platform.
Outside the library and into the classroom, Follett launched Lightbox as an interactive learning application that aims to increase student engagement and improve literacy skills and includes multimedia content from a variety of providers.
In February 2016, Follett acquired ClassBook, one of the major providers of print and digital textbooks to private and parochial schools.
COMPanion Corporation, also known by the name of its flagship product Alexandria, is a small company with 50 employees, oriented mostly to K–12 schools and small public libraries. Bill Schjelderup founded COMPanion in 1987 and continues to serve as its president. The company did not report statistics for new sales or total installations.
ByWater Solutions is the dominant provider of support for Koha in the United States, attracting a diverse demographic of small to midsized academic, school, and public libraries.
In 2015, the company completed Alexandria v7, a fully web-based application for staff and patron interfaces. The company also now offers this version of Alexandria as a hosted service. The architecture of the new system also offers higher performance, supporting up to 10 times the number of searches during peak periods compared to previous versions. Alexandria v7 features private and shared lists and many other new features.
Media Flex has developed the OPALS open source ILS, which has been implemented in libraries in K–12 schools, district-wide systems, church and synagogue libraries, and other small libraries. OPALS support is provided through districts, other service centers, or directly through Media Flex. Although an open source software, development for OPALS is performed primarily by Media Flex.
Mandarin Library Automation's offerings serve schools, small public libraries, and small academic libraries. The company's products have included the DOS-based Mandarin ILS and Mandarin M3. In October 2015, the company introduced Mandarin M5 as a major upgrade to Mandarin M3. It includes a variety of new features, such as autocomplete in its search functions, recommendations, and a digital gallery. The product was reengineered to operate on Microsoft SQL Servers and is now offered both as a hosted service and for local installation. In its initial year, Mandarin M5 saw five new installations and 54 for Mandarin M5 Hosted Service.
Special libraries
Soutron Global, affiliated with Soutron Ltd. based in the UK, provides technology products and services for corporate, legal, and other special libraries. This year Soutron launched its new Digital Archive solution that extends the knowledge management capabilities of its products to images and archives, supporting appropriate metadata standards such as ISAD(G) and EAD.
The company's flagship product Soutron Library Management System was further enhanced with new search engine technology and an interface based on Bootstrap. Soutron made 33 new contracts in 2015 for its Soutron ILS, extending total implementations to 133.
Lucidea is a consolidated company oriented to corporate, medical, law, and other special libraries that offers a suite of products, including the SydneyPLUS ILS, Inmagic Presto, Inmagic GeniePlus, Inmagic DB/TextWorks, CuadraSTAR, LookUp Precision, Argus, and LawPort. Lucidea did not respond to this year's request for sales and company statistics.
Keystone Systems Inc., a small company of 14 employees, provides technology products to niche libraries serving individuals with visual disabilities, often associated with a state library. Its Keystone Library Automation System (KLAS) has been implemented by 112 libraries. The company made one additional sale of KLAS in 2015.
Product improvements developed this year include integration with the PIMMS system of the National Library Service for the Blind and Physically Handicapped of the Library of Congress.
The international sector
While all of the major companies known in the US conduct business in other geographic regions, several companies in the global market have little or no domestic presence.
Civica, a global company offering a diverse range of services to public agencies, has a strong library presence in Asia, Australia, the UK. The latest version of its flagship library management system, Spydus 10, was selected by 26 library services, mostly in Australia. The Aberdeenshire Library and Information Service in Scotland also selected Spydus 10. Civica has seen significant momentum in shifting its customers from locally hosted implementations, with over 85% now subscribing to Spydus as a managed service.
In addition to the completion and deployment of Spydus 10 to succeed Spydus 8 and earlier versions, Civica also created the new Spydus Event Management System.
Axiell, a mid-sized company of 274, offers technology products to libraries, archives, and museums in diverse regions, with most of its library customers in Scandinavia. This year Axiell reorganized into separate divisions for public libraries, ALM (archives, libraries, and museums), and education, as well as media, constituted from Elib, the Swedish ebook distributor it acquired in March 2015. Product enhancements made in 2015 include OG Spark, a new staff interface of its OpenGalaxy ILS used in the UK. The company once focused mostly on technology products for libraries, but its business activities have diversified to become more diffuse and include archives and museums.
Baratz, a mid-sized company of 79 based in Madrid, provides its AbsysNet ILS and related products to public and government libraries in Spain, surrounding European countries, and Latin America. In 2015, the company made 29 new sales of AbsysNet, representing 80 libraries with 143 total facilities. These sales brought the total count of libraries using the product to 2,992, with another 427 using its earlier Absys ILS.
Capita, a company specializing in technology for different aspects of local government agencies in the UK and Ireland, has developed and supported the Alto ILS since acquiring the library automation business from Talis in 2010. In 2015 the company made three new sales of Chorus, the hosted version of Alto, including the libraries service of North Yorkshire County Council, York St. John University, and the National College of Ireland, increasing the total number of installations to 110.
Infor Library and Information Solutions is a major provider of automation products to public libraries in Europe, with small additional presences in Canada and the US. It is a business unit of Infor, a global technology services company with involvement in many different industries.  Infor Library and Information Solutions resides within Infor's public sector division. Its flagship product V-smart, finds use in 318 libraries, with 32 new contracts made in 2015. Vubis Smart remains in use in 145 libraries.
This year saw the development of Air, a new interface for V-smart, based on a responsive design to also support tablets and smartphones, and supports languages which use right-to-left scripts. The Air interface was implemented in February 2016 by the Lewis and Clark Library in Helena, Montana, a V-smart customer since 2006. Enhancements were also created for V-insight, its analytics and statistical portal. Development is underway for Iguana DAM, a new digital asset management capability integrated into V-smart expected to be released in spring 2016.
In Denmark, Dantek, a small Danish firm that developed software for school libraries and is now a subsidiary of the much larger IT company Systematic, completed the development of a new library management environment for most of the public and school libraries in Denmark.  Called "Fælles Bibliotekssystem," the system has been deployed in multiple municipal libraries, with the remaining participants scheduled to implement the system over the next year.  Many of these libraries were previously using automation products from Axiell.
PTFS Europe provides support for the open source Koha ILS, Rebus:list reading list application, and other services to libraries in the  UK and Ireland. This year the company made six new contracts for Koha, including the University of the Arts London, University of Hertfordshire, the Royal College of Music, and the Cheshire Shared Services consortium of 47 public libraries. PTFS Europe also made six new contracts for  Rebus:list and announced that development of a Rebus:Analytics module is underway.
Looking forward
Through strategic business transitions that transpired over the last year, the library technology industry has become more consolidated than ever and integrated into the agendas of the top-tier library services companies. This new dynamic means higher stakes for libraries.
On one hand, it channels an unprecedented level of resources into a few key technology products and has the potential to provide great benefit through those organizations with vast capacity for development. However, libraries become vulnerable if these efforts do not prove as fruitful as promised. Unfortunately, the slate of alternatives is exceptionally narrow.
Librarians should be aware of the increasingly complex relationships involved with content, workflows, and discovery. Further changes are anticipated. Although we offer no specific predictions, it seems unlikely that the major events carried out this year will go unanswered.
View charts detailing 2015 product installations and personnel information. Profiles of vendors featured in the report are also available.
Note: The Library Systems Report 2016 documents on­going investments of libraries in strategic technology products made in 2015. It covers organizations, both for-profit and nonprofit, offering strategic resource management products—especially integrated library systems and library services platforms—and comprehensive discovery products. The vendors included have responded to a survey requesting details about their organization, sales performance, and narrative explanations of accomplishments. Additional sources consulted include press releases, news articles, and other publicly available information. Most of the organizations provided lists of libraries represented in the statistics reported, allowing for more detailed analysis and validation. Product listings in vendor directory are not comprehensive.