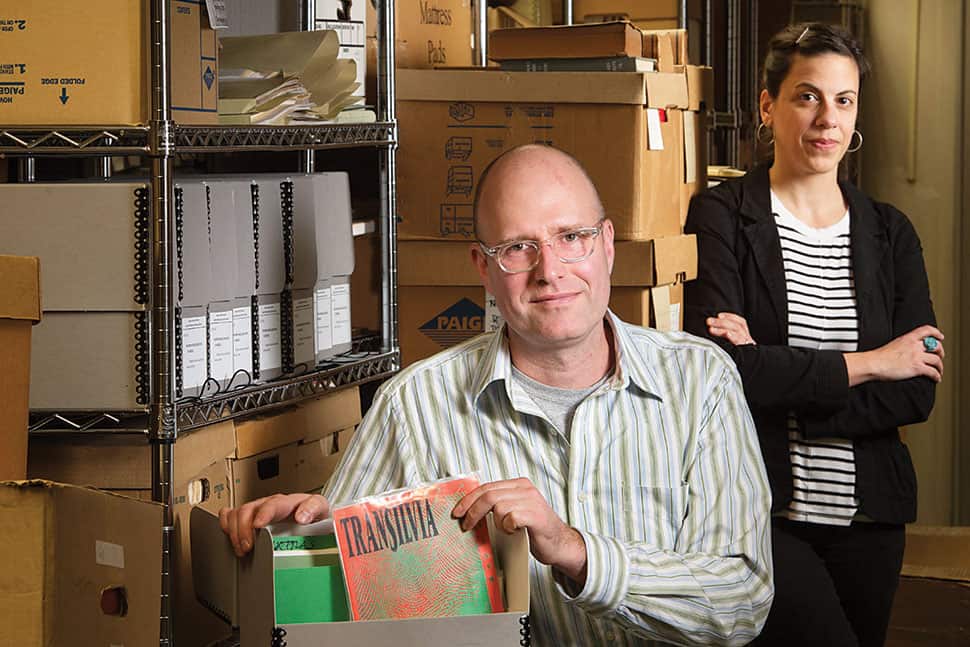 Homemade concert fliers printed from an unguarded copy machine. Custom jean jacket patches for bands Transilvia, You and I, and The Degenerics. A set list from a 1982 Smithereens show stored away with a torn ticket stub. It's the ephemera of a bygone era, before the internet or social networking, when building a fan base in a local music scene was a band's best chance at getting broader recognition.
The do-it-yourself ethos of the local music scene tells a story of dissent from mainstream culture, says Rutgers University media studies doctoral student Frank Bridges, who played in bands and ran his own record label in the 1980s and 1990s near the New Brunswick, New Jersey, campus. He thinks it's a story worth preserving. Bridges's dissertation explores the scene as a pocket of resistance to the decline of vinyl—a scene which he argues was due in part to the proliferation of independent record labels in the area. He's amassed a fledgling archive of material in his research, but he didn't have to look far to find a place to preserve it. The Rutgers School of Communication and Information is right next door to the Special Collections and University Archives section of the Archibald Stevens Alexander Library.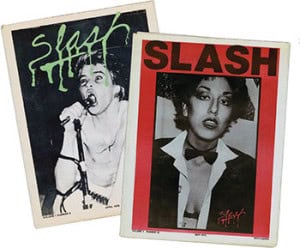 Turning to his neighbor seemed an obvious decision for Bridges, and other researchers and collectors are reaching the same conclusion. Music archives based on genre, region, and even single artists are trending in the university library world, often for the resources and expertise such institutions bring to the table. The Cornell University Hip-Hop Collection and the Grateful Dead Archive at University of California, Santa Cruz, among others, have built substantial collections and are inspiring other schools to start their own. UCLA's punk archive, for example, launched in 2013 after Megan Fraser, head of processing projects and cohead of collection management at UCLA Library Special Collections, saw a presentation by Cornell hip-hop archive curators Katherine Reagan and Ben Ortiz at a Society of American Archivists conference.
"UCLA has been collecting performing arts materials since it was founded, so what was really inspiring to me was the passion the Cornell folks had about their work, but also their really strong efforts to relate to the community," Fraser says.
Smaller archives, like UCLA's and the New Brunswick Music Scene Archive at Rutgers, have been established over the past few years and are growing fast. Christie Lutz, New Jersey regional studies librarian and head of public services in Special Collections and University Archives at Rutgers, started planning the archive with Bridges about a year ago and already has a long list of people waiting to donate items, she says. The archive was inaugurated with a symposium last October that attracted about 75 people, but an overwhelming online response to the event at one point had Lutz worried that attendance would outgrow the room she reserved.
The collection, which generally focuses on rock, hardcore, and punk bands from roughly 1980 to the present, has already grown in directions Lutz says she couldn't have expected. "How many archival collections have denim patches?" she asks. "That's an example of 'we don't know what we want, but when we get it we're like, aha, that's something new.'"
As the collection grows, Lutz says she's turning to more well-established music archives and similar programs for guidance, such as the Institute of Jazz Studies—known as the world's largest jazz archive—on Rutgers' Newark campus, the Louisville Underground Music Archive at the University of Louisville (Ky.), and the D.C. Punk Archive at the D.C. Public Library.
Music archives based on genre, region, and even single artists are trending in the university library world, often for the resources and expertise such institutions bring to the table.
The Cornell Hip-Hop Collection is in its ninth year and already serving as a model for similar collections. Launched in 2007 with about 10,000 items, it has grown to more than 250,000 recordings, films, books, and other pieces of ephemera, such as magazines, event fliers, press packets, photographs, and clothing. Reagan, curator of rare books and manuscripts and assistant director for collections in Cornell Library's Rare and Manuscript Division, says the collection has become an important resource for various history, music, and English courses. The archive is now such a priority for the school, Reagan says, it hired an assistant curator in 2011 to serve as a teaching and subject expert.
Though it primarily serves scholars and researchers, the collection is available to everyone, particularly those in the community who helped establish it, Reagan says. "Hip-hop was created by black and brown teenagers in the Bronx in the 1970s. Then and now, it's one of the poorest counties in the US. It's critically important to make the archiving of this available to all communities, not just academic communities, to make sure the community that created this culture and spread it around the globe, that it's their collection and not just Cornell's."
She describes it as a "living archive" that aims to connect the voice of the people in hip-hop to the university's curriculum. As part of that effort, the school hosted hip-hop pioneer Afrika Bambaataa as a visiting scholar from 2012–2015, and it plans to appoint more hip-hop artists as visiting scholars in the future.
Both Cornell's hip-hop archive and the new Rutgers collection started with private collectors. The hip-hop archive, for example, originated through a donation from Johan Kugelberg, a former recording industry executive at Warner Bros. Kugelberg shopped around for the right institution for his collection, Reagan says, primarily focusing on various organizations in New York City. "He didn't find, at that time, an institution that had the resources or the inclination to take it on," Reagan says, noting that Cornell Library offers a rare book and manuscript vault, conservation and digitization labs, archival professionals, and an audiovisual preservation program "essential to ensuring modern cultural documentation survives into the coming centuries."
While the expertise of archivists makes universities a good fit for establishing and growing a music archive, one university is turning to its students as a resource. Pam Hackbart-Dean, director of the Special Collections Research Center at Southern Illinois University in Carbondale, says mass communication students learn to restore reel-to-reel, wax cylinder, and other recordings from defunct formats as part of the sound engineering curriculum. She says the university's recently established Southern Illinois Music Archive grew out of the curriculum. "We started doing this particular program over the last five years, and it's been a really nice complement," Hackbart-Dean says.
Like at Rutgers, the idea for the archive was spearheaded by a student: Alex Kirt, pursuing a master's degree in mass communication and media arts. The archive is looking for creative ways to raise funds, and Kirt recently launched an online fundraiser through GoFundMe to buy reel-to-reel machines not available through the university.
Hackbart-Dean says maintaining close relationships with professors has helped build the archives. "Especially with us having the radio and television program and the school of music, we have other expertise to draw from," she says.