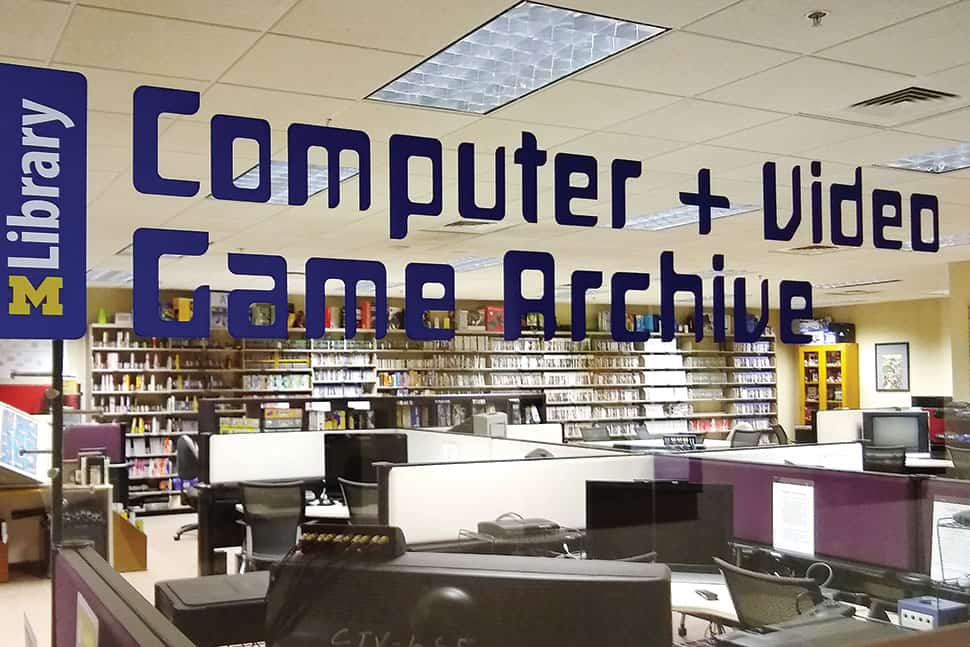 For librarians at universities with videogame design programs, maintaining a large, accessible gaming collection isn't a Final Fantasy. It's a Call of Duty. Beginning a collection may be as easy as pressing start to play, but storing and preserving complex materials is a tough battle—and academic librarians want to level up.
The University of Michigan's (UM) Computer Video and Game Archive (CVGA) in Ann Arbor boasts more than 8,000 videogames and 60 consoles dating back to the 1970s. "Because we have such a large collection, there are many examples from which to pull and get inspiration, things [students] would never be able to afford on their own," says David Carter, videogame archivist at UM. "Almost nobody has a collection this big, especially a college student."
"[People] don't think of libraries as a destination for digital scholarship," says Anne Morrow, associate librarian and head of digital scholarship services at the University of Utah's J. Willard Marriott Library, which has more than 500 videogames and serves almost 400 game design students. "There's an incentive to see what the obstacles are for bringing these types of original work into the collection."
Objective: playability
As the owner of more than 2,000 commercial games, 300 student games, and 40 consoles (some as old as the 1985 Nintendo Entertainment System), the University of California, Santa Cruz's (UCSC) Science and Engineering Library prioritizes authentic playability. Its goal is to provide students with not only a game but also the console it was made for, a compatible controller, and an era-appropriate TV to play it on.
With so many moving pieces, says Christy Caldwell, science and engineering librarian at UCSC, "providing usage of increasingly 'antique' [materials] is an ongoing challenge."
UM has the same goal. "We don't have to do a lot of tracking down, thankfully," says Valerie Waldron, UM computer and videogame archive manager. About half of its collection is donated, and as with other academic libraries that own game collections, staffers turn to eBay if they need to repair or buy a missing item. Or they get creative.
"Something broke on our Atari 7800, and we actually 3D-printed a replacement part," Carter says.
Why is maintaining playability of older games important? Students are mainly studying design and software. "What does the game look like, and what does the controller feel like?" Caldwell says. "Are you seeing something similar to what someone who played the game earlier would have seen and experienced?"
Students are also looking at artwork, game mechanics, subjects, and even source code as inspiration for their own games. "They're using [archives] for competitive intelligence, and looking at what's been done already," says Tallie Casucci, assistant librarian at Marriott Library.
Space is another issue. At Marriott Library, students must go to different floors to pick up a videogame, grab a console and matching controllers, and actually play, since the stations are separated and require checkouts for loss prevention. "It'd be nice to have everything all in one place," Casucci says.
In Ann Arbor, the CVGA houses both the collection and spaces to play the games on consoles, since the collection doesn't leave the library. "It's a very crammed room," Carter says.
Save game?
UM staffers say they have two missions: to serve the teaching and research needs of faculty and students in order to promote usage of the games, and to preserve those games. "There's an inherent tension. Usage is the enemy of preservation," Carter says. "Academic usage trumps preservation. We don't want to have something just to have it and not let people use it."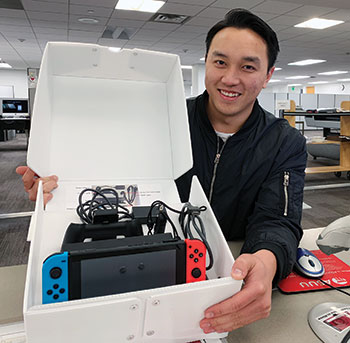 After students from the Entertainment Arts and Engineering program at Utah lost all the materials for Erie, a popular student-made game from 2012, Casucci and Morrow investigated their options. With help from an Institute of Museum and Library Services grant, they published an ebook this fall on how to best archive, preserve, and disseminate student videogames.
"People have been looking at digital preservation seriously, [but] we haven't made progress with objects that are really complex, like videogames, that have many interactions between files," Morrow says. "We thought about the existing services in a library and how games might be supported by those services."
"In our case, it would be the sheer number of analog games to process and store that would be difficult, especially year after year," Caldwell says. "You're asking people in cataloging who have never even played a game to suddenly start cataloging media. You need to support them." The best way to do that, she says, is to develop accurate metadata and consistent, detailed cataloging practices.
But academic libraries still need to strategize.
At Marriott Library, Casucci and Morrow created a tiered retention system for archiving student games, through which students can choose the process that best suits their needs. In earlier tiers, students can contribute visuals such as screenshots or game trailers. As they go further into the system, students can contribute their games in their entirety, allowing future students complete access to its features.
Commercial games have not been forgotten. Carter and Waldron are finding ways to preserve legacy formats of videogames like floppy disks and cartridges. "We're trying to discover ways of taking the game off its original format and creating an image for it," Waldron says. "There are still a lot of things to work out, like how to store it properly, retrieve it, or put it back in its original format." As for regular discs, UM keeps multiple copies and stores them in archival-quality sleeves behind the circulation desk.
According to Heather Maxwell Chandler's Game Production Handbook, after producing a videogame, developers organize the game's source assets and archive them in a closing kit—a common practice in the industry to help developers install updates or patches to their games. UCSC would like to implement closing kits down the line.
"The faculty wants to have a record of what students have created," Caldwell says. "They want students to be inspired by what other students have done and build on that work."
Carter and Waldron say that videogame preserving and archiving has been underdeveloped in libraries because it is still an emerging format. "Until recently, the history of the videogame industry has been left in the hands of private collectors," Carter says. "Not to discount the work that private collectors have done—that's one portion of preservation, but you need academic libraries in the mix."
"For a long time, [game companies] weren't really interested in preserving their games, either," Waldron says. According to Kotaku, this is due to legal gray areas, lack of industry support, and turnover of games. "I think that's slowly starting to change."
Conquering copyright issues
Potential copyright problems exist in every layer of videogame collecting, especially regarding older materials with expired copyrights. In October 2018, a decision from the Library of Congress and US Copyright Office allowed institutions to lawfully own copies of older videogames if they were acquired from the original companies in order to make preservation copies—a separate challenge for librarians and archivists as many companies are no longer in business or have discontinued server support.
"Assuming that all videogames are governed by terms of use, it's likely that any exceptions one would expect in the copyright law are not allowed," says Carrie Russell, senior program officer and copyright specialist at the American Library Association. "If students are doing close analysis of the games or something similar, it's likely that license terms don't forbid just studying and researching the game unless the research involves the need to circumvent digital rights management (DRM) that may be employed by the rights holder."
DRM is a form of copyright protection licensing for digital media implemented by embedding code that prevents copying, specifying a time period in which content can be accessed, or limiting the number of devices content can be installed on. For example, games with expired or maxed-out licenses may not be library friendly.
Another consideration is that certain PC games come with keys—a string of unique characters—that a user must input in order to play. "But then that [game] is registered, and it's only good for one use," Carter says. "If someone donates a PC game to us, if they've used the key, we can't use that game. We have to somehow get another key."
Currently, libraries' and archives' rights to preserve videogames are allowed under the Digital Millennium Copyright Act. "That exemption, however, will expire in 2021 and need to be requested again," Russell says.
Student-made videogames are easier to preserve since students get to decide what university libraries can keep. The student work that libraries archive mostly consists of digital files. They can either archive the entire game or different elements of it, like an abstract, artwork, or gameplay footage.
"We never make the students put up everything," Caldwell says. "They could say, 'I don't want to upload my actual code. I'll upload my abstract.'"
Students can claim complete copyright of their games or use a Creative Commons license, which allows others to share, use, and build on their work. They can even decide if they want their work to be available to university affiliates or the public.
Librarians, too, try to educate students about the importance of archiving their work at the library, studying other games, and how copyright plays into both. "You have to believe that [students] are going to use [the collection] responsibly," Caldwell says.
Next-level libraries
Librarians agree they're just beginning to assimilate game scholarship into academic libraries; progress will continue as the industry and programs evolve.
Caldwell says librarians should be working collaboratively to keep games accessible by lobbying for copyright law exceptions, partnering with game companies, and improving metadata and catalog descriptions.
"Games are to the 21st century what films were to the 20th," she says. "How long did it take libraries to start collecting film? I think what we can do is start working together sooner, because we've already lost so many games."
UM also wants to encourage students who may not be game design majors to help normalize videogames in the library. "In humanities or social science classes, instead of writing a paper, students are creating games," Carter says. "We've been working with the design lab [at UM] to figure out ways to support the lighter-weight aspect of game creation."
"[Games are] a part of society," Waldron says. "It speaks to what our culture is in any given era, like any other format."