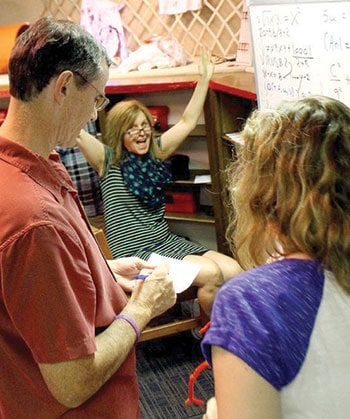 Think election season is the only time libraries can engage communities with elected officials? Think again. Not only have some libraries taken year-round approaches to civic engagement, but some also have broken with tradition to create informal and memorable opportunities for interaction.
At Manitowoc (Wis.) Public Library (MPL), which hosts a free carnival every August, local representatives such as the mayor and aldermen hop into a dunk tank or serve as targets for the water-balloon catapult.
Julia Lee, youth services manager at MPL, says getting local celebrities in the dunk tank helps break down barriers between residents and officials. "I don't know how many people would recognize their alderperson if they saw them walking down the street," she says, "so it's really nice to have them involved and have people see their representatives."
In the months leading up to the event, library staffers solicit officials to participate, and some of these local leaders volunteer every year. But, Lee adds, "they tell us the dunk tank water is very cold."
In 2016, Jamie Griffin, now children services coordinator at Memphis (Tenn.) Public Libraries, came up with the idea for "speed-repping." Much like speed dating, residents have the chance to speak to local representatives—everyone from city and county officials to waste management officials—for three minutes at a time about anything on their mind.
"It's almost the very epitome of civic engagement," Griffin says. "Local leaders all enjoyed it and thought it was a great way to communicate with people they wouldn't otherwise have an opportunity to communicate with," he says, referring to the March 2017 event. Several officials have expressed interest in participating again, and the library plans to host another speed-repping event soon.
In 2016, when the Morton-James Public Library in Nebraska City, Nebraska, debuted an escape room that area children had built in a former storage room, library staff members saw an opportunity to engage the community and city officials.
The library's director at the time, Rasmus Thøgersen, extended the children's invitation to the local police chief to costar in the video explaining the room's zombie apocalypse premise. Mayor Bryan Bequette and his family were invited to be the first to take on the escape room challenge and save the town from zombies.
The two officials "certainly added to the publicity surrounding the event," says Donna Kruse, the library's current director. "And who doesn't want more publicity?"