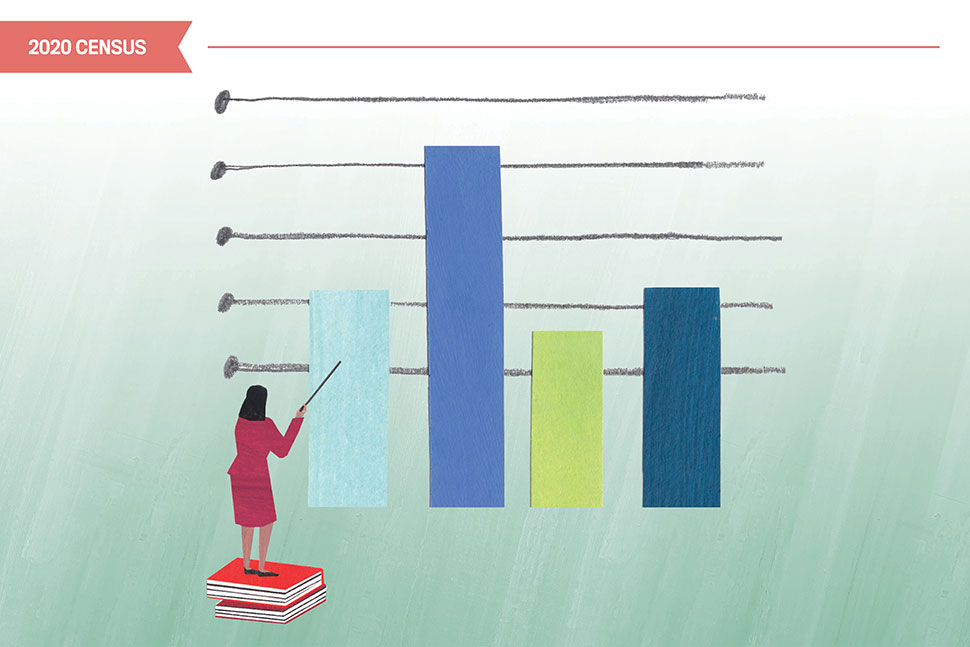 Libraries are long-trusted partners in helping the government collect an accurate count every 10 years. But a librarian's role doesn't have to end once all the forms are submitted. Around the country, libraries are using census data to augment their programming, train staff members, connect with patrons, and collaborate with local organizations. These unique experiments and projects offer opportunities to teach skills and engage people with the larger community and the issues that affect it.
"Census data is the mother of all open data sets," says Jeffrey Lambert, assistant director of digital inclusion and workforce readiness at Queens (N.Y.) Public Library (QPL). "It's a huge resource about people who live in the United States, and it's accessible to anyone."
Libraries have an important part to play in accessing that data, according to Bob Gradeck, project manager of the Western Pennsylvania Regional Data Center at the University of Pittsburgh Center for Urban and Social Research. He is a member of the Civic Switchboard project team, a collaborative effort supported by the Institute of Museum and Library Services that aims to empower libraries to engage with civic data and establish partnerships with other civic data entities in their communities.
As part of its efforts, Civic Switchboard created a guide for libraries and in 2017 began offering grants for libraries to develop programming around open civic data, including the census. "A lot of the work that's happening in civic data is happening outside of the library," Gradeck says. "If people can find themselves or their communities in the data, that's a way to really engage them."
Adult and teen data education
Before applying for a Civic Switchboard grant, Providence (R.I.) Public Library (PPL) had already been offering two data literacy programs focusing on data analytics and visualization for adults and teens.
"Oh my gosh, they are so popular," says Karisa Tashjian, PPL's education director, of the programs. "It's a consistent and huge waitlist without us even promoting it."
Data literacy allows people to understand and analyze information and use it to learn about their communities, tell stories, and make arguments in professional and public contexts for services and funding. It can be an important tool for professional development and civic engagement.
Word of mouth attracts students to PPL's courses, which are meant to approximate a community college offering, where students develop projects to tell local stories.
"The topics are so diverse but mostly around social community issues," Tashjian says. "It runs the entire gamut, from crime to health."
As part of the programs, students do in-class exercises using census data and learn how to create graphic representations using the interactive data visualization software Tableau, a program Tashjian says is becoming increasingly in demand with employers.
"It's like magic that happens in these classes," she says. "It's a learning community—they take risks, they laugh, they cry. They are [looking at] sensitive topics. They are very energized."
Using a grant from Civic Switchboard, PPL partnered with the nonprofit arts organization NEXMAP; Chibitronics, which makes electronic stickers; and STEM design studio Wonderful Idea Company to add a paper circuitry component to its teen workshop. This three-dimensional visualization method connected participants' data work to library makerspace resources, including a 3D printer, laser cutters, and sewing machines.
PPL also hosts a Data for Good project in which members of a regular Tableau support group consult with local nonprofit organizations. The group answers questions that involve delving into data in order to help the nonprofits develop programming, get grant funding, or solve other problems.
Connecting with the past
At Robert L. Bogomolny Library at University of Baltimore, students participated in a multiweek research project in which they learned how to sift through census and other local data and link their findings to archival and special collections materials.
As part of a larger introductory information literacy class, students used data from the Vital Signs data reports (compiled by the Baltimore Neighborhood Indicators Alliance and the Jacob France Institute), which include Community Statistical Areas—neighborhood clusters organized around census tract boundaries. Students connected these statistics to archival materials like photos from an image gallery from the Model Urban Neighborhood Demonstration, which documented city neighborhoods in the 1960s.
"Students synthesized information to create a narrative about the neighborhood," says Kristin Conlin, reference and instruction librarian. "What happened [in the past], and how did that impact the community?" One student linked employment data to historic photos of a job fair, for example. Others explored issues surrounding water bills and abandoned city lots.
"It helps create a greater connection to the communities they live in, just by knowing more about it," she says. "It can [then] be used to help form the creation of solutions to problems in their communities."
Public engagement in data
QPL used Civic Switchboard funding for a three-pronged data program that involved training staffers, training the public, and connecting with local nonprofits serving immigrant communities in the diverse borough of Queens.
"Data literacy is civic literacy," says Lambert.
In February 2019, staff members from QPL branches that had been identified as serving hard-to-count census tracts in Queens completed a three-part training that introduced them to the NYC OpenData portal and the census. Some of the topics that the staffers explored included educational attainment, commute time to work, and employment statistics, Lambert says.
Survey feedback was positive, he adds. "Lots of people were interested in what the data had to say about the communities they serve in terms of linguistic demographics and how they might adapt. I saw lots of light bulbs going off—'we can do a program on X topic or Y topic.'" He says the training gave participants ways to explore their communities that they didn't have before.
QPL did versions of the same workshop with the public and local nonprofit organizations that wanted to learn how to serve their constituents better. The library partnered with the Mayor's Office of Data Analytics, New York Immigration Coalition, Center for the Integration and Advancement of New Americans, Cidadão Global, DSI International Inc., Haitian Americans United for Progress, and Polonians Organized to Minister to Our Community.
In total, QPL offered 40 workshops with 200 participants at 30 of its 66 locations. Lambert's advice to other libraries aiming to get into data literacy and using open data like the census: "Figure out what your role in the ecosystem is, what your assets are, and who you can partner with to make this data accessible to your patrons."