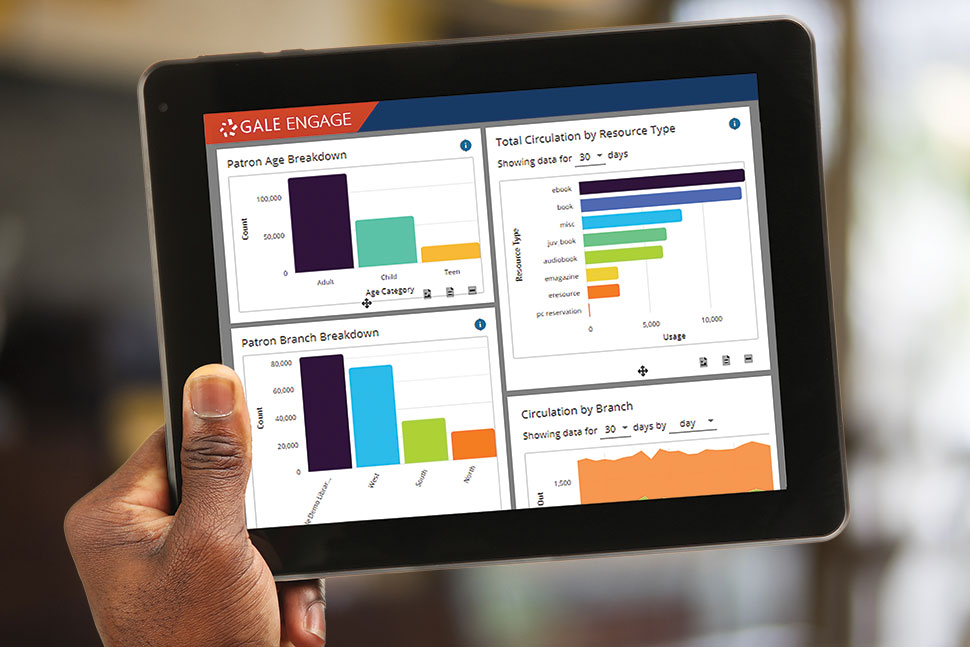 Digital marketing and communications have changed dramatically in the past several years. Data now plays a much greater role in reaching intended audiences, and a new generation of marketing and analysis platforms created specifically for libraries aims to support patron outreach through email and demographic analysis. These tools can help libraries target communications about their services more effectively and understand how patrons engage with programs and collections. Here, library workers share their experiences with three of these platforms.
Gale Engage

User: Riti Grover, director at Farmington (Mich.) Community Library
What is Gale Engage? Gale Engage is a marketing and analysis tool designed to optimize the library's effectiveness through data analysis and dashboard visualizations that enable library staff to best focus their efforts within the community.
How do you use it? We use Gale Engage to assess current and future demands of the community so we can place ourselves strategically and evolve for changing demographics and needs. We've trained a team to upload, integrate, assess, analyze, and interpret the data that we get from Gale Engage. We use this information to ensure we're marketing our services correctly and strategically.
What are the main benefits? We can upload any data that we have and are willing to share. That includes any integrated library system (ILS) statistics, such as circulation numbers. That gives us insight into collection usage on a physical level plus digital content like ebooks, streaming services, and databases. Gale Engage also lets us upload our programming data to see which programs have received the best response in our community. All these things help us optimize our efforts and staff time to provide services that matter most. In terms of demographics, it helps us analyze where we have been doing well and where we've not: Are we serving all socioeconomic strata, educational levels, and age groups?
What would you like to see improved or added? The interface is simple to use, but users must have the expertise and knowledge to know what can be uploaded and how to do it. The learning curve can be long. It's not easy to compile statistics on program attendance, and that data import has been a challenge.
Disclaimer: Other staff members at Farmington Community Library have indicated that this case study misrepresents their level of experience with the product.
OCLC Wise
User: Logan Macdonald, director of products and technology at Anythink Libraries in Thornton,
Colorado
What is OCLC Wise? OCLC Wise is a customer engagement system that blends marketing, analytics, and relationship management tools with traditional ILS functionality.
How do you use it? OCLC Wise helps the library understand our customers on a personal level so we can better meet their needs based on information they choose to share. We use Wise's engagement tools to communicate with customers about programs, services, and materials that may be of interest to them. We can identify groups of customers by the interests they share with the library through selections they make in their account in the Wise online catalog or by choosing to share their borrowing history. We also use Wise for traditional ILS transactions. Our next project is setting up and using its collection analysis tools to help both selectors and branch staff make decisions about purchasing and displaying materials.
What are the main benefits? Wise has helped refine how we approach our relationships with customers and allowed us to design more personalized experiences. Wise also offers many management tools in one platform, simplifying the work of staff and eliminating the need to learn multiple user interfaces for marketing, reports, collection analysis, point-of-sale, and other tasks.
What would you like to see improved or added to the service? One of Anythink's goals for 2021 is to use data available in OCLC Wise to create opportunities for customers to connect with one another. I would like to see further development of the marketing tools to provide additional options for communicating with customers.
Patron Point

User: Laura Sauser, community manager at Urbandale (Iowa) Public Library
What is Patron Point? Patron Point is a marketing automation platform for public libraries. The system connects with your ILS and allows you to create and send personalized, professional messaging (notices, surveys, newsletters, and others) via email.
How do you use Patron Point? Right now, we mainly use it for our monthly newsletter, which highlights services as they have changed over the last few months, what's available, and our events. The first thing we set up in Patron Point was an automated welcome campaign that sends emails to new library cardholders about all the things they can learn and do at our library. When a new cardholder is put into our ILS, Patron Point automatically starts sending those emails. We also have campaigns around library card renewals and sign-ups.
What are the main benefits? Often, the communications that are generated through your ILS are not very friendly or attractive. Patron Point allows us to share professional-looking information with patrons. It also allows us to reach a large number of patrons quickly, which was important this year. It helps us build relationships with patrons in a different way. We're really looking forward to when we reopen and can use the product to make these relationships even stronger.
What would you like to see improved or added? Patron Point has been working to make the email editor more intuitive. I'd also like to be able to create a print-friendly version of our newsletter. I'd love to be able to archive PDFs of our newsletter on our website. We also have patrons who don't have computer access or who request paper copies.